Handcrafted Silver Bracelets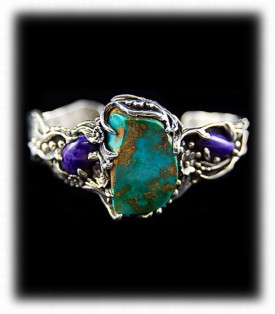 Durango Silver Company produces quality Silver Bracelets handmade in the USA! Our company is located in Durango, Colorado USA, we have been producing handmade Jewelry for nearly forty years and have owned and run one of the most historic Trading Posts in Southwest USA. Our specialty is authentic American Turquoise - we have one of the largest collections of natural Turquoise in the world, we mine Turquoise in Nevada USA and we hand cut most every Turquoise Gemstone that is set in our handmade jewelry.
The Silver Bracelet above is a Lost Wax, Vine and Flower Design, Sugilite and Royston Turquoise Bracelet by John Hartman. This heavy Sterling Silver Bracelet is a true work of art that will never be repeated. This bracelet features a large Natural Royston Turquoise Gemstone from Tonopah, Nevada. The Royston Turquoise in this silver bracelet is complimented by two oval Royal Purple Sugilite gemstones from the Wessel's mine in South Africa.
Silver Bracelets from Durango Silver Company
Durango Silver Company produces some of the most beautiful Silver Bracelets coming out of the Southwest today. We produce and deal in high quality Silver Bracelets that are unusual in style with quality craftsmanship and authentic gemstones. As we are located in the Southwest, the style of our Silver Jewelry reflects the colorful and natural Jewelry styles that have been associated with this region - we specialize in Southwestern Sterling Silver Bracelets as well as Native American Made Turquoise and Silver Bracelets.
The three Silver Bracelets shown above represent the style and quality Durango Silver Company is known for producing. The bracelet to the left has a Tortoise Turquoise Gemstone that we mined at our Tortoise Turquoise Mine located in Nevada, USA. We mined the Turquoise, cut the gemstone used in this Silver Bracelet and John Hartman of Durango Silver Company made this beautiful piece of handmade Jewelry. The center bracelet is a Navajo Handmade Silver Bracelet called a Navajo Cluster Bracelet, it was made with natural Sleeping Beauty Turquoise Gemstones and it is a special piece of Navajo Silver Jewelry that is of investment quality. The Bracelet to the right is a Navajo Inlaid Bracelet that is a beautiful piece of colorful, southwest styled Jewelry that is not often available to many. Navajo Silver Jewelry of this quality is a rarity today and will become a precious heirloom in the future.
Silver Bracelets from Durango Silver Company
Silver Bracelets from Durango Silver Company are unique, high quality, handmade in the USA and pleasure to own. We pride ourselves in producing and handling special Silver Jewelry that is uncommon in the general marketplace. Each piece of Handmade Jewelry from our company is a one-of-a-kind, unique to itself and has a character of its own. You will not see another Silver Bracelet on another person as each piece is the only piece and it is truly unique, made in the USA!
Additional Examples of Silver Bracelets from Durango Silver Company
Below are some additional examples of Silver Bracelets that were produced by Durango Silver Company or handmade by other Native or Contemporary Artisans of Silver Jewelry from our region of the USA. We describe each piece and include a link to additional information and photos on each particular Silver Bracelet, be certain to click on the link if you would like more information on that Silver Bracelet.
Above and to the left is a Navajo handmade Silver Bracelet by Native American artist Darryl Becenti. This bracelet features a great light forest green, freeform, natural Broken Arrow Turquoise cabochon. This cabochon is bezel set and surrounded by a rope design. On each horizontal side of the stone is a sunburst design. This all sits atop a wide, heavy stamped and chased sterling silver cuff. This Silver bracelet features clean and crisp stamp work that really shows off the greatness of this Native American master. This is a very nice piece of Native American Handmade Jewelry - made in USA
The center Silver Bracelet was made about 25 years ago by John Hartman for the Fred Harvey Company. This was one of John's contributions to the retro line of old style Indian Jewelry they created for the Grand Canyon Trading Post. It was a big hit then and now we are bringing it back once again. Each one of these Silver Bracelets is hand cast in the old school method and made to look like an old Navajo Bracelet from the 20's, you will absolutely love wearing this fantastic piece. It is a heavy weight bracelet yet very comfortable to wear.
To the right is a gorgeous Three Stone, rope and wire design Sugilite and Gaspeite Sterling Silver Bracelet by John Hartman. This stylish bracelet features high quality , natural Sugilite and Gaspeite gemstones. The stones are set a top a classic and stylish Sterling Silver Bracelet shank. Beautiful color combo. Handmade in Durango, Colorado USA.
Above and to the left is a contemporary shadow box style Mediterranean Coral inlay Sterling Silver Cuff Bracelet by Dillon Hartman. This unique Silver Bracelet features eleven marquee shaped NATURAL red Italian Coral stones. These Coral stones are inlaid into a heavy sterling silver cuff bracelet. This sterling silver and Mediterranean Coral bracelet is designed in a contemporary shadow box style. This red Coral and Sterling Silver bracelet was handmade in Durango, Colorado USA.
The center photo shows one of our beautiful Silver Bracelets with high graded Kingman Turquoise. This Kingman Turquoise Bracelet has a spectacular water web Kingman Turquoise gemstone. The stone is bezel set and surrounded by rope, raindrops and stamp work overlay. This is set atop a thick, stamped shank. Classic design with a rare spiderweb Turquoise stone. This beautiful Bracelet was made by Native American Artist Darrell Cadman.
To the right is one of our inlaid Silver Bracelets made in-house at Durango Silver Company, in Durango, Colorado USA. The master design was created by John Hartman and the inlay work was done by Dillon Hartman. This is a Sugilite Inlaid Silver Bracelet that is made by our company only and you can only purchase these inlaid Silver Bracelets from our company online or in our Trading Post located in Durango.
Above and to the left is a Victorian style, single stone, women's Bisbee Blue Turquoise Silver Bracelet by John Hartman. This wonderful blue American Turquoise Bracelet focuses on a natural smoky Bisbee Blue Turquoise cabochon from Bisbee, Arizona. This rare gemstone is surrounded by Victorian style repose filigree fern leaf patterns, raindrops and flower design. This is all set atop a classic cable or rope designed Sterling Silver Bracelet shank. This Bisbee Blue American Turquoise Bracelet is a piece of Handmade Jewelry made in Durango, Colorado USA and is hallmarked "Durango .925".
The center photo shows a Carico Lake Turquoise Bracelet with seven Turquoise gemstones. These top of the line Carico Lake Turquoise stones are bezel set on a handmade sterling silver link/chain bracelet with great detail. This Silver Bracelet real work of art and it has exceptional lime green Turquoise gemstones. . It would be very hard to top these wonderful lime green spiderweb stones. Handmade Sterling Silver Turquoise Jewelry by John Hartman of Durango, Colorado USA.
To the right is a classic Pilot Mountain Ribbon Turquoise Silver Bracelet by John Hartman. This bracelet features a single rectangular cabochon of Pilot Mountain Boulder or Ribbon Turquoise. This stone is bezel set and decorated on each side by raindrops and rope / cable designs. This sits on a classic five prong graduated shank. Silver Bracelets like this one are really pretty and easy to wear everyday.
Above and to the left is a heavy double braid and beaded wire Sterling Silver Men's Bracelet by John Hartman. This one of a kind heavy silver large men's bracelet features hand twisted and beaded wire, with the beads on top of diamonds of copper at the center. The inside of the bracelet is textured like sandstone and is smooth as well as the sides of the bracelet.
Center - A Turquoise Mountain Silver Bracelet. This Heavy stamped single stone bracelet was made by Victor Begay (Navajo Artist). It has a 12-carat Turquoise Mountain stone and is a great example of Navajo Silver work. This is a heavy Silver Bracelet that will fit a medium sized ladies wrist or a small mans wrist. It has a Turquoise Mountain gemstone with exception silver overlay.
To the right is a beautiful ladies Royston Turquoise Silver Bracelet with an exceptional green Royston Turquoise gemstone. The stone is set in a fancy filigree bezel which sits atop a very nice Silver Bracelet frame embellished with reposed Silver ornaments that romance the stone. The Royston Turquoise Stone is 100% natural and a very high quality specimen of green Nevada Turquoise you are sure to appreciate! This would be a great addition to any quality Turquoise Jewelry collection and a precious heirloom for the future.
We invite you to check out some of our other informational pages; Turquoise Bracelets - Silver Jewelry - Free Silver Jewelry - Navajo Silver Jewelry - Men's Silver Jewelry
---
We hope you have enjoyed our presentation on Silver Bracelets and have gained some useful knowledge from it. We invite you to learn more about Turquoise and Turquoise Jewelry by following the links in our Learning Center to other informational pages that we have written on different topics related to Turquoise Jewelry. In addition, we would like to invite you to join our E-Mail Newsletter - about once every other month we send out a Newsletter to inform our members of what's happening with Durango Silver Company, new products, specials for our members and more. We also have a monthly drawing from our member base to give away free Turquoise Jewelry from our company. Please take a moment to become one of our friends by signing in below. We hope you will remember Durango Silver Company when you are looking for your next Silver Bracelets.