Mens Turquoise Jewelry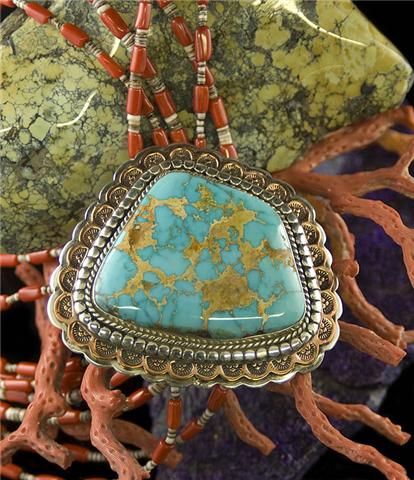 Durango Silver Company specializes in Mens Silver Jewelry and mens Turquoise jewelry such as Mens Turquoise Rings, Mens Turquoise Bracelets, Mens Turquoise Belt Buckles, Mens Turquoise Pendants as well as many other types of Mens Turquoise Jewelry. We try to always have a good supply of Mens Gold Rings, Mens Navajo Rings and Native American Mens Turquoise Jewelry of all types. We specialize in having unusual Mens Ring designs with authentic Turquoise and natural Turquoise of the highest quality is of utmost importance to our company. All of our mens Turquoise Jewelry is unique to itself and handcrafted in the Southwestern U.S.A.
If you are considering quality Mens Turquoise Jewelry with authentic Turquoise gemstones than you have come to the right place. Durango Silver Company has made Mens Turquoise Jewelry for nearly forty years. We have been avid American Turquoise collectors and Turquoise Minors as well and we truly know our stuff. We are leading authorities on Turquoise and Southwestern Native American Turquoise Jewelry and again, our specialty is Mens Turquoise Jewelry.
Sterling Silver Jewelry is our precious metal of choice, however, we also produce Mens Gold Turquoise Jewelry as well. Gold and Silver Mens Jewelry with unique Southwestern Designs is our niche, as our company is located in the heart of the Southwestern U.S.A. Southwestern Mens Turquoise Jewelry designs and Native American Mens Turquoise Jewelry has always been our focus since we began our business nearly forty years ago.
---
Examples of Mens Turquoise Jewelry by Durango Silver Company
Sterling Silver Mens Turquoise Jewelry is a Specialty of Durango Silver Company and Mens Turquoise Rings are the Mens Turquoise Jewelry item we sell the most of, probably due to the fact that we put a lot of effort in producing special high quality Mens Turquoise Rings. We only produce top end Mens Turquoise Rings with high quality authentic and natural Turquoise Gemstones - Our handcrafted silver work on all of our Mens Rings is top shelf and each of our Rings are one of a kind! Our Mens Silver Rings are Mens Sterling Silver Rings - that is .925 Sterling or 14ky Gold.
The Mens Silver and Turquoise Ring on the left features a Morenci Turquoise Stone with iron pyrite matrix. This is a wonderful Morenci Turquoise Mens Ring and for a Blue Turquoise Mens Ring Morenci Turquoise cannot be topped. The Silver work that the Morenci Turquoise stone is set in was handcrafted with exquisite and detailed silver ornamentations that make this a classic Mens Turquoise Ring, this is a large Mens Ring and is a wonderful piece of mens Turquoise jewelry.
The Green Turquoise Mens Ring on the right was made with a Tonopah Blue Gem Turquoise stone that is very handsome. This Blue Gem Turquoise stone came out of the John and Dillon Hartman Blue Gem Turquoise collection that we have been compiling for over forty years. High quality Mens Turquoise Rings of level cannot be purchased anywhere as they are rare pieces of art and have authentic and natural Turquoise that few people have the opportunity to own. One of these rings would be a great addition to your mens Turquoise jewelry collection.
Native American Mens Turquoise Rings are also a specialty of Durango Silver Company. We use our own high grade Turquoise hand cut here in Durango by our company and then we allocate the Turquoise Stones out to have Navajo Mens Rings and Navajo Turquoise Mens Rings made for us. Our mens rings made for us by Native American Silversmiths are of the highest quality and we guarantee our Native American Indian Jewelry to be authentic. It is wonderful to collect Indian Jewelry as it is truly classic American Jewelry.
| | |
| --- | --- |
| | |
Southwestern Sterling Silver Mens Rings such as the Inlay Turquoise Mens Ring on the left have been made by Durango Silver Company for decades. This particular Silver Mens Ring was inlayed with Bisbee Turquoise which Durango Silver Company is known for. Inlay Mens Silver and Turquoise Rings such as the one on the right also are produced by Durango Silver Company and each one is inlaid with special high quality like this Dry Creek Turquoise Inlay Mens Ring. The two of these fine pieces of mens Turquoise jewelry are what we are best known for and we are especially known for our Bisbee Turquoise Jewelry.
Mens Silver Jewelry and Southwestern Mens Turquoise Jewelry by Durango Silver Company is high quality Mens Turquoise Jewelry that you can count on as being authentic handcrafted Turquoise Jewelry made in the U.S.A. All of our mens Silver Rings are unique and meet the high standards of our company - you can count on it!
| | |
| --- | --- |
| | |
Mens Turquoise Pendants and mens Turquoise necklaces produced by Durango Silver Co. are another of our specialties and we enjoy producing Mens Silver Turquoise Pendants that are distinctive and unique to themselves. We use high grade authentic Turquoise, mostly American Turquoise, in our Turquoise Mens Pendants and then we set them in substantially heavy Sterling Silver fit for a man. Mens Turquoise Necklaces look great with a Blue or a Green Turquoise Pendant hanging from them. Blue Turquoise Mens Necklaces are great for fashion Mens Turquoise Jewelry while Green Turquoise Mens Necklaces go great for the working man or a man that is close to earthly things and/or ideas. This is not a rule of thumb, but, seems to be common from our point of view and we also notice that most men feel Southwestern Mens Pendants are masculine.
Green Turquoise Mens Pendants such as the one on the left which is a bezel set Royston Turquoise Mens Pendant are standard Mens Pendants made often by our company. We make all sizes and shapes of Mens Silver Turquoise Pendants with simple bezel settings and men really enjoy wearing them. Blue Turquoise Mens Pendants such as this unique Turquoise Mountain Mens Turquoise Pendant with Gold Nuggets on the right are often produced by our company and like this one, they are all unique to themselves and one of a kind.
| | |
| --- | --- |
| | |
Durango Silver Company produces many types of Mens Turquoise Bracelets, all of which are unique Turquoise Jewelry pieces. Mens Silver Turquoise Bracelets have been a standard in Southwestern Turquoise Jewelry for over a hundred years and still are a favourite with men today. Blue Turquoise Mens Bracelets such as the one on the left with heavy stamp work are typical of Navajo hand stamp work. The Turquoise Mens Bracelet on the right is a classic example of a Native American Turquoise Mens Bracelet and a beautiful piece of Turquoise Jewelry for men. We also produce a wide assortment of unique green Turquoise Mens Bracelets as well and you can view our Mens Bracelets by going to our Bracelets page from the buttons on the left side of this page.
| | |
| --- | --- |
| | |
Mens Bracelets have been worn for hundreds of years and Mens Silver Bracelets are preferred by many men. Durango Silver Company usually has many Silver Mens Bracelets to choose from that are produced by our company as well as Native American Silver Bracelets. The Mens Silver Bracelet on the left is a hand stamped Navajo handcrafted Silver Mens Bracelet. Navajo Silversmiths are famous for their Silver Stamp work and this is a classic example. The Sterling Silver Mens Bracelet on the right was made by John Hartman of Durango Silver Company. John makes many great handcrafted Mens Silver Bracelets that have heavy Silver work.
More Examples of Mens Turquoise Jewelry
As you look at Silver Jewelry from Durango Silver Company you will notice we make Sterling Silver Jewelry of substantial weight and our Silver Mens Bracelets are no exception to this policy of our company. You will also notice that all of our Silver Turquoise Jewelry for men is created the same - with a substantial amount Silver.
| | |
| --- | --- |
| | |
Mens Turquoise Belt Buckles are a favourite with many men in the Southwest as well as elsewhere. Mens Belt Buckles are a great Silver Jewelry item for all men as most all men wear belt buckles and a Silver Belt Buckle is a great choice. Mens Turquoise Belt Buckles are also great for most men, they are very attractive and ad a lot of character to a mans dress attire. The Mens Turquoise Belt Buckle on the left is a very nice piece of Green Turquoise Southwestern Jewelry. It was Navajo handcrafted and a classic Silver Belt Buckle from the Southwest. The Navajo Belt Buckle on the right was made with Blue Turquoise Nuggets and is a beautiful piece of Blue Turquoise Southwestern Jewelry as well as a great piece of turquoise jewelry for men.
| | |
| --- | --- |
| | |
Southwestern Mens Silver Jewelry is our specialty at Durango Silver Company, we produce many different type of Silver Jewelry as well as Southwestern Mens Turquoise Jewelry such as this handcrafted Turquoise Knife. This custom Turquoise Knife was made by Dave Copec of Colorado. Dave make beautiful custom Turquoise Knives with authentic Turquoise. Read more on Dave's custom Turquoise Knives by clicking on the link above. To the right is a Navajo handcrafted Bolo Tie made with Turquoise Mountain Turquoise from the Kingman Mine in Arizona. You can read more about this Navajo Bolo Tie by selection this link.
| | |
| --- | --- |
| | |
Mens Gold Turquoise Rings have been a specialty of Durango Silver Company for nearly forty years. We produce many type of Mens Gold Rings from lost wax style like the Ring above to a variety of Southwestern styled Mens Gold Rings. The Ring above was created by John Hartman, it started with a wonderful Green Turquoise Stone and was made by applying layer after layer of molten Jewelers wax to create this artisan design. Once it was casted, John added Colorado Gold Nuggets on each side of the Ring.
We produce a lot of Native American Mens Turquoise Rings that are unique to our company. We generally supply the Turquoise Gemstones to the Native Americans to have our Navajo Mens Rings made.The majority of our Native American made Rings are Navajo and are Silver Mens Rings.
The Gold Turquoise Ring on the left was made with a Bisbee Turquoise stone in the lost wax design. Lost wax Turquoise Mens Rings by Durango Silver are all unique and are very desirable by Men. The Native American Turquoise Ring on the right was handcrafted with a natural Turquoise stone from the Kings Manassa Turquoise Mine from Manassa, Colorado and is a fairly large mens ring. The Manassa Turquoise Mine was one of the first Turquoise Mines found over a thousand years ago by the Native American Indians.
As in the two Mens Silver and Turquoise Rings above, all of the Sterling Silver Mens Rings produced by Durango Silver Company are a heavier weight as we use a substantial amount of metal in our Turquoise Jewelry. Navajo Turquoise Mens Rings.
We have made a large variety of mens Turquoise jewelry including Mens Turquoise Pendants as well as Mens Necklaces including Mens Turquoise Necklaces. Mens Silver Pendants such as the one on the left are individual and unique to themselves as they start with a hand cut Turquoise stone and the design is created around the stone.
The Mens Pendant Necklace on the left was handcrafted in Sterling Silver and features a Manassa Turquoise Stone. The Turquoise Bead Necklace shown above was made as a Mens Turquoise Necklace, many men enjoy wearing Turquoise Beads and we make a lot of Mens Turquoise Bead Necklaces that are masculine and attractive for men.
The Mens Turquoise Bracelet above was Native American handcrafted with three Bisbee Turquoise Gemstones. This is a classic Navajo Turquoise Mens Bracelet. Durango Silver Co creates a lot of unusual Mens Turquoise Bracelets that are one of a kind, the Mens Turquoise Link Bracelet on the right is very unique and a very attractive piece. Lime Turquoise stones were bezel set and then applied onto a heavy Sterling Silver Mens Chain Bracelet.
| | |
| --- | --- |
| | |
These two Mens Rings are Southwestern styled Rings for men, made with substantial Silver and Gold and are unique to themselves, not to mention these are great examples of Mens Turquoise Jewelry. Both of these pieces of mens Turquoise jewelry are one of a kind and produced by Durango Silver Company. The Sterling Silver Mens Turquoise Ring on the left was made with Bisbee Turquoise from Arizona bezel set on top of a unique Ring Shank that has petroglyths. The Mens Silver and Gold Ring on the right is unique as it has a beautiful and rare spiderweb Turquoise Stone from the Dry Creek Turquoise Mine located in Nevada. The stone is set in a combination of Silver and Gold which is very attractive and desirable to mens Turquoise jewelry.
Southwestern Sterling Silver Mens Rings made with Silver and Gold in unison are becoming more popular as the two tone metal combination is good looking and when you ad Turquoise it makes a very attractive mens or women's Turquoise Ring. Durango Silver Company makes many different types of Silver and Gold Turquoise Jewelry such as Rings, Bracelets, Pendants and Necklaces, check our site out often to see new pieces as they are added. We have a wide selection of men's Turquoise Jewelry.
Durango Silver Co makes many types of Mens Silver Rings, this Mens Buffalo Ring is a classic from our company that has been produced for many years. It is a great Western styled Silver Mens Ring that many men like.
Here are two different Turquoise Rings for Men - unique Mens Rings such as these two are made often by our company as we specialize in unique Mens Rings of exceptional quality. Southwestern Mens Turquoise Rings are unique Mens Rings to begin with and our Silver Rings are different then more due to the craftsmanship that goes into them.
The Mens Ring on the left is a unique mens ring only made by Durango Silver Company, it is considered a Saddle Ring by design as it is completely round on the inside of the ring to fit the finger comfortably. The Mens Silver Ring on the right features a White Turquoise stone from the White Buffalo Turquoise Mine in Nevada. It is a large Mens Ring with substantial Silver work that is appreciated by men. Durango Silver Company is known for its large Mens Rings as we have produced a lot of them for nearly forty years.
The Mens Inlay Turquoise Ring on the left was made by Dillon Hartman of Durango Silver. It is a large Mens Ring that has unique inlayed Turquoise stones incorporated into the design. The Mens Turquoise Ring on the right was produced by Durango Silver and features a beautiful Royston Boulder Turquoise or Ribbon Turquoise stone. Each Ribbon Turquoise stone is unique to itself and this one with deep green is awesome.
Mens Sterling Silver Turquoise Rings of the highest quality is what Durango Silver Company is noted for, Southwestern Mens Rings that have a unique style is standard for our company, Blue Turquoise Mens Rings from Durango Silver Company are generally made with Bisbee Turquoise, Morenci Turquoise, Sleeping Beauty Turquoise and Kingman Turquoise from Arizona - Battle Mountain Blue Gem Turquoise, Lander Blue Turquoise, Blue Wind Turquoise, Lone Mountain Turquoise, Royston Turquoise, Blue Diamond Turquoise and Dry Creek Turquoise from Nevada. Green Turquoise Mens Rings are generally made with Royston Turquoise, Tortoise Turquoise, Dameli Turquoise, Blue Gem Turquoise from Tonopah and Fox Turquoise from Nevada and green Bisbee Turquoise and Turquoise Mountain Turquoise from Arizona. We also use Manassa Turquoise and Villa Grove Turquoise from Colorado, Cerrillos Turquoise from New Mexico, Tibetan Turquoise from Tibet and various high grade Turquoise from other Turquoise Mines globally as we can find authentic high grade.
---
We hope you have enjoyed our presentation on Turquoise Jewelry for Men and have gained some useful knowledge from it. We invite you to learn more about Turquoise and Turquoise Jewelry by following the links in our Learning Center to other informational pages that we have written on different topics related to Turquoise Jewelry. In addition, we would like to invite you to join our E-Mail Newsletter - about once every other month we send out a Newsletter to inform our members of what's happening with Durango Silver Company, new products, specials for our members and more. We also have a monthly drawing from our member base to give away free Turquoise Jewelry from our company. Please take a moment to become one of our friends by signing in below.
---
Thank you for reading about Mens Turquoise Jewelry | Turquoise and Jewelry Learning Center