Turquoise Jewelry Made in America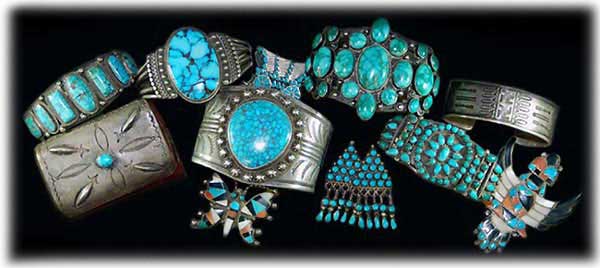 Turquoise Jewelry Made in America began with the Native American Indians located at Chaco Canyon in approximately 400 A.D., and possibly earlier. The Anasazi Indians had discovered and mined Turquoise at what we now know as the Conejos area of Colorado, at Cerrillos, in the Burro Mountains of New Mexico, and at Chaco Canyon in New Mexico. The artisans carved the stone and used it to make beads and as a material for mosaic inlays for spiritual amulets. By 1000 A.D., Pueblo Bonito at Chaco Canyon had developed a major trade with Turquoise and as far away as Chichen Itza, which was the greatest Mayan City of those times located on the Yucatan Peninsula.
In the Southwestern region of North America the Native American Indians continued making Turquoise Jewelry which was traded amount Native Americans as well as to anglo traders that came across trade roots through Santa Fe and the Southwest. Atsidi Sani, a Navajo Blacksmith, learned how to make Silver Jewelry from the Spaniards between 1868-1870 and that is when Silver Turquoise Jewelry made in America, (Southwestern,) began. Turquoise Jewelry made in American has been a vigorous trade item since that date.
Turquoise Jewelry was also made by early settlers of the United States on the east coast. Turquoise Jewelry was being made in Europe long before they began migrating to America and the United States. Early European Jewelers brought Persian Turquoise with them and introduced it to the early American culture as early as the mid to late 1700's. Turquoise Jewelry made in Southwestern America is very special as American Turquoise is known as some of the finest Turquoise on earth.
Today, December 2012, Turquoise Jewelry made in America is becoming a minority of the Turquoise Jewelry being produced worldwide. Turquoise, being one of the first gemstones founded by mankind is now one of the top ten most popular gemstones on earth. Jewelry with Turquoise and imitation Turquoise is now in demand pretty much globally and it is being heavily produced in China, the Philippines, Viet Nam, Korea, Egypt, Jordan, Mexico and beyond, however, most of this Turquoise Jewelry has very little value other than for the fashion market due to inferior materials and craftsmanship. There is a market for this type of Jewelry but it should never be confused with quality Turquoise Jewelry made in America.
Turquoise Jewelry made in America has always been held sacred and dear to Americans as it is one of our greatest heritages. The great American Western Frontier is one of the most colorful and historical evolutions of the United States past and Turquoise Jewelry made in Southwestern America has played a wonderful roll throughout this period. From the early years when Turquoise was found by the Native American Indians to date, it has been held as a sacred, spiritual and metaphysical gemstone that is believed to be put on this earth by the great ones above. Native Americans, Tibetans, Egyptians and many other cultures agree in unison, health, happiness and good fortune is bestowed onto those who bear authentic, natural Turquoise.
Durango Silver Company produces high quality, authentic Turquoise Jewelry made in America. We are certain we have been blessed from our relationship with Turquoise, we feel it is our honour to offer American Turquoise Jewelry that has real value to our friends and customers. As we have been in this trade for generations, we have accumulated one of the worlds premier natural Turquoise collections which we use to create some of the finest Turquoise Jewelry coming out of the American Southwest today.
Turquoise Jewelry Made in America from Durango Silver Co
We invite you to check out the Turquoise Jewelry we have available by following the links to the left side of this page.
Above and to the left is a wonderful Turquoise Mens Ring created in Sterling Silver by John Hartman of Durango Silver Company, Durango Colorado USA. The spectacular Spiderweb Turquoise Gemstone is from our personal Tibetan Turquoise collection. This is high quality sacred Turquoise from Tibet and it is natural. The Silver design of this all American Ring is remarkable and timeless. To see additional photos of this Mens Turquoise Ring.
To the right is another Turquoise Ring made in America, again, by John Hartman, this is one of John's Victorian style designs. John is one of the premier Gold and Silversmiths from the American Southwest, his Silver Jewelry is collected worldwide and he has a historical past in the overall development of Native American Jewelry from the Southwest USA. Read more about John Hartman, his Jewelry, as well as one of his great acquisitions - Fort Defiance Trading Post. You can also see additional information on this particular Victorian Turquoise Ring by following this link and you can follow the next link to learn more about Turquoise Rings.
| | |
| --- | --- |
| | |
To the above are two all American made Turquoise Bracelets, to the left created by John Hartman and to the right created by John Hartman and Ben Yazzie. Both of these beautiful Turquoise Bracelets are made in America, the bracelet on the right shows you how John Hartman continues to influence the future development of Native American Jewelry. John designed this Bracelet and Ben Yazzie actually did the Silverwork based on John's instruction, you will see his influence by checking out his other pieces on the Durango Silver site - this is a Victorian motif! John has been designing for and with Native Americans for well over forty years. He is a master Jeweler and he has worked head to head with great marketing leaders from the past as well as the present. John's historic designs are seen throughout Southwestern Jewelry today as he has been prolific in the past development of Jewelry that has come from this region in the past.
Quality Turquoise Jewelry Made in America
To the above left are two pairs of quality Turquoise Earrings which are "quality Turquoise Jewelry made in America" - The Navajo Cluster earrings on the left were made by Navajo Artisan, Ben Yazzie and the pair on the right were made by John Hartman. Both of these pairs of earrings have beautiful Turquoise gemstones that were hand cut by Dillon Hartman of Durango Silver Co. On the left are natural Sleeping Beauty Turquoise and on the right are #8 waterweb Turquoise accented with Sugilite gemstones.
To the above left is a spectacular gemstone necklace that was made in America by John Hartman. This Gemstone Necklace features a beautiful spiderweb Royston Turquoise center stone that is accented by Sugilite, Spiny Oyster Shell and Gaspeite gemstones. The Silver work in in John's Victorian style which makes this a very colorful piece of Turquoise Jewelry made in America!
To the right is a beautiful Fox Turquoise Necklace set handmade by Ben Yazzi. Ben has been making Silver Jewelry for Durango Silver Company for years, he is a very talented Navajo Artisan that has sold his Native American handmade Jewelry to many famous people including Elvis Presley for over 40 years. Some of the most famous actors as well as musicians collect and wear Bens fine Turquoise Jewelry made in America.
To the above left is a beautiful Turquoise Pendant handmade by Crystal Hartman of Durango, Colorado USA. Crystal has been an American Artist since her childhood, from a little girl, Crystal drew, painted and created all types of very creative things. She went onto college to get a degree in art and now she is a multi talented artisan from the American Southwest and she creates great Turquoise Jewelry made in America. You can see more of Crystal's work and read more about Crystal Hartman on her website.
Above and to the right is a very nice Silver and Turquoise Belt Buckle handmade in Southwestern America by Navajo Artisan Richard Begay. Richard Begay did a wonderful job inlaying this western belt buckle. The overlay and saw work on this beautiful Sleeping Beauty blue Turquoise buckle is beautiful. This western belt buckle features a rectangular center stone of natural Sleeping Beauty Turquoise from Globe, Arizona USA. Richard has been making Navajo Silver Jewelry all of his life as his father did.
We invite you to take a look at a few of our other presentations - Navajo Silver Jewelry, multiple educational pages from our Learning Center and our Turquoise Jewelry page.
---
Learn more about Turquoise Jewelry Made in America and American Silver Jewelry by following the links in our Learning Center. In addition, we would like to invite you to join our E-Mail Newsletter - about once every other month we send out a Newsletter to inform our members of what's happening with Durango Silver Company, new products, specials for our members and more. We also have a monthly drawing from our member base to give away free Turquoise Jewelry from our company. Please take a moment to become one of our friends by signing in below.
We hope you have enjoyed our presentation on Turquoise Jewelry Made in America and have gained some useful knowledge from it.