Antique Turquoise Bead Jewelry by Durango Silver Co
Antique Turquoise Bead Jewelry from the Southwestern United States originated over 2000 years ago when the Hohokum Indians of what is now known as Arizona found Turquoise near the Kingman and Morenci, Arizona areas. Extensive evidence of prehistoric mining has been found in the Cerillos and Burro Mountain regions of New Mexico and in the Conejos area of Colorado which dates prior to 800 A. D.
The Santo Domingo Indians of the Rio Grande Valley just south of Santa Fe were the most industrious in making Turquoise Bead Jewelry for trade. It is believed that they started producing quantities of Turquoise Beads to be traded and sold in Santa Fe by the mid 1700's. The Santo Domingo Indians would mine their Turquoise near Cerrillos N.M. and the Burro Mountains, grind and finish the Turquoise into ornaments of Turquoise and Turquoise Beads and trade them in Santa Fe. By the 1920's, tourism had begun and the Santo Domingo Indians took full advantage by selling more and more of their wears to the tourists coming through Santa Fe.
Today, times have changed dramatically and the making of handcrafted Turquoise Beads by the Santo Domingo Indians has nearly come to an end. Beads these days are being mass produced in China and other regions of the world. The Santo Domingo Indians now buy pre-made Turquoise Beads and assemble them into necklaces, earrings, bracelets and so on - still to be marketed in Santa Fe on the Plaza.
Antique Turquoise Beads, Vintage Turquoise Bead Necklaces and other Antique Bead Jewelry made by the Santo Domingo Indians have now become collectible Antique Indian Jewelry. It is getting harder to find this antique bead Jewelry and many collectors hunt for old Native American Turquoise Beads feverishly before they become nonexistent.
Collecting Antique Indian Jewelry and Vintage Turquoise Beads can be a lot of fun and rewarding financially as it can be found all over the United States and the world, for that matter. People have been traveling to the Southwest and taking home souvenirs from this area for over a hundred years. Every day, people are cleaning out their houses and discarding their belongings and Antique Indian Jewelry shows up in garage sales, flea markets, pawn shops, auctions and other. A lot of times, people find amazing old American Indian items and Antique Turquoise Jewelry as well. Hunting for old Turquoise Jewelry is a great thing to do and there are many books these days that you can buy to educate yourself. You can find books on this subject at Amazon.com by typing in "Antique Indian Jewelry Books". I suggest, "Fine Indian Jewelry of the Southwest, The Millicent Rogers Museum Collection" and "Indian Silver Jewelry of the Southwest, 1868-1930 by Lawrence Phillip Frank and Millard J. Holbrook".
Below are several examples of Antique Turquoise Bead Necklaces and Jewelry:
Antique Turquoise Necklace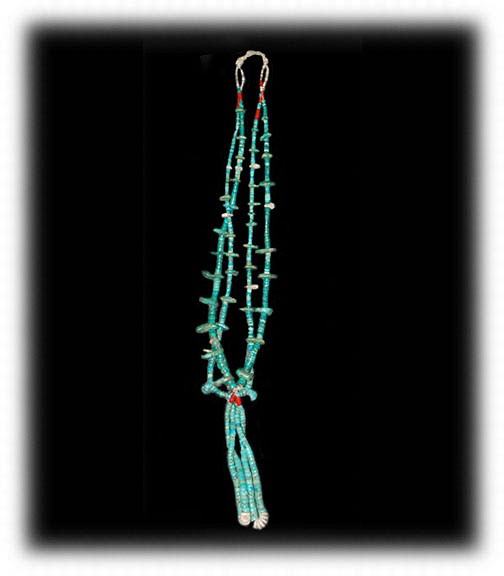 This Antique Turquoise Necklace was made about 1940 by a Santo Domingo Indian and most likely sold on the Plaza in Santa Fe. It has blue Turquoise Beads with a Jatal (Jaw-Claw) hanging from the bottom of the necklace. Navajos would hand sever sets of Jatal's as a sigh of wealth in the early years. This Antique Turquoise Necklace has a pawn tag from the Fort Defiance Trading Post showing that the Navajo Indian who owned this piece last pawned it in 1936, however, it is much older than that, it was probably made around 1910. (John Hartman collection)
| | |
| --- | --- |
| | |
The two Antique Turquoise Necklace sets above were made by the Santo Domingo Indians. The Bead Necklace on the left is a single strand with one set of Jatal's and was last pawned by a Navajo Indian at the Fort Defiance Trading Post in 1951. The Vintage Turquoise Necklace on the right has two strands of beads and two Jatal's. Notice one of the strands of beads are more green than the other, this necklace was owned by a Navajo and was once a single strand necklace and another was added later, the same situation probably holds true with the Jatal's! This is historic as the did this as he or she added onto their necklace as the could afford it and this tells a story. This unique piece of Antique Indian Jewelry was pawned last in 1948 at the Fort Defiance Trading Post (John Hartman collection).
| | |
| --- | --- |
| | |
Here are two Antique Turquoise Bead sets from the Cerrillos Mines. The Jatal set (Jaw Claws) on the left are Cerrillos Turquoise, you can tell by the color of the Turquoise as it has a distinct soft green color. This set of beads were probably made around 1900. The single strand necklace on the right is also made from Cerrillos Turquoise and is a beautiful Antique Turquoise Necklace. Necklaces like this were made a little later, in general, and I would date this one from the 1920's.
| | |
| --- | --- |
| | |
Both of these Antique Turquoise Necklaces are from the Fort Defiance collection purchased by John Hartman in 1982. They both have pawn tags showing they were last pawned in the mid 1940's, however, they had been worn for years by Navajo individuals who loved them. The necklace on the left was made approximately 1920 and has Turquoise Nuggets as well as different shaped Turquoise Beads stung with shell heishe. The Navajo Turquoise Bead Necklace on the right is interesting because it has a mix of beads from different areas, Cerrillos and probably Colorado Turquoise. This is unique as it was probably re strung from different necklaces by a Navajo. This necklace tells a story that is probably belonged to a person that did not have a lot of money and accumulated the beads over a period of time. Many Navajos lived in remote areas in this period and rarely got to a trade center. Some of these beads may date back to 1870 or earlier.
| | |
| --- | --- |
| | |
Here are two examples of Turquoise Beads that look old but are not. The set of Turquoise Beads on the right were made recently (2010) by Nattarika Hartman. The Turquoise Beaded Bracelet on the right was made by Nattarika as well. I put these two photos in here to show you that it takes a trained eye to know the difference between Antique Turquoise Beads and new ones. If you are wanting to collect old Turquoise Beads, you must be carefully and study beads well before you start collecting.
| | |
| --- | --- |
| | |
Here are two more sets of Turquoise Beads that are modern for you information. They are both beautiful, but they are not old. Again, you must educate yourself on Turquoise Beads before you start buying them. Turquoise Beads have been made for a long time and are still being made today as they are even more popular now they ever in the past. Antique Indian Turquoise Beads are unique, historic and are beautiful for those values, however, new Turquoise Bead Necklaces are also beautiful and collectible but their is a big difference.
John Hartman of Durango Silver Company has been a collector of Antique Indian Jewelry for over 40 years and is very knowledgeable in this field. If you think you have Vintage Turquoise Beads or Antique Indian Jewelry, you might consider getting an evaluation from John.
If you are interested in Antique Indian Jewelry, you may want to join our Newsletter below. We put out a by-monthly Newsletter that often has stories on old Indian Jewelry by John Hartman and keeps you informed when old Indian Jewelry becomes available for purchase. We also have a monthly drawing for Free Turquoise Jewelry that we give away to our members, we do give away old Turquoise Jewelry as we buy collections.