Southwestern Turquoise Jewelry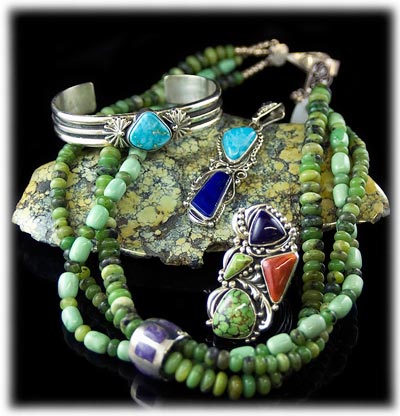 Southwestern Turquoise Jewelry
Southwestern Turquoise Jewelry is unique to the world and is an asset to the heritage of the United States. Durango Silver Company of Durango Colorado USA offers the highest quality of Southwestern Turquoise Jewelry handcrafted right here in the heart of the Southwest. We take pride in each and every piece we make or have made for us locally by Native American Indian artists. Southwest Jewelry is some of the most popular silver jewelry world wide.
Southwestern Turquoise Jewelry is known for its uniqueness around the globe by people who appreciate handcrafted art. Turquoise is an ancient gemstone, in fact, it was one of the first gemstones known to man dating back 6,000 years before Christ. For thousands of years Turquoise has been used by worshipers for healing and spiritual purposes. Past and present healers and native medicine men profess that the bearer of Turquoise will have good health, happiness and fortune. Owning a piece of Southwestern Turquoise Jewelry made with natural Turquoise will make you happy and we hope it will bring you good will in many other areas of your life.
Or view examples of Southwestern Turquoise Jewelry
Above are some examples of our work: 1. A marvelous Southwestern Turquoise Pendant made with Silver and Turquoise from the Manassa, Colorado Turquoise Mine, this mine was one of the first Turquoise Mines found hundreds of years ago by the American Indians. 2. A handsome Mens Turquoise Ring made with Bisbee Turquoise, the most famous Turquoise in American history 3. A beautiful pair of Silver and Turquoise Earrings featuring rare Morenci Turquoise from Arizona. All of these Southwestern Turquoise Jewelry items were produced by Durango Silver Company and Jewelry items similar to these can be found on our site today.
Southwestern Turquoise Jewelry made with Silver and Turquoise of the highest standards and quality from Durango Silver Co is for you! Let us show you what we have to offer and also guarantee you that your happiness and satisfaction with our Jewelry is how we feel good about ourselves each and every day.
Above are three more pieces of Southwestern Jewelry produced by Durango Silver Co. 1. A nice Southwestern Styled Ring with a Ribbon or Boulder Turquoise Stone from the Royston Turquoise Mine in Nevada 2. A marvelous Blue Gem Turquoise Bracelet with purple Sugilite accent stones, a beauty 3. A Sterling Silver Ring with Silver Ore from Silverton Colorado accented with a purple Sugilite Stone.
As you can see from the examples above and the other unique Southwest Jewelry on our site, Southwestern Turquoise Jewelry can range from classic Spanish inspired Navajo Jewelry style pieces, to contemporary jewelry, inlay turquoise jewelry, bead jewelry, and more. Our Southwestern Turquoise Jewelry is inspired by our surroundings as well as the diverse ethnic background of the Southwest.
---
We have also created a fortress of great Informational Pages with photos and text for you to learn more about Turquoise and Turquoise Jewelry. We hope you enjoy our website and we look forward in adding you to our family of friends. Make sure you Join our Newsletter as we put our an occasional letter about what's going on in Durango, Durango Silver Company and Special items we have added to our site. We also have a monthly drawing for free Durango Silver Jewelry that we give away to our members. Thank you for your reading this brief article about Southwestern Turquoise Jewelry.
---