The Colorback Mine, originally known as Turquoise Boy is located near the SE corner of section 20, T. 29, N. R 47 E. about 3.5 miles north - northwest of Tenabo, 1 ½ miles north of the famous Lander Blue mine, about a half mile north of the Badger Mine and 500 ft. south of the famous Blue Gem Mine. This places it in the heart of what is known as the Bullion district, in Lander Co. NV. As documented by the Nevada Bureau of mines, Mackay school of mines, University of Nevada, Reno. This district constitutes the most extensive Turquoise deposits and mines in the entire state of Nevada. Which produces more Turquoise than any other state in the nation. The deposit was discovered by Mrs. Bessie Long and William G. Newbury in 1939. Bessie Long was homesteading the property with her daughter and two sons in a 15X15 shack made of wood and sod.
Charles Haig, a miner employed by Gale Peer at the Blue Gem Mine accidentally found an exposure of Turquoise on the colorback claim, Haig, who was courting Mrs. Long's daughter, revealed the find to the daughter and work was at once begun on the new find. Mrs. Long and her sons drove a shaft 40 ft. deep on the vein removing about 1,500 lbs of good Turquoise both spider web and clear blue Turquoise.
Mrs. Long died shortly after the mine had been so developed, and the probate court ordered the mine sold as part of her estate. The property was bought by J. W. Edgar, a legend in the Turquoise industry, who owned it until 1974 when Elwood Wright took over as operator. Wright then re-opened the mine for production in 2002. The mine is family owned and operated and offers a variety of natural gemstones including Turquoise, Varasite, and Chalcosiderite, in a variety of forms such as nodule, nugget, and vein, with colors including blue, green, yellow, and white. Today the decendants of Elwood Wright are mining the claims and hope to bring this mine back to its glory days. - Learn more about Nevada Turquoise Mines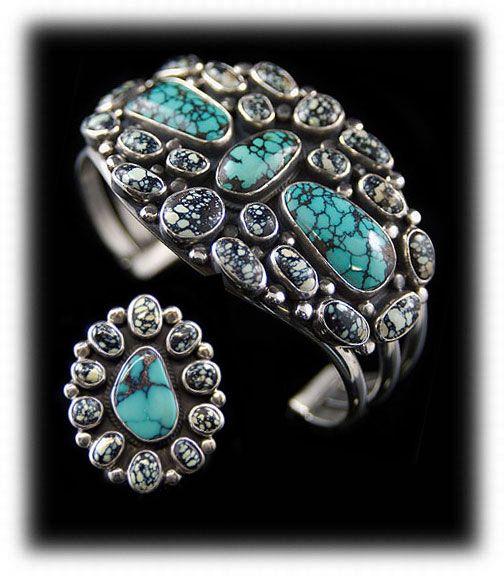 White Colorback Spiderweb Turquoise Cabochons along with high grade
Spiderweb Bisbee Turquoise Cabochons
set in a museum quality Sterling Silver
bracelet and ring set
by Navajo Jewelry artisan Verde Jake.
Documented information about the Color Back
mine is provided by the University of Nevada,
Reno under Nevada bureau of mines turquoise deposits of Nevada, Report 17.
Learn more about Turquoise Jewelry