Turquoise & Sugilite Bracelets
Handcrafted Turquoise and Sugilite Bracelets made in the USA!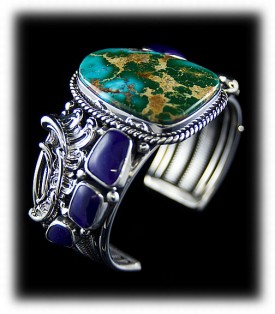 Sugilite is a beautiful purple colored gemstone that is mined near Northern Cape Province of South Africa and due to unrest in the region little to no Sugilite is being taken out of the mines any longer. Durango Silver is one of very few Companies that have Sugilite rough as it has become rare! We hand cut and inlay all of our own Sugilite into beautiful, one of a kind, Sugilite Jewelry, including Sugilite Bracelets.
We produce a large variety of Sugilite Jewelry, however, we specialize in Sugilite Bracelets. We usually have a large supply of Inlaid Sugilite Bracelets as well as Bracelets with hand cut Sugilite gemstones set on their own as well as with other colored gemstones and shell. The Royston Turquoise and Sugilite Bracelet above was made by John Hartman of Durango Silver Company. John is a master Silver and Gold Smith that known worldwide for his work. This unique Bracelet is a good example of his Victorian Silver work.
Quality Turquoise and Sugilite Bracelets
Quality Sugilite Bracelets by Durango Silver Company have high grade Sugilite Gemstones hand cut by Dillon or John Hartman
Above and to the left is a one of a kind hand crafted Turquoise and Sugilite Bracelet made by John Hartman of Durango Silver Company. This piece was created in wax and designed around these specific gemstones and then it was cast in the lost wax method into this marvelous piece of art. John is a master Silver and Goldsmith that has his works in Museums and famous Jewelry collections worldwide.
The three stone Silver Bracelet above and to the right has a beautiful Morenci Turquoise center stone accented with two Sugilite side stones. It is handcrafted in a substantial weight of Silver and created in a Victorian style by John Hartman. John also hand cut the Morenci Turquoise as well as the Sugilite gemstones that he set into his Sterling Silver Bracelet.
This outstanding Southwestern Styled Silver Bracelet was made by John Hartman. It has three beautiful Sugilite stones and four Morenci Turquoise Stones. This is a one of a kind piece of wearable art that will be the only one of its type. This is a beautiful piece of Sugilite Jewelry that would be a good addition to any Jewelry collection.
Above and to the right is a Native American handmade Sugilite Bracelet created by Gertrude Begay (Navajo). A unique 3-D geometric cut Sugilite cabochon is the highlight of this heavy silver bracelet. The silver cuff bracelet shank is decorated with hand stamped and chased lines. The focal point of this bracelet is an elevated rectangular Sugilite cabochon that is set in a heavy serrated bezel. The bottom of this women's Sugilite bracelet is shaped like open hands.
| | |
| --- | --- |
| | |
Above and to the left - A great Silver Cuff Bracelet, this stunning deep purple Sugilite and Gaspeite inlay bracelet is very attractive and easy to wear. This sleek Sugilite bracelet would make an great addition to any Silver Jewelry collection. This Sugilite and Gaspeite Inlay Bracelet focuses on a narrow band of inlaid gem grade, deep purple, Sugilite from the Wessel's mine in South Africa and is separated with lime green Gaspeite stone inlays from Australia. The stones were all cut to a point in the center so that the whole bracelet comes to a smooth point in the middle that goes all the way around the cuff.
Above and to the right is a men's Sugilite and Lime Turquoise Inlay Bracelet by Bill Anderson of Durango Silver Company. This gorgeous handmade cuff bracelet has been inlaid with top grade natural Tibetan Lime Green Turquoise and natural royal purple Sugilite to make it ultra special. Bill took special care when inlaying this Bracelet to make certain the gemstones were a perfect match. Bill cut all of the Lime Green Turquoise stones from the same nugget and all the Sugilite stones from the same nugget.
| | |
| --- | --- |
| | |
Above and to the left is a bracelet that is truly rare these days with its inlaid top grade purple Sugilite, top grade natural Turquoise and large wrist size. Vivid colors of natural gemstone adorn this extra-large Multi Color Inlay Bracelet by Navajo artisan Alvin James. This bracelet includes Sugilite, Spider Web Chinese Turquoise, Lapis Lazuli, Sleeping Beauty Turquoise and Spiny Oyster Shell. The mosaic inlay pattern is very attractive and adorns the top of this heavy weight sterling silver cuff bracelet. The men's sterling silver cuff bracelet graduates from wide to narrow and back to wide again at the bottom.
Above and to the right is a museum quality Turquoise Inlay Bracelet With Gaspeite And Sugilite by Native American artist Julius Burbank. Beautiful tones of blue green, lime green, blue and purple perfectly complement each other in this Sterling Silver Inlay Bracelet. The largest of the 105 inlaid gemstones are large triangles of Spiderweb "Dragon Skin" Turquoise from the famous Hubei Mine in China. These top gem grade natural Spiderweb Turquoise stones are accented by triangles of natural lime green Gaspeite, deep purple Sugilite, and water web Kingman Turquoise. Native American handmade in New Mexico, USA, this men's silver cuff bracelet features the Native American hallmark "Julius Burbank and Sterling USA".
Sugilite Bracelets
Sugilite Pendants by Durango Silver CO are all one of a kind and sold by our company only
This Orvil Jack Turquoise and Sugilite Bracelet features a bright lime green Turquoise cabochon that is accented by Sugilite cabochons to each side. These gemstones are separated by raindrop designs. On each side of the stones sets a repose style paisley design. This all sits atop a classic rope and wire silver cuff bracelet frame.
A Navajo handmade Greek Key Sugilite Cuff Bracelet by Vernon Begay focuses on a high quality Sugilite cabochon. This Sugilite bracelet is super thick and features classic a Mediterranean style that draws your eye to its enchanting beauty. The inside of this bracelet is also stamped all the way around. This is a very difficult design to create and takes a highly skilled Jeweler to design. This Silver Greek Key Sugilite Cuff Bracelet features beautiful Sugilite from the only known gem Sugilite mine in the world, the Wessel's Mine in South Africa.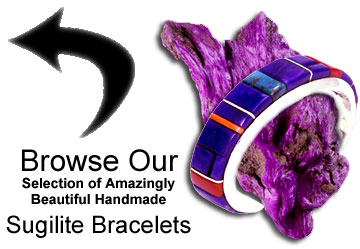 We also have other presentation pages on Sugilite that you may be interested in viewing. Sugilite Presentation, Sugilite Jewelry Presentation, Sugilite Video Presentation, Sugilite Pendants, Sugilite Rings
We hope you have enjoyed our presentation on Turquoise and Sugilite Bracelets and have gained some useful knowledge from it. We invite you to learn more about Turquoise and Sugilite Jewelry by following the links in our Learning Center to other informational pages that we have written on different topics related to Turquoise Jewelry. In addition, we would like to invite you to join our E-Mail Newsletter - about once every other month we send out a Newsletter to inform our members of what's happening with Durango Silver Company, new products, specials for our members and more. We also have a monthly drawing from our member base to give away free Turquoise and Sugilite Jewelry from our company.