Turquoise Cuff Bracelets
Turquoise Cuff Bracelets have been a favored item in Southwestern Turquoise Jewelry since its inception in American. There has probibly been as many Turquoise Cuff Bracelets made as rings or most any other Turquoise Jewelry item. Most all Native American Indians wear Turquoise Cuff Bracelets in everyday life and it is very rare to see a Native American Indian not wearing one on any given day.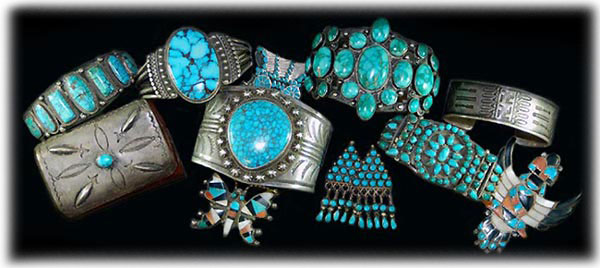 Durango Silver Company is located deep in the heart of the Southwest and Turquoise Cuff Bracelets are one of our specialties. We make and produce all types of Turquoise Cuff Bracelets as well as other Gemstone and Inlay Cuff Bracelets. Our local clientle are westerners, Native American Indians and people touring the Southwest who all tend to desire Turquoise Cuff Bracelets, so we always have a lot of them in stock.
If you are interested in Turquoise Cuff Bracelets, look at our examples with descriptions below and go to our Turquoise Bracelet pages to see what we have to offer at this time.
---
Turquoise Cuff Bracelet Examples
These two Turquoise Cuff Bracelets are of classic styles from the American Southwest. The Cuff Bracelet on the left was Navajo Indian handcrafted with exquisit Silverwork and a fabulous Bisbee Turquoise Stone. The Turquoise Cuff Bracelet on the right was also American Indian handcrafted with extensive stamp and silver overlay work - it features a Turquoise Mountain Turquoise Gemstone that is very attractive.
The two Turquoise Cuff Bracelets above were produced by Durango Silver co. They are contemporary Cuff Bracelets that are in fashion and both have exciting Bisbee Turquoise Stones. Bisbee Turquoise is the most famous American Turquoise from the historic American past, it is said to be the most beautiful Turquoise that ever came out of the ground in the world. Durango Silver Co has one of the largest Bisbee Turquoise collections in the world.
To the left - Is a Blue Gem Turquoise Cuff Bracelet produced by Durango Silver Co in a Victorian Silver design. The Blue Gem stone is from the old Blue Gem Turquoise Mine located near Battle Mountain, Nevada. The Mine has been closed for over 30 years.
To the right - Is a Navajo Row Cuff Bracelet with Damele Turquoise from Nevada. It is called a Row Bracelet because it has a row of Turquoise Stones on a Bracelet Frame. Damele Turquoise is fairly scarce and has beautiful shades of green including Lime Turquoise. Damale Turquoise is wonderful when used in Turquoise Cuff Bracelets.
More Examples of Turquoise Cuff Bracelets
These two Turquoise Cuff Bracelets are made with natural Turquoise and Gemstones that are hand picked for our Jewelry at Durango Silver Co.
To the left - A multi strand of Turquoise and other Gemstones including Coral, Lapis, Gaspeite and Spiny Oyster Shell. This is what we call a Treasure Fashion Turquoise Cuff Bracelet, they are popular and we make a lot of differant color variations in these type of Turquoise Cuff Bracelets.
To the right - A simple and elegant Turquoise Cuff Bracelet made with Sleeping Beauty domed barrel beads and rondelle beads. This is a great Bracelet for everyday type use and goes with almost any type of dress attire.
Here are two Turquoise Cuff Bracelets produced by Durango Silver Co - These Turquoise Cuff Bracelets were made in classic Southwestern style.
To the left - A Lime Turquoise and Sugilite Cuff Bracelet in a Victorian Silver Design by John Hartman. The Silverwork in this Turquoise Cuff Bracelet is entense and spectacular and both of the unique Gemstones are attractive together.
To the right - A old Fred Harvey style Turquoise Cuff Bracelet with a Blue Gem Turquoise Stone. The Bracelet design is stamped and scalloped with domed graduated bead designs. This is a classic Turquoise Cuff Bracelet.
These two Turquoise Cuff Bracelets can be worn by either sex. The Cuff Bracelet on the left features a Ribbon Turquoise Stone from the Royston Turquoise Mine near Tonopah, Nevada. It has unique cone and spray designs on a substancial Bracelet Frame. The Turquoise Cuff Bracelet on the right has a Manassa Turquoise Stone from Colorado set on a heavy weight Sterling Silver Frame. Both of these Turquoise Cuff Bracelets are easy and comfortable to wear on a daily basis.
To the left - A White Buffalo Turquoise Cuff Bracelet in a floral Victorian design by John Hartman. White Buffalo is from the Tonopah, Nevada area and is very attractive in Sterling Silver Jewelry. This Turquoise Cuff Bracelet is of substancial weight and is truely a one of a kind.
To the right - This Blue Gem Turquoise Cuff Bracelet is also made by John Hartman of Durango Silver Co. It is in John's classic Victorian Silver design that he is famous for. The Blue Gem Turquoise Stone is exquisit with whisps of green running through blue accented by golden colored matrix. Each one of John's Victorian styled pieces of Jewelry are treasures and are also one of a kind pieces, look for more of his work only sold through our company.
---
We hope you have enjoyed our presentation on Turquoise Cuff Bracelets and have gained some useful knowledge from it. We invite you to learn more about Turquoise and Turquoise Jewelry by following the links in our Learning Center to other informational pages that we have written on different topics related to Turquoise Jewelry. In addition, we would like to invite you to join our E-Mail Newsletter - about once every other month we send out a Newsletter to inform our members of what's happening with Durango Silver Company, new products, specials for our members and more. We also have a monthly drawing from our member base to give away free Turquoise Jewelry from our company. Please take a moment to become one of our friends by signing in below.
---