Southwest Silver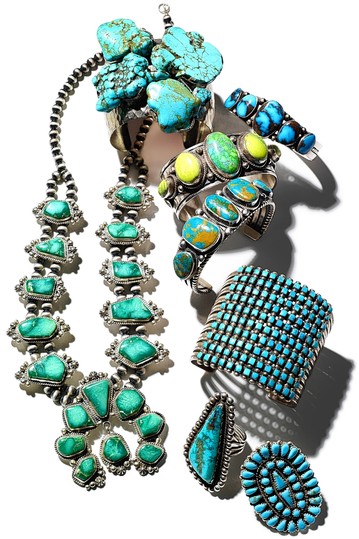 Southwest Silver Jewelry began around 1865 when a Navajo Blacksmith named Atsidi Sani learned how to work Silver from the Spaniards who were in the region on a search for Gold and Silver. Atsidi Sani is responsible for Bringing Southwest Silver to the Southwestern USA, he was also the first Native American Indian to use Turquoise in his Southwest Silver Jewelry and so began Southwest Silver Turquoise Jewelry around 1868.
Southwest Silver has come long ways since the days of Atsidi Sani as it has become an important industry for the Native American Indians as well as many others in Southwestern USA. Southwest Silver and Turquoise Jewelry has become a national treasure and a true American heritage, it is collected worldwide for its uniqueness in Silver Jewelry and has become a excellent investment in Jewelry for the future.
Southwest Silver Jewelry

Southwest Silver Jewelry is unique and different than any other Silver Jewelry made elsewhere in the world. It is made with Sterling Silver, Turquoise, colorful gemstones and the designs of the Sterling Silver are remarkably unusual from other Jewelry, especially if you are not from the Southwestern regions of the United States. Quality Southwestern Sterling Silver Jewelry is sought out and collected by individuals and entrepreneurs around the world for its uniqueness and Jewelry qualities.

Durango Silver Company has produced Southwest Silver Jewelry for several decades here in Durango, Colorado USA. Our specialty is high quality handmade Sterling Silver Jewelry with exceptional Turquoise, colored Gemstones and impeccable Silver work that is second to none and not found elsewhere, which makes our Jewelry unique. We market our own Southwest Silver Jewelry ourselves through our Online Store as well as our Trading Company which is has been in business here in Durango since 1976. We invite you to take a look at our exceptional Southwest Silver Jewelry online or in person if you are in the Durango area.
Southwest Silver Rings

Southwest Silver Rings by Durango Silver Company are handcrafted in exquisite Sterling Silver settings with high quality Turquoise and other high quality gemstones. Our Sterling Silver Jewelry is handmade in Southwestern USA by contemporary and Native American Artisans. Each Southwest Silver Ring is unique to itself as Southwest Silver Rings are made one by one which is just one of the factors that makes this Sterling Silver Jewelry so unique and attractive to Jewelry collectors.

Southwest Sterling Silver Rings and Mens Southwest Silver Rings are our specialty here at Durango Silver Company and we always have a great selection of both on hand. We have always been known to produce some of the very best quality Mens Silver Rings coming out of the Southwest as our Mens Rings are substantial and we use the highest quality Turquoise gemstones in exceptional masculine designs that men appreciate and feel comfortable wearing. All of our Southwest Silver Rings are unique to themselves and each person that gets a Silver Ring from Durango Silver Company will be the only person that has that unique Ring. Our Southwest Silver Rings are high quality, one of a kind, pieces that have real value and will increase in value as time goes on.
Southwest Silver Earrings

Southwest Silver Earrings by Durango Silver Company are unique, high quality, individual pieces of wearable Sterling Silver Jewelry art. Our company produces some of the most unique quality Southwest Silver Earrings coming out of the Southwest today. We also handle Navajo Southwest Silver Earrings as well as Zuni Southwest Silver Earrings. We hand select each and every Native American Indian pair of Southwest Silver Earrings that we buy so we are certain our customers get the very best the Southwest has to offer.

To the right is an example of quality Southwest Silver Earrings we produce at Durango Silver Company. This is a pair of Sterling Silver, bezel set Royston Boulder Turquoise, some call it Royston Ribbon Turquoise from the Royston Turquoise Mine in the early 1960's. This is rare Boulder Turquoise that you will not see elsewhere, other than from an old Turquoise collector that makes high quality Jewelry - and that is a rarity! This stone came out of our Turquoise collection and Dillon Hartman cut the cabochons to make six pair of Royston Boulder Earrings and that was it! Check our RoystonTurquoise.com.
Southwest Silver Bracelets

Southwest Silver Bracelets is another specialty of Durango Silver Company. We produce and handle some of the best quality Southwest Silver Bracelets coming out of the Southwest today. You will find our quality Southwest Silver Bracelets to have fantastic Turquoise and other gemstones like no others on the market. We hand select all of the Turquoise gemstones that are used in our Silver Bracelets so our customers will have the best!

The Native American Southwest Silver Bracelet to the left is a classic example of what you will find in our Southwest Silver Gallery, online or our Silver Gallery in Durango, Colorado USA. This Silver Bracelet features exquisite Hopi type overlay Silver work with a fabulous natural spiderweb Kingman Turquoise gemstone. A beautiful Southwest Silver Bracelet of this quality does not come along every day to the average person and rarely to the collector, Durango Silver Company offers many Southwest Silver Bracelets of this quality on a regular basis.
Southwest Silver Necklaces

Southwest Silver Necklaces such as this Chunky Turquoise Navajo Tab Necklace to the right is a classic example of a Southwest Silver Necklace made by Native American Indians that Durango Silver Company handles. We enjoy having wild and unusual quality Southwest Silver Necklaces and Pendants of our customers. You can count on Durango Silver Company for having unique Silver Necklaces with rare and unusual gemstones as well as high quality authentic American Turquoise.

Southwest Sterling Silver Necklaces are unusual from Silver Necklaces that are made elsewhere in the world. Southwest Silver Jewelry is handmade, heavier that production Silver Jewelry and Southwestern designs are equally unusual as well. Our Southwest Silver Necklaces are even more unusual than the usual as we use very high quality gemstones and the Silver work that is produced from our company is different.
Silver Gallery
Durango Silver Company has a fantastic Silver Gallery located just west of Durango, Colorado USA on hwy 160, which has been well known as the gateway to Mesa Verde National Park for decades. Our Southwest Silver Gallery is a historic monument to the Four Corners Region of the Southwest as it has been here since 1976 with a Deer Antler Arch of over 3600 Mule Deer Antlers, it is a monument and has been in many travel magazines worldwide.
Our Silver Gallery is full of fabulous Southwest Silver items from the American Southwest as well as quality Southwest Silver Jewelry which has been our specialty since we opened our Silver Gallery in 1976. If you are ever in the area and want to visit our Silver Gallery we are easy to find, you are always welcome!
Turquoise is another of our specialties as we began collecting authentic high quality American Turquoise over 40 years ago when American Turquoise Mines were in full production. We have one of the largest Natural highgrade Turquoise Collections in the world and we constantly pick great rocks out to cut up and put into our Silver Jewelry for our Silver Gallery in Durango as well as our online Southwest Silver Gallery. If you are fond of real/authentic Turquoise, stay in touch with Durango Silver Company - we have the best Turquoise around and we use it in the Sterling Silver Jewelry that we sell.
---
Southwest Silver Jewelry Examples
Southwest Silver Jewelry is absolutely our specialty and it is what we produce and sell in our Southwest Silver Gallery. Below are a few examples of Southwest Silver Jewelry from our company. Along with the photos is descriptive text for your information.
To the left is a beautiful Southwest Silver Bracelet that was produce by Durango Silver Company and handmade by John Hartman. It features a Royston Turquoise Gemstone, a Southwest Gallery bezel and Johns Victorian Silver work. This is a wearable piece of art that will certainly become a valuable piece of Southwestern Silver Jewelry in the future.
To the right is a Southwest Silver Bisbee Turquoise Inlay Bracelet produced by Durango Silver Company. Inlay Bisbee Turquoise Jewelry is very hard to find, Durango Silver Company was fortunate to be from Durango, Colorado which was where the most important Bisbee Turquoise collection resided. We purchased this collection in 2002 and now have one of the largest Bisbee Turquoise collections in the world. We make all types of Southwest Silver Jewelry with Bisbee Turquoise. Take a look at BisbeeTurquoise.com for more information.
Southwest Silver Rings are our Specialty, we make and handle loads of Silver Rings with Turquoise and other gemstones. We invite you to take a look at our Southwest Silver Rings presentation page, there is a lot of great Silver Rings along with descriptions of the Rings shown, take a look!
To the left is a Royston Turquoise Ring in a Southwest Silver design. This is a classic example of a beautiful Nevada Turquoise Gemstone and for this reason we just put a bezel around the stone so the attention is focused on the stone. We set the bezeled Turquoise Gemstone atop of a special ring shank that enhances the character of this quality Turquoise Ring and gives it the Southwest Silver appearance.
To the right is a Southwestern Silver inlay Ring that is inlayed with blue Turquoise and black lip shell. This Turquoise Inlay Ring is a classic Mens Silver Ring made only by Durango Silver Company and can be purchased only from our company. We make this style of inlay ring in many different gemstone variations.
Southwest Silver Earrings are an important Jewelry item for us as we sell a tremendous amount of Sterling Silver Earrings and have since the inception of our Silver Gallery in Durango, Colorado. We always have a lot of Southwestern Silver Earrings on hand and put additional pairs of earrings up on a daily basis.
To the left is a pair of Southwestern Silver Earrings that were produced by Durango Silver Company. They are of a Southwestern Silver design in Sterling Silver and this pair features kingman Turquoise Gemstones from Arizona. We also make this style of Silver Earring in other gemstones including Coral, Spiny, Nevada Green Turquoise and Sleeping Beauty Turquoise.
To the right is a pair of Southwest Silver Inlay Earrings in Sterling Silver with Spiny Oyster Shell, Sugilite and Turquoise. This pair of Silver Inlay Earrings were Navajo Indian Handmade and Inlayed. This is high quality inlay work and Durango Silver Company is known for having great Southwestern Inlay Earrings.
Durango Silver Company produces many wonderful quality Southwestern Silver Pendants, here are two examples of quality Silver Pendants that we handle. Also see our Quality Silver Jewelry presentation page.
Above and to the left is a Southwest Silver Pendant in Sterling Silver with Manassa Colorado Turquoise. Manassa Turquoise was one of the first Turquoise deposits to be found by the Native American Indians nearly 2000 years ago. This Manassa Turquoise Pendant was Navajo handmade with beautiful Silver stamp work surrounding a gorgeous Green Turquoise Stone from Colorado USA.
To the right is a Sterling Silver Southwest Styled Turquoise and Amethyst Pendant set with Silver filigree designs. This Royston Turquoise Pendant has an exceptional gem grade Turquoise Stone that has beautiful webbed matrix, it is accented nicely with the Amethyst and Silver design to make a beautiful Southwestern piece of Jewelry.
We handle and produce many types of Southwestern Silver Necklaces, check out our Silver Necklace presentation page.
To the left is a multi color Sterling Silver Gemstone Necklace handmade by John Hartman of Durango Silver Company. This Southwestern Styled Necklace has Turquoise, Sugilite, Rhodocrocite, Lapis Sleeping Beauty Turquoise, Chalcedony and others. Necklaces like this can be found in our Southwestern Silver Gallery.
To the right is a Navajo handmade Southwest Silver Squash Blossom Necklace. This Necklace features Broken Arrow Turquoise from Nevada with nice classic Navajo Silver work.
We have many different types of Southwest Silver Buckles for men as well as women. Our specialty is exquisite Silver work with exceptional gemstones. Take a look at our Mens Silver Jewelry page.
To the left is a large Concho Belt style Southwestern Silver Buckle that was Navajo handcrafted in Sterling Silver with a great Tibetan Turquoise Gemstone. You can see this Navajo Silver Buckle on its presentation page for more information.
To the right is a fantastic Royston Turquoise Belt Buckle in unique Southwest Silver and Copper mixed metal design. This Beautiful Turquoise Belt Buckle is absolutely stunning and a great piece of Jewelry Artwork by a master stone cutter and metalsmith, John Hartman.
Durango Silver Company specializes in Southwest Silver Mens Rings. We feel we produce and handle some of the most unique and quality Southwest Silver Mens Rings coming out of the Southwestern USA today. Here are a couple of Mens Silver Rings from our company
To the left is a Southwestern Mens Silver Ring with a Turquoise Gemstone. This Ring was made by Dillon Hartman of Durango Silver Company, we call this style a Mens Saddle Ring as it made completely round. Men really like our Saddle Rings because they are very sleek and comfortable.
To the right is a hand stamped Navajo Mens Ring in a Southwest design. Navajo Silversmiths are known for thier Silver stamp work and this is and example of a Navajo Mens Ring that has been profusly stamped. This Ring also features a Manassa Turquoise Gemstone from Colorado, the Manassa Turquoise deposit was on of the first places the American Indians located Turquoise thousands of years ago. Check out our presentation on Mens Silver Rings.
Quality Southwest Silver Jewelry
Quality Southwest Silver Jewelry by Durango Silver Company. We hope you can tell that Durango Silver Company is a major player in Quality Southwest Silver Jewelry by the Jewelry we produce and represent. We also provide you and others all over the world the most comprehensive information resource on Southwestern Silver Jewelry by our company and the Native American Artisans in our region. It is of the utmost importance to all of us at Durango Silver Company the we produce and deal in the highest quality Southwest Silver Jewelry being made today in Southwestern USA. You can count on Durango Silver Company if you are interested in the finest quality Southwest Silver Jewelry and Silver Turquoise Jewelry as we love this wonderful business.
---
We hope you have enjoyed our presentation on Southwest Silver and have gained some useful knowledge from it. We invite you to learn more about Silver Jewelry by following the links in our Learning Center to other informational pages that we have written on different topics related to Silver Jewelry. In addition, we would like to invite you to join our E-Mail Newsletter - about once every other month we send out a Newsletter to inform our members of what's happening with Durango Silver Company, new products, specials for our members only and more. We also have a monthly drawing from our member base to give away free Silver Jewelry from our company. We hope when you think of Southwest Silver Jewelry you will think of Durango Silver Company.