Royston Turquoise Cabochons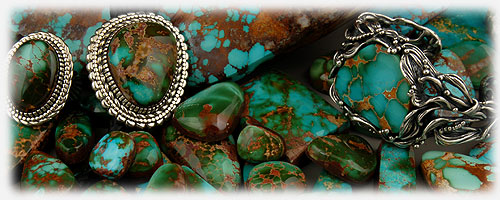 Royston Turquoise and Royston Turquoise Cabochons are some of the most beautiful Turquoise from the state of Nevada. The Royston Mining District has been producing quality Turquoise for well over one hundred years now. Beautiful Royston Turquoise stones can be found in historic Native American Jewelry of the early past and it can also be found in some of America's finest Turquoise Jewelry being produced today. The color range of Royston Turquoise is from gorgeous blues to military greens and literally everything in between, in fact, our favorite is when the blues and greens run together in the same Turquoise Gemstone. The matrix in Royston Turquoise Cabochons runs from white to golden brown, to a medium golden brown and then all the way to a deep dark gold brown - the host rock in the Royston Hills is very attractive.
Below are several photos of the unique variations found in Royston Turquoise Cabochons. We try to always have a good supply of Cabochons from this Turquoise Mine and you can find them by viewing our Turquoise Cabochons button on our home page and then onto the Royston category. You can also just follow this link to our Royston Turquoise Cabochons selection.
| | |
| --- | --- |
| | |
The photo above and to the left is of three outstanding Royston Turquoise Cabochons. The top cabochon as well as the one on the left are what we consider two-tone, coloration such as this is not normally found in any other Turquoise Mine in the world. These two stones also have two-tone matrix which makes these cabochons very attractive and even more so once they are set into Jewelry. The cabochon to the bottom right, in the same photo, is a gorgeous Royston Turquoise Cabochon in variegated green coloration, it has golden brown spiderweb matrix that is bright and luscious. All of these cabochons from the Royston Turquoise Mine are non typical, I would guess that Turquoise of this grade may be 1 out of 100 cabs cut - very hard to come by. This type of material makes the best jewelry.
In the photo to the upper right are seven individually unique Royston Turquoise Cabochons that are nearly impossible to find. From military green to two-tone aqua to lime green - these stones are magnificent to the eye of an American Turquoise collector. We cut and offer Royston Turquoise Stones of this caliber as often as possible, however, we do set a good share of the high-grade in our own Jewelry.
Turquoise is a sedimentary formation that is formed when moisture from rain or snow filters down through mineral rich soil on the upper crust of the earth. This soil must contain the precise amounts of copper, aluminize sulfites and iron to create the combined liquid that siphon's down into voids below the surface of the earth. Royston Turquoise was formed millions of years ago in the fractured crevices of the Ryolite rock below the surface of the earth and over time it hardened to about a 5 on the Moh's scale. Most often, the thin voids or crevices produces the richest coloration and once in a great while one will find thicker veins of high-grade. Royston Turquoise is complicated to cut as a good share of the time we have to do a lot of sawing to get the Turquoise out of the rock - it is a lot of work but when you get a great stone you get very excited! - Sometimes it is very hard to let them go.
| | |
| --- | --- |
| | |
Above and to the left is a grouping of Royston Turquoise Cabochons in a blue color range which is often found at this mine. The golden brown matrix is called Ryolite, it is common in all Turquoise found in the Royston Hills. In the upper left corner you see a beautiful aqua blue Turquoise and then as you look to the lower stones to see spiderweb matrix in blue Turquoise cabochons, all of the matrix in these stones is Ryolite. The aqua to green Turquoise from the Royston Mine is generally harder, however Easter Blue Turquoise,which is located in the Royston Hills, has very hard blue Turquoise that is found in thin vein, the upper right hand stone came out of the Easter Blue deposit.
The photo to the right displays the gorgeous aqua blue/green colorations that the mine produces. This material is some of the hardest Turquoise that comes out of the Royston Mine and therefore takes a exceptional polish. The two-tone variations in this material are awesome and when it is set into Jewelry it is spectacular! Very scarce!
Royston Turquoise is one of the most dynamic types of Turquoise in the world. If you appreciate antique and vintage Turquoise Jewelry, you can follow the variations of Turquoise that has come from this area of Nevada back through the years - Over 75% of the Turquoise that was set in Fred Harvey Company Jewelry came from the Royston District and a large percentage of Native American Turquoise Jewelry since the early 1900's also has Turquoise from this area. Royston Turquoise has been one of the most popular types of Turquoise for generations.
Royston Turquoise Cabochons and Mine Tour
In 2007, we worked with the Travel Channel and the Otteson's, (owners of the Royston Turquoise Mine,) to create a televised flick on the Royston Turquoise Mine. Dean Otteson, Dillon Hartman, Kirsten Gumm and the Travel Channel Crew filmed a great presentation which was aired on the "Where to find cash and Treasures" series for over 18 months beginning in 2008. Since the movie was aired, the Otteson's have been giving guided tours of the mine and included in the tour, individuals are able to search for, find and keep a bucket full of Royston Turquoise. We invite you to watch our Royston Turquoise Mine Tour Video and also to our Royston Mine Tour Reservation Page.
| | |
| --- | --- |
| | |
Above and to the left are four beautiful emerald green-tone Royston Turquoise Cabochons. Each of these Turquoise cabochons have their own unique character - the bottom two stones have exceptional coloration with golden brown matrix in an pattern that is attractive and bold when set into Jewelry. The upper gemstones are almost clear of matrix but have variations that are very attractive and will also be spectacular in Jewelry.
The three Royston Turquoise Gemstones in the photo to the above right are bold and dynamic - the large rectangular gemstone to the bottom left has a beautiful range of colors with golden spiderweb matrix. Next to this Turquoise cabochon is a marvelous powder blue to green Royston Turquoise Spiderweb Cabochon, an amazing cabochon. The Royston Gemstone to the upper right is a emerald green colored Royston Cabochon that is luscious with golden flecks of matrix.
Above and to the left is a square shaped Royston Turquoise Gemstone that is what we consider a picture stone. I see Islands in a beautiful multi colored ocean in this fine gemstone. This stone will make a wonderful piece of Royston Turquoise Jewelry. Check out the presentation page for this Royston Gemstone.
And what type of Royston Turquoise Jewelry would this fine gemstone on the right make? A Royston Turquoise Ring? A Royston Turquoise Necklace or a Royston Turquoise Bracelet? Any of the above would be breath taking as it too is a picture stone. You will find many Turquoise Stones from the Royston Mine that create imaginary pictures - they are fantastic!
Above and to the left is a great Turquoise Cabochon from the Royston Turquoise Mine. This stone has awesome matrix variations from water web to golden matrix to dark brown matrix - it is fantastic. The Royston Mine produces gorgeous powder blues, aqua blues, deep blues, powder greens, lime greens to emerald greens and then Royston Turquoise is famous for its multicolored tones that can run in the same cabochon. This cabochon shows many of the matrix variations Royston is famous for. See the Royston Turquoise Cabochons we presently have available now.
Above and to the right are three examples of Royston Turquoise Cabs. The top right has aqua blue spiderweb Turquoise that runs into a caramel colored area - it is beautiful! The golden matrix in the triangular stone of the left is striking in the sea of blue and emerald green and the large oval gemstone has great character that is mesmerizing. When it is set into a piece of Jewelry, eyes will migrate to this stone as it is enchanting.
Above and to the left are two cabochons from the Royston Mine. Both of these two stones are in a powder blue coloration with golden brown colored matrix. The stone on the left is a good example of blue Royston Spiderweb Turquoise with golden spiderweb matrix and the stone on the right has bold picture stone type matrix. Both of these Royston Turquoise Cabochons are sold as a pair.
Above and to the right is a photo with three beautiful Royston Turquoise Gemstone Cabochons. They all have fabulous coloration with golden brown matrix, The two upper stones have spiderwebbing along with freeform matrix and the bottom oval has golden matrix.
Green Royston Turquoise Cabochons - Durango Silver Company
Durango Silver Company has been in the Turquoise business for well over forty years, we have been mining, collecting and cutting high grade Turquoise since the late 1960's and we began our Turquoise Jewelry manufacturing in the early 1970's. The specialty of our business has always been authentic, high quality, natural Turquoise and we have worked hard to encourage the same in in the Turquoise industry of the American Southwest. When considering Turquoise Cabochons from Durango Silver Company, you can be assured you are dealing with a reputable company and we guarantee all of our Turquoise Cabochons to be authentic as described. Royston Turquoise is a specialty of our company, we have a long track record with this Turquoise, own RoystonTurquoise.com and have been instrumental in providing first hand information to the industry regarding the Royston Turquoise Mine, Royston Turquoise and Royston Turquoise Cabochons.
| | |
| --- | --- |
| | |
Above and to the left is a group of Royston Turquoise Cabochons, all of these cabochons are in green color tones with golden brown matrix. The oval stone is fairly clear of matrix for Royston Turquoise while the other two have a classic portion of matrix (host rock) in relation to the about of Turquoise. Matrix and heavy amounts of matrix is standard in Royston Turquoise, this gives Royston Turquoise its character - many people consider Royston Turquoise Cabochons to be picture stones. Quite often you will be able to find imaginary pictures in the cabochons and we actually try to create picture stones when we cut our stones.
Above and to the right is another group of Royston Turquoise Stones in the military green colorations. Each of these stones has its own character from white matrix to golden brown matrix in a sea of military green. Military green Royston Turquoise is favored by many. Durango Silver Company has a wide variety of Green Royston Turquoise Cabochons as well as many others available at our online store - Visit our Turquoise Cabochons page.
Royston Turquoise Cabochons Information
For additional information on Royston Turquoise, take a look at the links listed below.
Royston Turquoise Jewelry - Royston Turquoise Video - Royston Turquoise Mine Tours -Royston Turquoise Cabochons - RoystonTurquoise.com
We hope you enjoyed our presentation on Royston Turquoise Cabochons!