Mexican Turquoise Jewelry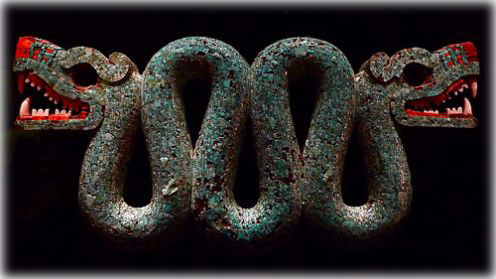 Durango Silver Co occasionally gets old Mexican Turquoise Jewelry items which can be found in the Vintage Jewelry section of our site. We have created this page for your education on the development of Mexican Turquoise Jewelry.
Mexican Turquoise Jewelry History
The famous Montezuma's Turquoise double headed serpent is carved of wood and covered with Turquoise stones. The hollow eyes were inlaid with shells and iron pyrite at one time. The snakes nose and mouth are adorned with white and red shell. The double headed serpent is an icon and masterpiece of Aztec art and the begriming of Turquoise to be used in Mexican Turquoise Jewelry and adornments.
Turquoise has been an important gemstone for Mexico for hundreds of years and Mexican Turquoise Jewelry has been made in Mexico before Jesus Christ. The Toltec civilization is known to have traded turquoise with northern civilizations in the 8th Century.The Teotihuacan mask dates back as far as 300 A.D. As the Toltec civilization died out, the Aztecs are known to have taken on the love of Turquoise and Turquoise Jewelry gained greater prominence.
Most of the Turquoise that is now mined in Mexico comes from the northern state of Sonora. Mexican Turquoise can be of high quality, and comes in both shades of blue and green. Most Mexican Turquoise Jewelry has been made in the Mexico City area and Taxco, however, Turquoise has been popular in Mexico for hundreds of years and Mexican Turquoise Jewelry has been made by Mexican Silversmiths in many areas of Mexico.

Mexican Jewelry was often heavy silver pieces with Aztec motifs it the early years, often set with Turquoise stones and ornamented with silver balls and engraving to give them an antique look. The style originated around 1920 when Mexicans began making Silver and Turquoise Jewelry for the ever-increasing numbers of tourists. The tourists bought up the jewelry and the designs were made by many silversmiths as a good means to make a living. Mexican Turquoise Jewelry has been a favourite with the Mexican people as well as the traders and tourists of Mexico for several hundred years.

The contemporary Mexican Turquoise Jewelry industry in Mexico began in the mid-1920s. Jewelry designers began to incorporate ancient Indian designs and styles along with Turquoise into their work. Interestingly, two Americans were at the forefront of this new direction in Mexican jewelry making.

William Spratling, trained in the United States as an architect, came to the beautiful mountain community of Taxco, Mexico in 1929. Spratling turned his talents to making jewelry and established a workshop shortly after. By 1940, he had 120 silversmiths in his workshop producing Spratling designed Silver Jewelry, much with Turquoise, that tourists bought up almost as quickly as it was produced. Mexican Turquoise Jewelry by Spratling has become very collectible and valuable today.

Other famed Mexican Turquoise Jewelry designers are Hector Aguilar, Antonio Piñeda, Victoria, Beto, Margot of Taxco, Los Castillo, Los Ballesteros, Maricela, Alfredo Villasana and of course, William Spratling and Frederick Davis.
Mexican Turquoise Jewelry Examples
Spratling made silver ring with Turquoise.

Spratling has become very famous and probably the most collectible of the Mexican metal smiths. You can tell his style was very modern for the time.

Spratling is one of the artist that made Mexican Turquoise Jewelry famous.
Above are two pieces of Mexican Turquoise Jewelry. The Turquoise Necklace set on the left is made in Sterling Silver with Turquoise Stones. This type of work is called Mexican filigree and it is often found with or without Turquoise and/or other Gemstones. the Turquoise, Coral and Pearl Necklace on the right is a classic style of Mexican Turquoise Jewelry that is often produced in the Taxco, Mexico area.
On the left is a beautiful Mexican Turquoise Necklace made in a floral design, this Turquoise Necklace was made in Sterling Silver in Mexico City. The Turquoise Bead Necklace on the right is very fitting in Fashion Turquoise Bead market of recent years although it was made approximately 1950. Mexican Turquoise Jewelry has been innovative and stylish for many years as Mexican Silversmiths are very good designers and creators of Jewelry and Mexican Turquoise Jewelry.
If you enjoy learning about Turquoise Jewelry and Turquoise, join our Newsletter below. We produce a newsletter about every other month with great information on Turquoise, Turquoise Jewelry, our new products and specials and much more. We also have a drawing each month to give our newsletter subscribers Free Turquoise Jewelry from Durango Silver Company. Join Now, you will be happy you did!
---
Jewelry and Turquoise Learning Center
Thank you for reading about Mexican Turquoise Jewelry. We hope that you have learn alot and now have a new appreciation for fine Mexican Turquoise Jewelry.