Inlay Jewelry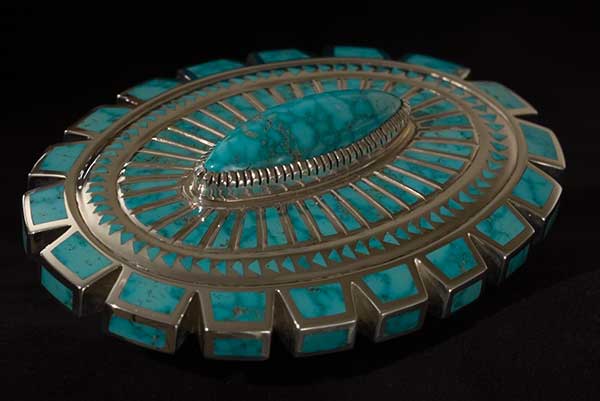 Inlay Jewelry is some of the most popular Jewelry being made in the world today. Southwestern Inlay Jewelry has lead the way to the Inlay Jewelry world for decades as the Zuni Indians of New Mexico were the first noted artisans to prefect this type of Jewelry. Inlay Jewelry is made by creating a master piece of Jewelry in Gold or Silver with channels or voids that are meant to have gemstones inlayed into them. Quality Inlay Jewelry is professionally made so the channels have a locking groove or an angle in the channel to the gemstone will not fall out. Once the master is created, gemstones are hand cut to fit into the channels, glued in with a high strength epoxy, cured and then the gemstones are ground, sanded and polished to perfection.
| | |
| --- | --- |
| | |
Jewelers of the Southwest have worked hard for many decades to prefect Inlay Jewelry as early Inlay Jewelry had major problems with the stones falling out of the settings which was not acceptable by the individuals creating this type of Jewelry. Today, some of the highest quality Inlay Jewelry in the world comes from Southwestern USA. Also check out our Inlay Turquoise Jewelry presentation.
---
Quality Inlay Jewelry - made in the USA
Quality Inlay Jewelry

The Quality of Inlay Jewelry is a very important factor! Inlay Jewelry has become very popular worldwide and that being a fact, Jewelry manufacturers worldwide are now producing Inlay Jewelry by the boatload. The problem is that most of the Inlay Jewelry that is made by foreign companies is not very good quality, in general, and is made for the fashion industry which is generally low grade Jewelry made to wear a few time and then throw away. Because Southwestern style Inlay Jewelry is so very popular to the largest group of consumers in the world, Americans, foreigners tend to copy Southwestern style Inlay Jewelry and unfortunately it is sold as quality Inlay Jewelry to uneducated consumers.

Durango Silver Company handles high quality Inlay Jewelry and backs our produces with a 100% guarantee from defect or inferior quality. We work with artisans and Jewelry manufacturers that have protected Inlay Jewelry and guarantee their work to us. We also deal in the highest quality Inlay Jewelry design and sell top of the line Inlay Jewelry with authentic gemstones including natural gemstones and high-grade Turquoise all made in the USA!

You must be very carefully in buying Inlay Jewelry if you want quality as it is very time consuming to produce quality inlay Jewelry and American cannot work for free. Buy your quality Inlay Jewelry from reputable dealers such as Durango Silver Company who guarantee their Jewelry to be made in the USA of high quality craftsmanship.
Channel Inlay Jewelry

Channel Inlay Jewelry such as the Sterling Silver Inlay Bracelet on the right is very popular for our company. This Inlay Bracelet was originally created by John Hartman of Durango Silver Company. John handcrafted the master bracelet frame by hand sawing the rectangle channels oversized to be overlayed onto the backing sheet of Silver. Next, John hand sawed a thicker piece of Silver with the exact sized channels which were smaller in size, which created a locking void for the adhesive to lock in the gemstones as they are inlayed. The masterpiece was then ground, sanded and shaped to its final size and shape. This is a tedious job and most Silversmiths do not take the time to make proper channel inlay masterpieces. Durango Silver Company produces exceptional Channel Inlay Jewelry.

The Zuni Indians originally hand chiseled locking rings in their channels and this is how John learned how to make his channel Inlay Jewelry masters. The top Zuni Inlay Jewelry artists of the past were masters and handed down their techniques threw the families. Antique Zuni Inlay Jewelry is very collectible as they are the grandfather examples of Inlay Jewelry which will continue to grow in popularity as time goes on.
Zuni Inlay

The Zuni Indians of New Mexico are the Godfathers of quality Inlay Jewelry and are responsible for paving the way in Inlay Jewelry in the USA. Although Inlay Jewelry is now made worldwide, it was the artistic ingenuity of the Zuni Indians that developed this unique type of Jewelry. Zuni Inlay is still the king of Inlay Jewelry and Durango Silver Company is proud to represent the top Zuni Inlay Jewelry producers.

To the left is a pair of Zuni Inlay Earrings. This pair of Zuni Inlay Earrings feature Lapis, Opal and Jet gemstones inlayed into Sterling Silver handcrafted bezel channels that were created by the Zuni Artisan specifically for this particular pair of Inlay Earrings. The Zuni Indians are famous for their Inlay Earrings, however, they make many types of Inlay Jewelry such as Inlay Pendants, Inlay Rings, Inlay Necklaces, Inlay Bracelet and many other types of quality Inlay Jewelry. The Zuni Indians also prefer certain types of gemstones to be used in their Jewelry, generally, Zuni Inlay Jewelry is made with Turquoise as their favoured gemstone which is accented with, Red Coral, Spiny Oyster, Mother of Pearl, Lapis, Jet, Opal, Sugilite and Varisite, however, individual artisans use many other gemstones as well. Also see our Zuni Inlay Jewelry presentation page.

There are different qualities of Zuni Inlay Jewelry, some is made in high production for the fashion market and dealers looking for cheap Indian Jewelry while high quality Zuni Inlay Jewelry is more difficult to come by as there are not as many master artisans that work hard to make exceptional masterpieces of Inlay Jewelry.
Navajo Inlay Jewelry

The Navajo Indians of Arizona and New Mexico began making Inlay Jewelry about 30 years ago as it had become so popular. The Navajo Indians have always been very talented and creative Jewelers and now have become some of the most prolific Jewelers making Inlay Jewelry in the Southwestern USA. Navajo Inlay Jewelry such as this Navajo Inlay Pendant and Earring set to the right display just how dynamic and fabulous Navajo Inlay Jewelry can be. This beautiful set was handmade by Kenneth Bitsie (Navajo Artisan) and took his skilled expertise tedious hour after hour to create this very special one of a kind masterpiece set of Navajo Inlay Jewelry.

Durango Silver Company is proud to represent the best Native American Navajo Inlay Jewelry producers. We work with respected Native American Indian Jewelry producers that guarantee their work to be high quality and built to last. We stand by our Artisans and guarantee our Inlay Jewelry to be of the highest quality and made in the USA!

Buy quality Inlay Jewelry made in the USA from Durango Silver Company, Durango, Colorado USA!
Inlay Turquoise

Turquoise is the favoured gemstone of Southwestern United States and of the Native American Indian people. Inlay Turquoise Jewelry has been the staple of the Silver Jewelry and Inlay Silver Jewelry industry of the Southwest for generations and Inlay Turquoise will continue to be the leading gemstone used in Inlay Jewelry in the years to come. Both Zuni and Navajo Indian Jewelers love Turquoise and hold it dear to their heart, they inlay Turquoise as a passion and they love to use natural, authentic Turquoise. Both Zuni Inlay and Navajo Inlay from Durango Silver Company is hand selected and is guaranteed to be authentic Inlay Jewelry from the American Southwest.

We at Durango Silver Company prefer to have authentic American Turquoise used in our Inlay Turquoise Jewelry. We hand pick each and every piece of Inlay Turquoise Jewelry that we offer to our clients. The quality of Inlay Turquoise is important as most people do not want the Turquoise to change color's as it ages or deteriorate later on in years as their Inlay Turquoise Jewelry becomes more and more valuable.

Durango Silver Company guarantees you, we are experts on quality Turquoise as we have collected Turquoise for over 40 years, we mine and cut Turquoise on a daily basis, we know our Turquoise and you will get the best America has to offer when dealing with our company - Buy American made Inlay Turquoise Jewelry from Durango Silver Company and you will be assured you bought the best in the years to come.
Inlay Ring

This Bisbee Turquoise Inlay Ring is a Mens Inlay Ring that was created by John Hartman and inlayed by Dillon Hartman of Durango Silver Company. We make this Inlay Ring in many different combinations of gemstones and we usually have them in the most famous American Bisbee Turquoise. Durango Silver Company makes a different Inlay Ring style that any other Silver Jewelry company in the Southwest, we are very particular in our gemstones and only use authentic gemstones and Sterling Silver. We guarantee our Inlay Jewelry to be top quality and built to last!

We produce many different types of Inlay Rings at Durango Silver Company and we also handle quality Zuni and Navajo Indian Inlay Rings as well. All of our Inlay Rings are top quality with authentic gemstones and excellent Silver work. We invite you to visit our online Store to view the Inlay Rings that we presently have in stock and if you like what you see, come back often as we add new Inlay Rings to often.
Inlay Jewelry from Durango Silver Company
Durango Silver Company is well known for producing and handling the highest quality Inlay Jewelry in Southwestern USA. We specialize in authentic and natural gemstones in our Inlay Jewelry and we hand select each and every piece of the Navajo and Zuni Artisan handmade Inlay Jewelry to be certain each piece is created with only the quality of gemstones and Silver work that meets our standards. You can be certain that if you purchase a piece of Southwestern Inlay Jewelry from our company it will be very high quality Jewelry handmade in the USA.
Here are some examples of Inlay Jewelry from Durango Silver Company
To the left is a intricate black onyx, mother of pearl, coral and Sleeping Beauty Turquoise inlay bracelet by Native American artist Tommy Jackson. This is a truly great piece of artwork. The inlay work on this sterling silver Turquoise bracelet is remarkable. This modern sterling silver bracelet features a Native American Rug style pattern made of Mother of Pearl, Coral, Black Onyx and Sleeping Beauty Turquoise. Artisan handmade in New Mexico, USA
To the right is a Contemporary Inlay Opal Sugilite and Spider Web Turquoise bracelet. This amazing multi color inlay Sterling Silver cuff bracelet focuses on a beautiful Southwestern geometric pattern made of natural, blue, spider web, Tibetan Turquoise, Gilson Opal and Sugilite. This wonderful inlaid gemstone pattern covers three quarters of the Silver Cuff Bracelet and is accented on each side with stamp work designs. The inlay work on this bracelet is wonderful! This Sugilite, Opal and Turquoise inlay bracelet would be a wonderful mens or women's cuff bracelet and would make a great addition to any Silver Jewelry or Turquoise Jewelry collection. This contemporary inlay bracelet was artisan handcrafted in New Mexico, USA
| | |
| --- | --- |
| | |
To the left is a beautiful piece of Inlay Jewelry produced by Durango Silver Company. This Inlay Sugilite Bracelet was made in Sterling Silver and than it was inlayed with natural authentic Sugilite by Dillon Hartman. This is a beautiful Sugilite Inlay Bracelet in person and we make many bracelets like this in many different types of gemstones.
To the right is a pair of classic style Zuni Inlay Earrings in Turquoise. This pair of Sterling Silver Inlay Earrings were made with Sleeping Beauty Turquoise which is beautiful and bright when worn. Zuni Inlay Earrings are a favourite of most women's earring collections. Durango Silver Company always has many great pair of Zuni Inlay Earrings as well as other Zuni Inlay Jewelry items available. Learn more about Inlay Stud Earrings
To the left is a 14ky Gold Inlay Ring by Dillon Hartman of Durango Silver Company. Dillon Inlayed this beautiful channel ring with old natural Blue Gem Turquoise from his personal collection. Dillon is a talented Southwestern Artisan and you can always count on Dillon using the finest quality natural Turquoise in his Inlay Jewelry. Dillon is a purist when it comes to Turquoise.
To the right is another Mens Turquoise Inlay Ring created by Dillon Hartman with very rare Villa Grove Turquoise from Colorado USA. Dillon has a fine collection of Villa Grove Turquoise and occasionally makes Inlay Jewelry with it. This Villa Grove Turquoise Inlay Ring is a special piece of Jewelry not often seen for sale at any price. Learn more about the Inlay Ring
To the left is a Sterling Silver Band Ring made by Dillon Hartman of Durango Silver Company. Dillon creates the channel Silver Rings and than he inlays them with many different types of Turquoise and Gemstones. This particular Inlay Band Ring was made with Tortoise Turquoise that Dillon personally mined at our Tortoise Turquoise Mine in Nevada USA
To the right is a silver and Turquoise Zuni Inlay Ring for women by Native American artist Sheryl Martinez. The women's Zuni Inlay Ring features two unique sides, one solid Turquoise and one multi color. The Turquoise inlay side is made of 8 inlaid natural Tibetan Turquoise stones. The multi color inlay side is made up of 21 inlaid Lapis, Black Onyx, Mother of Pearl, Coral, and Turquoise. This is all set into a handmade sterling silver band ring. This would be a wonderful Zuni Inlay ring to kick off or add to your Inlay Jewelry or Native American Jewelry collection. This Zuni Inlay Turquoise ring was artisan handmade in New Mexico, USA
Antique Zuni Inlay Jewelry - Vintage Zuni Inlay Jewelry
The Zuni Indians have made Inlay Jewelry since the early 1900's and have been prolific in making it since. Most of their antique Inlay (1900 - 1930) as well as their Vintage Inlay Jewelry (1940 - 1960) is highly collectible these days. Antique Zuni Inlay Jewelry was made in fairly primitive conditions, it is very artistic and high quality for the conditions they worked in. Vintage Zuni Inlay Jewelry is from a period where the Zuni Indians took great pride in their work which buyers of their Jewelry responded positively and their Jewelry became collected worldwide, mostly due to the International tourism from the Grand Canyon. Quality Antique and Vintage Zuni Jewelry is fantastic, a great investment to the collector and will increase dramatically in value as time goes on.
To the left is a Vintage Zuni Inlay Rainbow Man pin. This Vintage Zuni Inlay Pin was made about 1950 - 60 period when the Zuni's were still using natural Mediterranean Coral and Blue Gem Turquoise as this pin is inlayed with these old gemstones. This is a classic Inlayed Pin that the Zuni Indian Jewelers have been making for generations.
To the right is a very nice Vintage Zuni Inlay Butterfly set made in 1960 - 70. We can tell this by the style of the Inlay Jewelry as well as the fact that the pieces have natural Turquoise and the findings on the back of the pieces are from that period.
To the left is another Vintage Rainbow Man Inlayed Ring handcrafted by the Zuni. You must admit, this is fantastic folk art from the American Southwest in a period of time that is nostalgic. This Zuni Rainbow Man Ring was made about 1950 and is truly a work of art by a talented Native American Indian Artisan of the period.
To the right is a Vintage Zuni Squash Blossom Necklace from the 1940 - 50 era and an exceptional example of Zuni Petit Point Jewelry. Vintage Petit Point as well as Vintage Zuni Needle Point should be considered by the collector of Zuni Jewelry as well, if is highly artistic and collectible as well. It to will prove to be a fantastic investment in Southwestern American Indian artwork in the upcoming years. Also, check out our Vintage Turquoise Jewelry Video.
Inlay Jewelry
Durango Silver Company has been dealers in Inlay Jewelry for nearly 40 years and are authorities on the subject. We have collected, produced and handled Inlay Jewelry from the Zuni Indians, Navajo Indians and contemporary Southwestern Artisans since the 1960's and we know it very well. Inlayed Jewelry is unique and not easy to make so it has good value as well as being very special Jewelry. Southwestern Inlay Jewelry has a unique style of its own, it is admired worldwide and has been a collectible for many years. Southwestern Inlay Jewelry is a great Jewelry investment for the future as it is an handmade American craft - Made in the USA!
| | |
| --- | --- |
| | |
To the left is a bright blue spider web Tibetan Turquoise Inlay Bracelet by Native American artist Johnny Coonis. This Sterling Silver Cuff Bracelet is built to last. High grade, spider web, natural Tibetan Turquoise is the focus of this fabulous Turquoise bracelet for men. The top grade natural Turquoise from Tibet is inlaid flush with the heavy silver cuff bracelet. This gorgeous Native American Turquoise bracelet is flat on top and angled down the sides all the way around. This Turquoise Bracelet would make your Turquoise collection or Silver Jewelry collection rock and roll! This Turquoise Inlay Bracelet was Native American handmade in New Mexico, USA
To the right is a pair of Modern, Santa Fe style, Mediterranean Coral Inlay Earrings by Native American artist Julius Burbank. These contemporary Sterling Silver dangle earrings feature natural red Italian Coral that is inlaid like the bricks in a Cobble Stone Street. These gorgeous red Mediterranean Coral stones are separated by inlays of Sterling Silver. This is all inlaid into handmade sterling silver dangle earrings. These contemporary Sterling Silver Earrings feature simplistic silver work to keep the focus on the stones. It is very difficult to find natural red Mediterranean Coral like this. These Italian Coral and Sterling Silver Dangle Earrings would be a great addition to any Silver Jewelry or Inlay Jewelry collection. This pair of Southwestern Inlay Earrings were artisan handmade in New Mexico, USA
---
We hope you have enjoyed our presentation on Zuni Inlay Jewelry and have gained some useful knowledge from it. We invite you to learn more about Turquoise and Turquoise Jewelry by following the links in our Learning Center to other informational pages that we have written on different topics related to Native American Indian Jewelry. In addition, we would like to invite you to join our E-Mail Newsletter - about once every other month we send out a Newsletter to inform our members of what's happening with Durango Silver Company, new products, specials for our members and more. We also have a monthly drawing from our member base to give away free Turquoise Jewelry from our company. Please take a moment to become one of our friends by signing in below.
We hope you will think of Durango Silver Company when you are considering Inlay Jewelry in the future.