Hand Crafted Silver Bracelets
Durango Silver Company has been in the business of producing Hand crafted Silver Bracelets for over forty years. We are very proud to be able to say we make Handcrafted Silver Bracelets made in America! We produce quality handcrafted Silver Jewelry on-site here in Durango, Colorado USA and we handle Native American hand crafted Silver Bracelets which are made in America as well. We have the highest quality American Turquoise in our Silver Jewelry as we have mined and collected it for over forty years. If you are interested in real, authentic, American handcrafted Silver Bracelets, our company produces some of the finest coming out of the Southwestern USA today.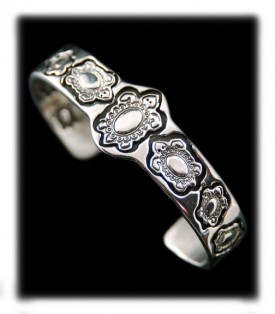 Hand Crafted Silver Tortoise Bracelet created by John Hartman of Durango Silver Company - Durango, Colorado USA. This Silver Bracelet
was handcrafted by stamping the Silver Tortoises, overlaying them on a Silver back plate and then sawing an outline from another Silver sheet and overlaying it next to the Tortoises. This is intricate work and is no easy task for any Jeweler. We create a lot of unique Jewelry here at Durango Silver Company and we keep an exclusive on our Silver Jewelry so our customers have special Jewelry that is not seen elsewhere. You can find additional photos and text on this Silver Tortoise Bracelet on its presentation page.
Hand Crafted Silver Bracelets from Durango Silver Co
Above and to the left is a Victorian handcrafted Silver Bracelet made by John Hartman of Durango Silver Co. This is a new style of Silver work John will be producing for 2013, his Victorian Silver Jewelry work is unusual from anything that is or has been produced in the Southwestern United States or globally. If you look at an old one hundred dollar bill, you will see where John came up with his original ideas. John's high relief repose work is exceptional, bold and exciting for this new age we live in. This particular handmade Silver Bracelet features a Sleeping Beauty Turquoise Gemstone accented with repose and scrollwork, it is a very dimensional piece of artisan crafted Silverwork.

To the right is a Southwestern Style handcrafted Silver Bracelet featuring three marvelous purple Sugilite gemstones accented with four beautiful Blue Turquoise gemstones. Once again, this Silver Bracelet was designed by John Hartman and handmade in America with authentic natural gemstones in Sterling Silver. John has always used rare, natural and authentic gemstones in his Gold and Sterling Silver Jewelry, Durango Silver Co will never lower its standards in producing the finest quality Gold and Silver Jewelry coming out of the American Southwest.

| | |
| --- | --- |
| | |
Above and to the left is a fantastic Native American handmade Silver Bracelet featuring a wonderful Blue Wind Spider Webbed Turquoise cabochon. This is a beautiful Sterling Silver Bracelet created by Ben Yazzie. This handcrafted Silver Bracelet was actually a collaboration on Ben Yazzie and John Hartman in that John created the side Victorian style ornaments and Ben created the rest of the bracelet. John Hartman has been working with many Navajo's for over forty years in developing new innovative designs in Navajo Jewelry. He also worked with and organized an exceptional line Antique style Navajo Jewelry for the Fred Harvey Company of the Grand Canyon in the 1970's. Ben is a great Navajo Artisan that has many talents, he works with Durango Silver Company and continues to create beautiful Native American Jewelry that is enjoyed by many around the world.
To the right is an Antique Navajo Handmade Silver Bracelet reproduction that was created for the Fred Harvey Company by John Hartman in the 1970's. Many of these were made for John by his Navajo Silversmiths at that time, they were sold at the Grand Canyon. Durango Silver Company has made several in the past 40 years since and still offers them occasionally.
We invite you to check out the Hand Crafted Silver Bracelets we have available today, also check out our design portfolio that has many of the pieces we have sold at Durango Silver Co in the past. We have many handcrafted silver bracelets that we have made with cabochons we cut from Rough Turquoise, as well as many plain silver cuff bracelets.
Quality Hand crafted Silver Bracelets
Above and to the left is a beautiful artisan crafted Silver Bracelet by Crystal Hartman of Durango, Colorado. This marvelous Silver Bracelet was created in an old world method of Jewelry creation. Crystal uses a special type of Jewelers wax and a hot pen that melts the wax, she applies layer over layer and uses unique techniques to produce astonishing masterpieces.
To the right is a Navajo Silver Bracelet that is inlaid with gemstones of many types, Turquoise, Lapis, Coral, black Jet, Mother of Pearl and Spiny Oyster Shell. This Silver Bracelet was created by hand, the Silver Bracelet frame was made by overlaying a cutout top plate over a solid Silver back plate, it was then hand stamped and individual gemstones were hand cut and set into the Bracelet frame one by one. This is a time consuming process that takes a skilled Jeweler and it also takes a good artisan to choose the perfect color combinations. Each Navajo handcrafted Silver Bracelet is a one of a kind and when you see the one you like, buy it as there is usually no other like it.
We invite you to take a look at a couple of our other presentations on Handcrafted Turquoise Jewelry, Handmade Silver Jewelry and Handcrafted Silver Jewelry
---
We hope you have found helpful information from our presentation on Hand crafted Silver Bracelets. We invite you to learn more about Hand crafted Silver Jewelry by following the links in our Learning Center, we have written some great informational pages for your further education on all types of Silver Jewelry. In addition, we would like to invite you to join our E-Mail Newsletter - about once every other month we send out a Newsletter to inform our members of what's happening with Durango Silver Company, new products, specials for our members only and more. We also have a monthly drawing from our member base to give away Free Silver Jewelry from our company. Please take a moment to become one of our friends by signing in below.