Learn About Gold Turquoise Jewelry
Durango Silver Company has been in business for over forty years now, we have been mining, collecting and cutting exquisite natural Turquoise for the duration and we are well known for having some of the finest Gold Turquoise Jewelry in the American Southwest. Our Gold Jewelry designs are contemporary and feature exceptional Turquoise that is rarely available, over the years we have accumulated one of the finest high grade Turquoise collections in the world and we use our best gem grade Turquoise in our Gold Jewelry. Below are some examples of Gold Turquoise Jewelry that can be found at DurangoSilver.com, there is a lot of good informative information as well as photos that will help you understand more about the Turquoise Jewelry in Gold that we produce and/or handle here at Durango Silver Company.

Ultra-Grade Bisbee Turquoise in Gold
Above is a unique Gold Bracelet that features ultra grade Bisbee Turquoise and Colorado Gold Nuggets. This is a one-of-a-kind piece of Gold Turquoise Jewelry that was handmade by John Hartman of Durango Silver Company. John hand cut these Bisbee Turquoise stones, he then designed, carved a wax master pattern and then used the lost wax process to cast the wax model into Gold. He soldered Colorado Gold Nuggets onto the bracelet and then he set the stones and finished this outstanding piece of Gold and Turquoise Jewelry from the American Southwest. If interested, check out our presentation page on John Hartman.
John is the founder of Durango Silver Company and has been a prolific Silver and Gold Smith for over forty years. He began as a Turquoise collector in the late 1960's traveling throughout Nevada and Arizona in search of fine quality Turquoise, locating the top Turquoise mine owners he ended up making a lot of good friends that taught him how to mine as well as the important characteristics of Turquoise. John and wife Estell have spent a lot of time mining with some of the most historic Turquoise miners of Nevada and have become highly educated in this field. John and Dillon (son) have been mining and collecting together since Dillon was a young boy, he takes after his parents and is a chip off the block, Dillon lives and breaths Turquoise. Dillon is now married to Nattarika who also works in our business as a jeweler as well as many other positions. Crystal (daughter) went to college to study art and now has also taken up the Jewelry trade. Our entire family works in the Jewelry trade, we are proud to produce and offer fine quality Gold Turquoise Jewelry, made in the USA.
Gold Turquoise Jewelry from Durango Silver Company
Gold Turquoise Jewelry from Durango Silver Company is exceptional one of a kind works of Art from the American Southwest. We are proud of our family owned and run business, we work hard to produce high quality American made Turquoise Jewelry of unquestionable quality and we are also proud to offer you some of the finest Silver and Gold Turquoise Jewelry being produced in the American Southwest today. Take a look at these Gold pieces below and take the time to read about the ones that interest you most, we think you will find some interesting information about the Jewelry that we produce.
| | |
| --- | --- |
| | |
Above and to the left is an elaborate Gold Turquoise Ring made by John Hartman. The Bisbee Turquoise gemstone was hand cut by John and he then hand carved a wax master around this particular stone. John then used the ancient lost wax method to cast the pattern into this Gold Ring. Once it was cast, John soldered Colorado Gold Nuggets on the casting, set the stone and finished the ring to become a beautiful one-of-a-kind piece of American art. You can read more about Bisbee Turquoise.
Above and to the right is another beautiful Bisbee Turquoise Gold Women's Turquoise Ring that is set with Diamonds, make certain to follow the link to additional photos and descriptive information. This ring features an ultra-grade Bisbee Turquoise stone embellished with Diamonds and is set in 18ky Gold. It was created by Bruce Mead of Bisbee, Arizona and is a spectacular one-of-a-kind piece that will never be reproduced. This is a rare, world class piece of Gold Turquoise Jewelry!
Above and to the left is another fine piece of Gold Turquoise Jewelry created by Bruce Mead. The gemstone in this piece is also ultra-grade Bisbee Turquoise - this is a very rare Bisbee Turquoise stone that has dendritic chocolate matrix, it is spectacular. The design of this pendant is beautiful and is in 18ky gold, it is encrusted in fine white Diamonds and is a marvel in Turquoise Jewelry from the American Southwest.
Above and to the right is a remarkable Gold Turquoise Necklace featuring a fabulous Royston Turquoise stone from Nevada. This unique piece was created by Crystal Hartman of Durango, Colorado USA. This is deep green Turquoise from the Royston Mine located near Tonopah, Nevada USA. The golden brown matrix in this stone is spectacular and the gold work is over the top.
| | |
| --- | --- |
| | |
As you can see, we produce a lot of Bisbee Turquoise Jewelry as well as Bisbee Turquoise Gold Jewelry here at Durango Silver Company. Well, we portably have more Bisbee Turquoise than any other private or business collection in the world. We were fortunate in obtaining the balance of the Bob Mathews / Cecil Mickelson's collections - Bob was the only individual that ever had a contract to remove Bisbee Turquoise from the Bisbee Mine, Cecil was his brother-in-law and they mined Bisbee together and they were both from Durango. In 2000, Cecil has passed away and Bob got ill with cancer - we purchased the balance of their collections of Bisbee Turquoise. In addition, we have been buying and collecting Bisbee Turquoise for over 40 years and have landed other substantial collections as well. Today, we cut Bisbee Turquoise cabochons and we produce more Bisbee Turquoise Jewelry that anyone on earth!
Above and to the left is an outstanding Bisbee Turquoise Necklace created in 14ky Gold by Crystal Hartman. This unique necklace features a beautiful deep blue chocolate brown smoky matrix Bisbee Turquoise teardrop shaped gemstone hand cut by John Hartman. This is an unusual Bisbee Turquoise Necklace like no others, it would be very rare to find another Bisbee stone shaped like this due to the loss it takes to cut a stone like this. The Ox Blood Coral stone is awesome too!
Above and to the right is another awesome piece of Gold Turquoise Jewelry created by Crystal Hartman. The Bisbee Turquoise stone is awesome deep blue with chocolate brown matrix and very attractive. The Gold work done by Crystal is down right fabulous and remarkable, layer over layer of flowing molten gold raptures this fine stone. The reverse side of this piece is beautiful, it looks like the red sand formations on the Navajo reservation near Monument Valley - Awesome!
| | |
| --- | --- |
| | |
Above and to the left is a pair of 14ky Gold Mudhead ceremonial dancer earrings with Sleeping Beauty Turquoise stones. Navajo Native American Jewelry artisan Toby Henderson did an amazing job making these natural Sleeping Beauty Turquoise and 14k Gold Mud Head Drop Earrings realistic. These Mudhead earrings are like nothing you will see again. Each of the 14k Gold Mud Head Drop Earrings features an oval shaped 5 carat cabochon of natural Sleeping Beauty Turquoise from Arizona, USA. This is a very unique pair of Native American Turquoise Earrings.
Above and to the left is a pair of Natural Broken Arrow Turquoise And Sugilite Gold Dangle Earrings produce by Durango Silver Company. This is a beautiful pair of Gold Turquoise (Variscite) Earrings that are large yet lightweight, you will love wearing this pair of earring as they are dynamic, colorful and the are lightweight, which is important to most women. The Gold framework was designed by John Hartman.
To the left is a Ladies Deep Blue Bisbee Turquoise Gold Ring created by John Hartman. This Bisbee Turquoise Gold Ring was handmade in 14kt Gold by John Hartman of Durango Colorado USA. This ring features a beautiful Bisbee Blue Turquoise Gemstone from the famous Bisbee Turquoise Mine in Bisbee, Arizona. The gold work on this ring is beautiful as John has created it in an organic grape vine style and then it was finished in the lost wax method. This is a unique Turquoise Gold Ring that is a one-of-a-kind!
The Men's Blue Wind Turquoise and Gold Ring on the right is a spectacular piece of Gold Turquoise Jewelry made by John Hartman. This Blue Wind Spiderweb Turquoise stone is from Lander County, Nevada and it is spectacular! When you are looking for the ultimate in high end natural American Turquoise set in a heavy weight solid gold ring, here is an excellent example. John knocked it out of the park with this gold men's ring. This natural American Turquoise cabochon is ULTRA RARE and features the deep blue Turquoise with black Spiderweb matrix that made the Blue Wind Turquoise Mine famous. This quality of spiderweb Turquoise from the Blue Wind Turquoise Mine makes it one of the most collectible types of Turquoise varieties on earth!
Quality Silver, Gold and Turquoise Jewelry
The two tone combination of Silver and Gold along with the gorgeous spectrum of colors in Turquoise makes Silver, Gold and Turquoise Jewelry dynamic, colorful and very attractive. Natural high grade Turquoise is so uncommon there is good reason it should be set in Gold and Durango Silver Company has been producing Gold Turquoise Jewelry for many years! The multicolor variation of Silver, Gold and Turquoise is spectacular, we invite you to check out what we have available.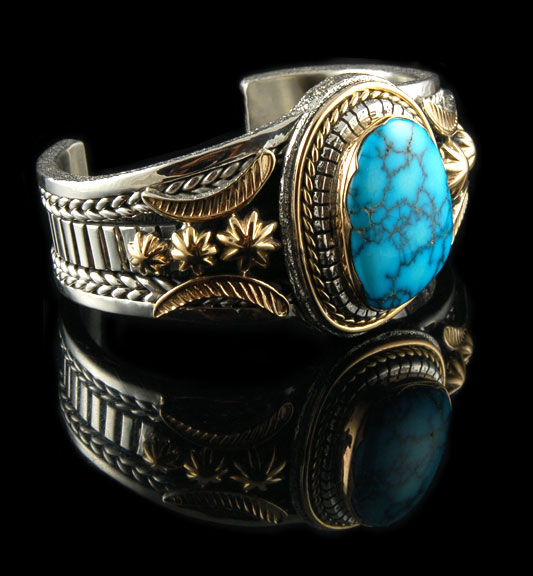 The Silver, Gold and Turquoise Bracelet above is a masculine Men's Bracelet that is very colorful and bold when worn. It is a heavy weight bracelet, six ounces, and has many awesome features! The Turquoise Stone is rich deep blue spiderweb Turquoise from the Candelaria Mine located near Mina, Nevada - it is so bright it almost glows and it is 100% natural! The center piece of this bracelet that surrounds the stone has four levels of metal so it is multilevel and that ads a lot of character to the bracelet. The bracelet frame is made of heavy weight Silver so when you hold this bracelet, you know it is a Man's Bracelet!
| | |
| --- | --- |
| | |
Above and to the left is an example of one of John's Silver and Gold Saddle Rings with Turquoise. The silver ring shank has a sunburst design that is unique to John, it is an attractive and a very comfortable ring style to wear! Oval stones are a good choice for a men's ring and many men also like rectangle stones as well, both look great on a gentleman's finger and can be worn every day or for a special occasion. Men tend to go for the Silver and Gold combination in a mens ring, it is masculine.
This handmade Silver and Gold Necklace features a high grade Blue Diamond Turquoise cabochon from Austin, Nevada USA. The marvelous Turquoise stone is enhanced with a Gold bezel outlined in a floral filigree design. The Gold work set on a tooled Silver back plate which is unique and also keeps the cost of this large necklace well within reach of most budgets. Many love the Silver and Gold combinations and we often combine both metals in the filer work - it is very attractive!
For more informative reading and viewing, check out these great pages from Durango Silver Company;
Men's Gold Turquoise Rings - Gold Turquoise Rings - Gold Turquoise Necklaces - Silver and Gold Jewelry - Silver and Gold Turquoise Rings
---
We invite you to learn more about Gold Turquoise Jewelry, Silver Gold and Turquoise Jewelry and American Turquoise Jewelry by following the links in our Learning Center, we have written on different topics directly related to Gold Turquoise Necklaces. In addition, we would like to invite you to join our E-Mail Newsletter - about once every other month we send out a Newsletter to inform our members of what's happening with Durango Silver Company, new products, specials for our members and more. We also have a monthly drawing from our member base to give away free Turquoise Jewelry from our company. Please take a moment to become one of our friends by signing in below. We hope you have enjoyed our presentation on Gold Turquoise Jewelry and have gained some useful knowledge from it.