Fashion Turquoise Jewelry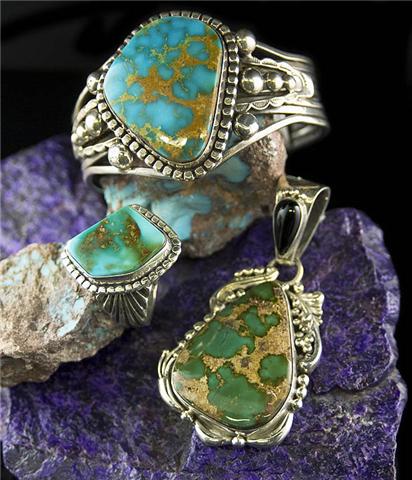 Durango Silver Company has produced some of the finest Fashion Turquoise Jewelry from the Southwest for almost forty years and bead fashion is one of our specialties. We have made and produced Turquoise Jewelry for Trade Publications, Department Stores, Movie Stars and Musicians. We focus on high quality Handcrafted Fashion Turquoise Jewelry with exceptional American Turquoise in exquisite Sterling Silver settings. Bead Fashion is in vogue these days and Durango Silver Company produces high quality natural authentic gemtone beads in our Fashion Bead Jewelry.
Who's wearing Turquoise Jewelry and why is it in Fashion? Celebrities, Models, Newscasters and people in all walks of life wear Turquoise Jewelry. It is not only in style these days, it is worn as casual attire by many including important and famous people. Fashion Turquoise Jewelry ads bold color to the advertising community, it is often included in photo shooting of models, worn on the Morning Shows and seen in the most elaborate celebrations of the rich and famous.
There is no doubt, Turquoise Jewelry is in vogue and it is the style of western America.
---
Fashion Turquoise Jewelry
Durango Silver Company features Handcrafted Fashion Turqoise Jewelry of unquestionable quality. We use beautiful natural American Turquoise in our Fashion Rings, Bracelets, Necklace Sets, Earrings and other Turquoise Jewelry items that we produce. Below are some examples of high quality Fashion Turquoise Jewelry from our company.
Beads Fashion? Absolutely!
Beads are in Fashion! Above are two Turquoise Bead Fashion Necklaces, the Treasure Necklace on the left has Turquoise, Gaspiete, Sugilite, Malachite, Coral and several other gemstones which makes this Southwestern Fashion Turquoise Necklace ansemble bright, bold and exciting to wear in daily life or out on the town. The four strand Turquoise Fashion Necklace (beads fashion) made by Nattarika Hartman of Durango Silver is magnificent. Fashion pieces like this certainly make a statement when worn, they are very noticable, yet in fashion for most any occasion, including daily attire.
Nattarika Hartman of Durango Silver Company is very much into bead fashion, her style of beading and the use of Turquoise and multi-gemstones in her bead fashion is exceptional. Nattarika hand picks all of her gemstone beads to make each and every beaded necklace set fit into her imagination, what bead fashion is all about. Fashion Bead Jewelry by Nattarika Hartman is exceptional, we invite you to view some of Nattarika's beautiful bead fashion designs.
| | |
| --- | --- |
| | |
Southwest Turquoise Earring are in style where ever you go in America and around the globe. Fashion or fancy Turquoise Earrings are attractive and ad style and class to every woman who wears them. Turquoise has a tendancy to fit into any dress ensemble and Green Turquoise matches any attire. Multi-Gemstone Southwest Earrings like the pair on the left are absolutely stunning and will attract a lot of attention. Southwest Style Jewelry is more than just a fad in fashion, it has become a standard type of Jewelry people wear daily as well as in high fashion living.
| | |
| --- | --- |
| | |
Bold and dashing Southwest Turquoise Jewelry as these two pieces from Durango Silver Company are a pleasure to wear and bring attention to your attire. These type of Jewelry items are of high fashion and often worn on special occasions such as dinner engagements, parties or social gatherings. It is common to see women wearing fancier Southwest Jewelry on a casual basis these day in city life as it fits nicely with most upper lever dress and atire. Southwestern Jewelry is in vogue and fashion today and has stood the test of time for tomorrow as well.
| | |
| --- | --- |
| | |
Lime Turquoise is in fashion these days of the first decade of this century. Green Turquoise has always been in demand as it fits in and matched with most any dress style and color a person wears. Lime Turquoise is bolder then standard Green Nevada Turquoise many of us are used to. It is rare and hard to find though, so, natural Lime Turquoise in Fashion Turquoise Jewelry can often be a little higher priced then other Turquoise Jewelry often seen. Lime Green Turquoise prodomantly comes from Nevada.
Aqua Blue Turquoise has always been in fashion and is well accepted as the color of choice in Turquoise Jewelry by many. These Fashion Turquoise Jewelry items were produced by Durango Silver Company, the pendant is handcrafted or "benchmade" and the Turquoise Ring on the right was made from the lost wax method by Crystal Hartman. Both styles have a Southwestern appearance and are strikingly differant than most Turquoise Jewelry found in your typical department store.
Celebrities wearing Fashion Turquoise Jewelry
Sara Jessica Parker - In Fashion, wearing Turqoise Jewelry!

Sara is wearing a Turqoise Jewelry in and adverising promotion. She is wearing a high Fashion Turqoise Inlay Bracelet with blue Turquoise from Arizona. Sara Jessica Parker is in the news and on the screen - she is obviously admires Turquoise Jewelry and it good on her.
Jill St John decked out in Fashion Turquoise Jewelry, a Squash Blossom Necklace, Several Turquoise Bracelets, Concho Belts and a Turquoise Ring. Jill St John is a lover of Turquoise Jewelry and as you can see she wears it in Fashion. Cameron Diaz is known for wearing a Fashion Turquoise Necklace as well as other Turquoise Jewelry often, Cameron is a high fashion celebrity and Fashion Turquoise Jewelry is diffenately included in her attire often. Fashion Bead Necklaces made with Turquoise add a splash of beautiful color to any ensemble and can be worn leisurely or in high fashion dress.
| | |
| --- | --- |
| | |
Sharon Stone, actress, is seen here casually wearing a Fashion Turquoise Necklace. Sharon is often wearing Fashion Turquoise Jewelry in publications and interviews, The Hollywood crowd love to adorn themselves with this beautiful and bold Jewelry style. Megan Fox is seen here with Turquoise Nugget Necklaces which are fashionable in daily life. Turquoise looks beautiful on Megan Fox in this photo which gives a natural look in her daily attire. Fashion Bead Necklaces are in vogue by celebrities as well as the everyday working person and Fashion Beads can be worn by anyone.
Paris Hilton is modeling a high fashion Navajo Turquoise Necklace in blue. Paris wears Fashion Turquoise Jewelry in style! She is a classy lady and Turquoise Jewelry fit her style well. Eva Mendez is adorned well in the elegant Fashion Turquoise Necklace of high fashion. Eva looks outstanding in the photo with this beautiful and stunning blue Turquoise Necklace
| | |
| --- | --- |
| | |
Faith Hill, Country Singer, is wearing a Turquoise Bead Necklace (beads are in fashion) in this photo shot. Faith is seen often wearing Turquoise Jewelry on the stage as well as around and about. Scarlett Johansson is casually wearing a pair of Turquoise Earrings here. Turquoise Jewelry is attractive as a major statement as well as an accent to casual dress. Both of these women in vogue show that bead fashion is in. Bead Fashion! Note; Fashion Bead Necklaces of the Southwest Style are great but Faith Hill is wearing a unique and valuable Turquoise Fashion Bead Necklace that was custom made by a high Fashion Bead Necklace designer.
| | |
| --- | --- |
| | |
Above Alicia Keys wears a fashion Turquoise bead necklace made of Robin's Egg Blue American Turquoise. You can see the difference in design in the Turquoise bead necklace on Alicia Keys from a traditional Turquoise bead necklace. Fashion Turquoise bead necklaces and jewelry are definately all the rage in Holywood. To the right Erykah Badu wears a large Gold Turquoise ring. You can clearly see Hollywood loves Fashion Turquoise Jewelry!
Above Keisha Cole rocks her gold jewelry featuring a huge fashion gold and Turquoise ring. The large dinner ring is a very popular fashion trend with the stars and Turquoise is one of the most popular stones to fill these huge fashion rings. The light blue stone looks wonderful on darker skin tones as you can see. To the left Whitney Port wears some gorgeous Turquoise and Gold earrings which are very popular in fashion jewelry today. Look how well the bright blue Turquoise shows up even from a distance, what a great fashion statement.
Stay informed about Fashion Turquoise Jewelry! Durango Silver Company writes an occasional Newsletter on what's happening in the Fashion Turquoise Jewelry Market and Durango Silver Co. We offer new styles of Jewelry being made by our company and friends and we often include what's happening in Durango Colorado and the Southwest from our point of view.
We also have a monthly drawing to give away one or more pieces of Fashion Turquoise Jewelry from Durango Silver Company to our subscribers. Free Turquoise Jewelry! Below is the signup, we would love to have you as one of our friends.
---