Blue Wind Spider Web Turquoise Cabochons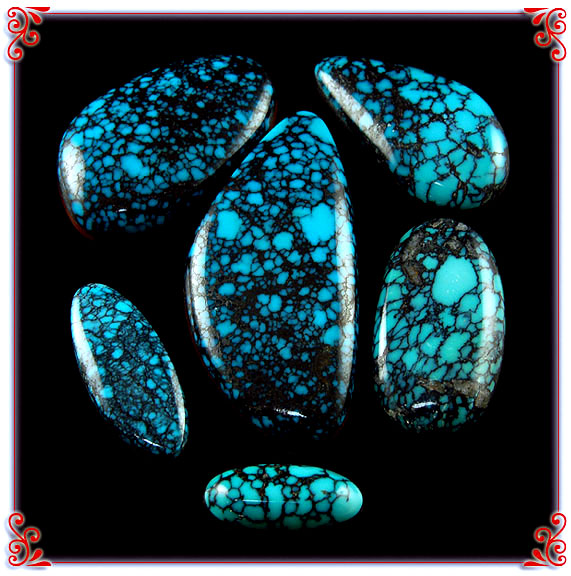 ---
The Blue Wind Turquoise mine is a smaller mine that was located in Lander County Nevada, USA. This small hat mine produced some of the finest natural Spiderweb Turquoise to ever come out of the ground in the United States as well as around the world. As you can see in the Blue Wind Spiderweb Turquoise Cabochons above the Blue Wind mine produced deep blue to "Robin's Egg" blue Turquoise with beautiful black spiderweb with brown matrix chunks in the black web on occasion. The stones above are considered to be top gem grade. We have shown different shades of blue as well as different sizes of spiderweb matrix, and different levels of high grade from AAA to Ultra Grade. Blue Wind was one of the few mines in the world that produced Turquoise of a high enough grade to compete or in some cases beat natural Lander Blue Turquoise in asthetics when cut into spiderweb Turquoise cabochons.
A Brief History on Blue Wind Turquoise
The Blue Wind Turquoise mine was a hat mine (an exagerated figure of speach meaning the mine the vein of Turquoise could be covered with a hat) owned by the Edgar family. The mine was worked off and on and about 100 pounds total came out of the mine before it was played out. The name Blue Wind came from the swirling patterns within the first Turquoise that came from the mine. The mine was located in Crescent Valley. The Edgars are the only family known to own and mine the Blue Wind Turquoise mine.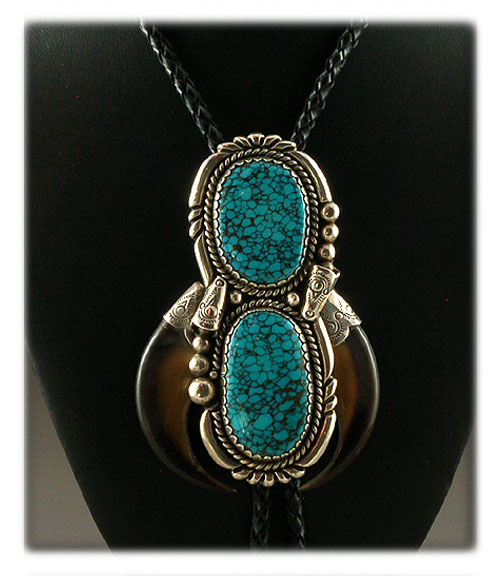 A vast majority of the ultra rare Spiderweb Turquoise Cabochons that were cut from the Blue Wind Turquoise mine were purchase by the Hartman's and Tim King when the mine was in operation through a special deal they had made with Dick Edgar. If you are into antique southwestern jewelry you will find many old bear claw jewelry pieces with high grade spiderweb Turquoise cabochons from the Blue Wind mine in them. And, if you are a buff on Vintage Turquoise Jewelry, you may have heard of a Navajo Jewelry artisan "John Hoskie" which little is known about, and who made much of this jewelry along with "Ester Hoskie", well that was the Pen name given to John Hartman by the Little Bert King company. Although it was never stated that Hoskie was Navajo, it probably created that assumption as there are Native American's with that last name. Estell Hartman his wife was given the pen name "Ester Hartman". An amazing vintage bolo tie with high grade Blue Wind Spiderweb Turquoise cabochons and bear claws can by John Hartman as "John Hoskie" can be found in the book "Jewel of the Southwest Turquoise - The Nevada Gem Collection" by Annie Osburn.
---
Thank you for reading about Blue Wind Turquoise and Blue Wind Spiderweb Turquoise Cabochons.