A Little About Blue Turquoise Bracelets
We produce high quality handcrafted Silver Jewelry here in Durango, Colorado USA, we also handle Blue Turquoise Bracelets which are made by Native American Indians. We use high quality American Turquoise in our Silver Jewelry, we have mined, cut and collected it for over forty years. If you are a collector or are interested in American handcrafted Silver Bracelets with authentic blue Turquoise, our company produces some of the finest coming out of the American Southwestern USA today.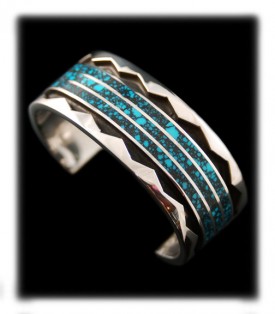 Above is a fabulous Native American Blue Turquoise Bracelet made by Cecil Ashley, a Navajo Artisan, it is a master piece in American Indian Turquoise Jewelry! Cecil first created the heavy Silver Bracelet with three channels to inlay the Turquoise into. He then inlaid continuous rows of blue Spiderweb Turquoise into the channels, however, he meticulously matched the stones so you cannot see where they meet, it is superb work.
When looking at Turquoise Jewelry, you should know there is a major difference between quality handmade Turquoise Jewelry from the American Southwest and inferior production or import Turquoise costume Jewelry. The Bracelet above was made by a skilled craftsman and days of intense work were put into this piece, it is an expensive piece of Turquoise Jewelry that has real value today and greater value in the future.
Blue Turquoise Bracelets from Durango Silver Company
Above and to the left is an exceptional artisan created masterpiece, it was created by Pete Chee. This bracelet was handcrafted in Silver to accommodate the Turquoise, Gaspeite, Spiny Oyster Shell and Coral inlays, it is a fantastic example of Quality Navajo craftsmanship. The multi colored gemstone inlays take a highly skilled craftsman to carve in this geometric pattern, intense work! The color combination of the gemstones is colorful and high fashion, it is shockingly beautiful and vibrant.
Above and to the right is a handmade Victorian style blue Turquoise Silver Bracelet. This Bracelet was created by John Hartman. The Victorian style of Silver Jewelry that John creates can only be purchased at Durango Silver Company as it is exclusive to our company. John's Victorian Silver Jewelry is stylish, creative and unusual.
Above and to the left is a Victorian Style handcrafted blue Turquoise and Silver Bracelet made by John Hartman of Durango Silver Company. This is another example of the new Victorian styled Jewelry being made this year by John. John's repose work is exceptional, bold and vibrant for this new age we live in. This handcrafted Silver Bracelet features a Nevada blue Turquoise Gemstone from the old Blue Diamond Mine, it is accented with a flowing Victorian design.

Above and to the right is a Silver Bracelet inlaid with Blue Turquoise, Gaspeite and Sugilite by Native American artist Julius Burbank. Julius handmade the Sterling Silver Bracelet frame and then meticulously cut and inlaid this beautiful piece with a beautiful color combination of gemstones. As you can see there is a tremendous amount of individual stones that were intricately set to create this masterpiece.
Above and to the left is a Navajo handmade Blue Wind Turquoise Bracelet created by Ben Yazzie and John Hartman. Ben makes a lot of Jewelry for Durango Silver Company, we enjoy handling his work and working with Ben and his wife Katie, both Navajo. Ben did most of the work on this bracelet and I wanted a little of my Victorian design work on the bracelet to see what our customers thought of this combination. John made the Victorian side pieces and Ben made the rest of the bracelet.
To the right is blue spiderweb Tibetan Turquoise Bracelet by Native American artist Johnny Coonis. This Native American Silver Cuff Bracelet has high grade, spiderweb Tibetan Turquoise beautifully inlaid into a deep channeled Silver mens bracelet. This is a classic new age Navajo bracelet that will be timeless and it will become very valuable in the future due to the beautiful spiderweb Turquoise.
The Blue Turquoise Bead Bracelet on the left was made of beautiful sky blue Turquoise roundel beads and strung with Sterling Silver findings by Nattarika Hartman of Durango Silver Co. This is a simple yet elegant Turquoise Bracelet that is certain to be cherished by most women as it is absolutely gorgeous. You can see additional photos of this Turquoise Beaded Bracelet on its presentation page. The wonderful women's blue Turquoise bracelet is a great example of the fabulous Turquoise Bead Jewelry Nattarika Hartman makes.
Above and to the right is a very nice Silver and Turquoise Beaded Bracelet made with inlaid gemstone beads. This is a very nice Women's Turquoise Bead Bracelet that has a nice mix of bead strung on a heavy Silver snake chain bracelet. Check out additional photos and descriptions on this very nice blue Turquoise Bracelet.
We invite you to check out the Blue Turquoise Bracelets we have available today, follow the arrow to the buttons on the left side of this page.
Also, here are a couple of our other presentations on blue Turquoise Jewelry, blue Turquoise Pendants and Blue Turquoise Jewelry you will find interesting and educational.
---
We invite you to learn more about Southwestern Turquoise Jewelry by following the links in our Learning Center. We have written many great informational pages for your further education on all types of Silver Jewelry, Native American Indian Jewelry and quality Turquoise Jewelry from the American Southwest. In addition, we would like to invite you to join our E-Mail Newsletter - about once every other month we send out a Newsletter to inform our members of what's happening at Durango Silver Company, new products, specials for our members only and more. We also have a monthly drawing from our member base to give away Free Turquoise Jewelry from our company. Please take a moment to become one of our friends by signing in below.
We thank you for your time and hope you will think of Durango Silver Company the next time you are considering quality Blue Turquoise Bracelets made in America.