Utah Turquoise & Variscite Mines & Turquoise Facts
Kennecot - Bingham Turquoise Mine
| | |
| --- | --- |
| | Kennecot Turquoise is a bi-product of the Kennecot Copper Mine in Utah. This turquoise mine didn't produce much high grade turquoise. Most of what we have, and have cut is pretty soft and a light blue/green color. However, some of the Kennecot Turquoise from Utah was a great color, as with any mine. I have been able to get some wonderful Kennecot Turquoise from Utah. The material I have is very beautiful, however I understand it is pretty rare. Most of the Turquoise from the Kennecot Copper mine is a biproduct of the Copper mining efforts there and is crushed. This is unfortunate. I am sure there was a lot of great stuff in the mine that was destroyed. I have seen green, blue/green and medium blue Turquoise from the mine. Although a lot is soft, the highgrade can be pretty darn hard. I am sure there are other deposits of Utah Turquoise, but I have yet to hear about them. Having said this, there is some great Utah Variscite coming out! |
Utah Variscite
This is some of the world's best Varascite. A lot of this material comes from Fairfield, Utah and from the Lucien area.
Little Green Monster Variscite Mine also called Clay Canyon Variscite
| | |
| --- | --- |
| This is what is commonly know as Fairfield Varascite. This mine was open in the 50s and is said to be closed and no longer contain Varascite. The Utah Variscite that came from this mine was extremely rare and had inclusions of Crandelite, Wardite and other rare minerals. A lot of this material was sold as specimens as it was too beautiful with all the other minerals in it to cut it up. This particular type of Utah Variscite is very hard to come by. You will see people trying to sell other Variscite as Clay Canyon, Little Green Monster mine, or Fairfield Variscite that is not such. The real allure of this Utah Variscite to me is the mix of the Variscite, Crandelite, and Wardite which give the stone a wonderful picture. Learn more about Fairfield Variscite | |
Snowville Variscite Mine
| | |
| --- | --- |
| | Absolutely stunning Utah Varascite. This material looks closer to Nevada Varascite then it does to most Utah Varascite. It was being mine in small production of a rancher's land. He was very kind about it, until the miners got greedy and tried taking a trackhoe in. This event caused the rancher to ban anyone from the area to mine the Utah Variscite. The Snowville Utah Variscite deposit produced some of the highest grade of natural variscite the world has ever seen. Snowville Variscite from Utah comes in a mint green color to a lime green color with wonderful jet black spider web matrix most of the time. As you can see in the piece to the left, it can have other looks such as this gorgeous water web pattern. The really nice thing about the Snowville Variscite material is that it is very hard and easy to cut. |
Lucien Variscite
| | |
| --- | --- |
| This is some gorgeous material, and fairly common at this time in the gem business. The most common type of Lucien Variscite is the lighter green variety. This is commonly called "Utah Variscite". Some of this material can be very dark emerald green. A lot of this material has white matrix. Lucien Variscite can come in sizes from a pea to the size of a basketball! Lucien Variscite is niceUtah Variscite to cut and to work with. This Utah Variscite is very stable and hard. We love to use Utah Variscite in inlay jewelry as the mint green color accents Sugilite and Opal very well. Lucien variscite is very close in looks to the latest find of Australian Variscite. | |
Example Pictures of Utah Variscite are not necessarily the highest of grade, rather a good example of a common look from a particular mine.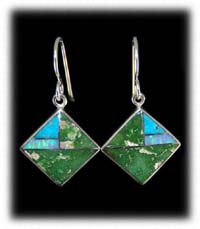 ---
Thank you for taking a look at our brief informational page on Utah Turquoise and Utah Variscite.