Silver Turquoise Post Earrings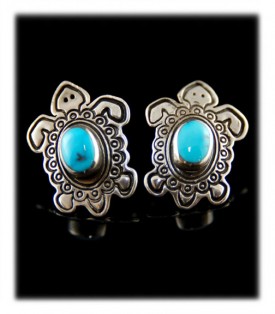 Silver Turquoise Post Earrings have been the most popular style of earring in the American Southwest for well over a hundred years. Today you see women throughout the United States wearing Turquoise Rings, Pendants and Turquoise Earrings of all types. Turquoise has become one of the top ten gemstones worn in the world, yes world! People throughout the world wear Turquoise and many women wear Turquoise Earrings.
Silver Turquoise Post Earrings Examples
Above and to the left is a pair of inlaid Silver Turquoise Post Earrings, they are often called Turquoise Stud Earrings, the term has the same meaning. This pair was Navajo handmade in hand stamped Sterling Silver and then inlaid with Turquoise, Mediterranean Coral, black Jet and Mother of Pearl. The Zuni Indians were known for inlay stone work many years ago, however, both Navajo and Zuni Indians make Inlay Turquoise Jewelry. We invite you to go to this pair of earrings presentation page.
Above and to the right is another pair of Navajo Turquoise and Spiny Oyster Shell inlaid Silver Earrings, post type. This pair of Silver Earrings were made by creating a Silver earring finding with a large channel which was inlaid by hand cutting the Turquoise and purple Spiny Shell to fit perfectly into the channel void in the Silver finding. We also have a very nice presentation page on Turquoise Inlay Earrings that you might enjoy - follow the link in this sentence.
If you are interested in learning more about Zuni Turquoise Earrings - follow this link to find a great presentation that will point out the different styles of Zuni Dangle Earrings, Zuni Post Earrings and Zuni Inlaid Earrings. It also informs you about Zuni Petit-point, Zuni Needlepoint and Zuni Gemstone Inlay work. This is a very good educational page and well worth your time if you are interested in American Indian Jewelry.
Above and to the left is a pair of Flying Beetle Silver Turquoise Post Earrings handmade by Navajo Artisan Ben Yazzie. Ben loves making bugs and you should see his Horny Toads - wow! Ben works with his wife Katie, they have been making Jewelry for about 40 years and have sold their Jewelry to many celebrities including Elvis Presley. This pair of Turquoise Stud Earrings were made with Sleeping Beauty Turquoise.
Above and to the right is a pair of Turquoise Earrings, post style made in a early American Southwest style by John Hartman. This is a Bear Paw design, notice the five toes? They were made in Sterling Silver and have a unique design that was done with a Jewelers saw and file work, This pair is shown with Kingman Turquoise from Arizona.
Above and to the left is a pair of Blue Silver Turquoise Post Earrings created by Crystal Hartman of Durango, Colorado. Crystal has a very unique style of Jewelry creation, she uses a hot Jewelers wax pen to build up wax layer by layer to create awesome Jewelry that is unique to only herself. Check out other photos of this pair of Blue Turquoise Earrings on their presentation page. Also, if you like Blue Turquoise Earrings, follow this link to a great educational page, it is very informative pointing out the different types and styles of Southwestern Silver Earrings with blue Turquoise gemstones.
Above and to the right is a pair of Victorian Style Post Earrings featuring blue Turquoise Gemstones from the Sleeping Beauty Turquoise Mine. This pair of Earrings, created by John Hartman were designed in his Victorian style which is high relief, bold and unique to John. His Victorian style Jewelry is an exclusive to Durango Silver Company, they are not sold elsewhere.
Above and to the left is a pair of Navajo Turquoise Cluster Post Earrings. They are considered Navajo Cluster Earrings due to the multi stone clusters, Navajo Silversmiths have been well noted for creating this style of Jewelry for nearly one hundred years. This pair features six beautiful Sleeping Beauty Turquoise Gemstones in each earring, they are dynamic and stand out in a crown when worn.
Above and to the right is another pair of Navajo Cluster Earrings, this pair has multi-colored gems that really changes the appearance, they are very festive! This pair features purple and orange Spiny Oyster Shell, Sleeping Beauty Turquoise and Mediterranean Coral.
We have a great educational page that you will appreciate in you are interested in Navajo Turquoise Earrings, this page will show you the different types and styles of American Indian Turquoise Earrings made by Navajo Silversmiths of the American Southwest.
Above and to the left is a matched set of Vintage Zuni Butterflies inlaid with Turquoise, Mother of Pearl and Jet. A pair of Butterfly Post Earrings and a matching Butterfly Pin / Pendant. It is common to find old and new Zuni Indian Jewelry in matching sets and often sets of many pieces including Bracelets, Rings, Earrings, Necklaces and even matching Belt Buckles. It is fairly rare to find antique sets as they usually get split up when they get passed down in the family.
Above and to the right is a pair of bezel set green Silver Turquoise Post Earrings. We have a lot of matching Turquoise stone sets made into bezel set earrings as these sets are very popular. The matching Turquoise sets are made by using a fine blade diamond saw to slice right down the middle of a Turquoise slab, when we open them up they are usually perfect right and left sides for earrings. We are then very careful not to over cut the stones as the design does change as you grind or sand the stones.
We have a great presentation page on Green Turquoise Earrings as well as American Indian Earrings that you will appreciate if you liked this page - check them out by follow their links in this sentence.
We invite you to search our site for Silver Turquoise Post Earrings - check out what we presently have available.