Turquoise Value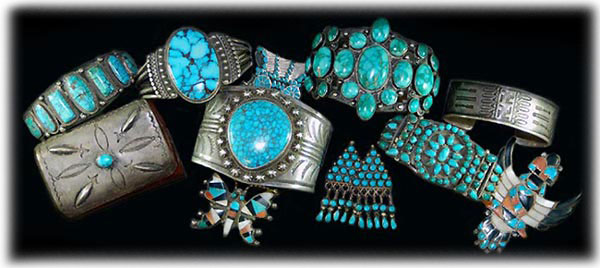 Turquoise Value, Turquoise Jewelry Value, Quality Turquoise Jewelry
Need an evaluation of your jewelry?
There are many factors when figuring out the Turquoise Value of a piece of Turquoise Jewelry from the Southwest. The value varies dramatically in Turquoise and Turquoise Jewelry just as it does most everything else in this world that has a value. From the type and quality of the Turquoise to the quality, condition and maker of the Turquoise Jewelry item, everything matters and can make a major impact on the value of your Turquoise or Turquoise Jewelry.
First of all, you must know what you are looking at to get an accurate evaluation of your item. There has been a tremendous amount of Turquoise Jewerly made in the last 5,000 years and there is a lot of Turquoise Jewelry being made today. Antique Turquoise Jewelry is collectible and many factors including quality, condition, type of Turquoise, maker and age will tell you the actual Turquoise Value of the piece.
We have had a couple of Turquoise Jewelry booms in the last 50 years when the demand for Turquoise Jewelry far exceeded what could be produced and as a result pure junk was produced just to make money for a short fad in the marketplace. This type of Turquoise Jewelry has very little value. Furthermore, most people that have not been around Turquoise Jewelry buy it thinking they have hit the jackpot. Most of the time when people send us photos of their prize piece of Indian Jewelry, it is nearly worthless to an educated buyer. Very often the value of this type of jewelry is the same as the scrap value of the piece.
The Value of high quality Turquoise Jewelry as well as Natural Turquoise itself, has gone through the roof! Collectors worldwide value Turquoise and Turquoise Jewelry for many reasons and if you have a quality piece, it may be worth a substancial amount of money. Most Turquoise Values and Turquoise Jewelry values is determined by the quality and rarity of the Turquoise, the quality of craftsmanship, maker and the condition of the piece. Many people email and call us about maker's marks, there are several books and databases of many of the old Indian Jewelry makers marks, however, the problem is that it often takes a long time to find the makers mark and this alone could cost $100. or more just in the appraisers time.
Most Native American Turquoise Jewelry from the American Southwest that was made before 1930 has become highly sought after. There are so many factors of Antique Turquoise Jewelry to take into account when evaluating a piece, how old it is, what kind and where the Turquoise is from, who made the piece, signature, type of silver (coin or Sterling), how it was made (casted, hand forged from Ingot, bench made), what type of piece of Jewelry it is and many other variables. To get an accurate evaluation, it must be looked at by someone who is truely experianced and is in the know of current Turquoise Jewelry values.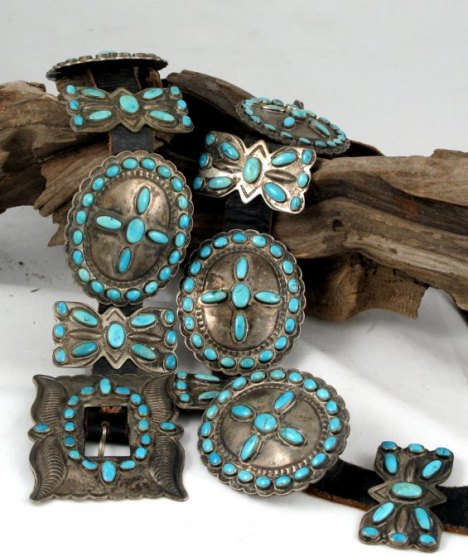 Modern Turquoise Jewelry has basically the same considrations. There are many modern day artists whose work is highly collected and the value of some modern day Turquoise Jewelry can fetch astronomical prices. This is a limited amount of artists, and you would know if you had one of these pieces the day you purchased it. If your piece of jewelry was handed down from your parent of grandparent, they would have most likely kept a receipt when they paid an astronomical price for the jewelry. Like many types of modern Art, the maker of the piece plays an important role in its value. There are many talented Jewelers in the Southwest, Native American Indian as well as Contemporary Anglo, Latino and other artists that are extremely good at making Jewelry. High quality Turquoise and Turquoise Jewelry must be seen by a professional person that is currently active in the Turquoise and Turquoise Jewelry marketplace to get a accurate evaluation.
| | |
| --- | --- |
| | |
Below; Quality Turquoise Cabochons and Rough Turquoise with high Turquoise Value. Quality Turquoise in the rough or cut into cabochons can be as valuable as Turquoise Jewelry. We are always in the market for collections of both, if you have either rough Turquoise or cut Turquoise stones that you are interested in selling, send photos to John@DurangoSilver.com with a short description of what you know about your Turquoise, he will get back to you shortly.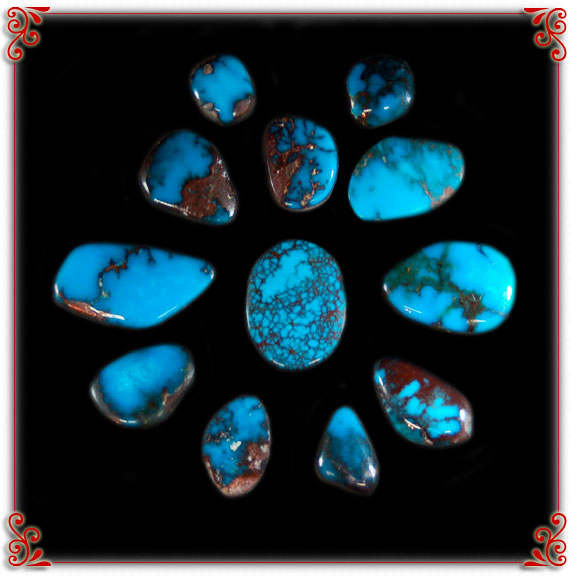 Above is an example of quality or high Turquoise Value Turquoise Cabochons for your information.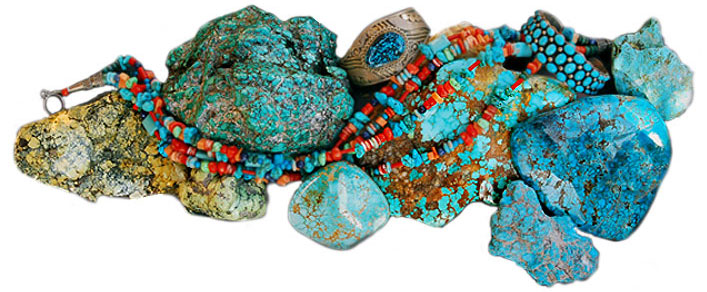 Above is an example of quality American Turquoise in the rough and slightly polished for your information.
---
Turquoise Jewelry and Turquoise Value Evaluation

Value of an Appraisel Service - If you think you have a piece of Turquoise Jewelry that may be valuable, it may be a very good idea to find out if it is. An appraiser works by the hour and to get an accurate appraisel on your item you must have a highly educated person that has been in this busines for many years. The appraiser must know all of the different types of Turquoise and how much the Turquoise is worth and they must also know how to detect if the piece was made in a production shop or a master Native American Jeweler.
Turquoise Jewelry Evaluation Service

- We are not presently evaluating or appraising jewelry, we are only purchasing.
If you are just looking to find a value for your jewelry for personal interest, the best way is to look on websites selling similar items and compare that with items on ebay for sale that are similar.
If you are looking for an insurance appraisal the best thing to do is to find an appraiser in your area that can look at the piece in person.
Information needed for Turquoise Jewelry evaluation;
Photographs of your Turquoise Jewelry - Taking photo of Turquoise Jewelry is fairly easy. The easiest way is to use a good digital camera outside in the indirect light. Lay the piece of Jewelry on a white background and take several pictures at every angle for our inspection. Make certain to have a ruler next to the item so we can get accurate size and dimensions of your piece. If there is a maker's mark, make certain you get a good crisp picture of it. Look at the photos on your computer screen to make certain they match well before sending them.

Give us as much information as you know about the piece such as when and where the item was purchased, how long you have owned it and anything else you know about your Turquoise Jewelry item. DO NOT CALL US FOR AN APPRAISAL - EMAIL ONLY. If you would like to sell your jewelry email us with pictures.
If you just want to sell your Turquoise of Turquoise Jewely item and do not need an evaluation, send a photo and what you want for your items to John@DurangoSilver.com.
I will respond if I am interested in purchasing your item or items. I will also respond if I want to make an offer. I buy individual pieces and I will buy an entire estate.
---
We hope you have learned alot about Turquoise Value.