Turquoise Silver Earrings
Durango Silver Company has been producing Turquoise Jewelry and Turquoise Silver Earrings for over 40 years now and with generations of the Hartman family. Our entire family works in the Southwestern Silver Jewelry industry here on our own family compound located just west of Durango, Colorado USA. We work hard on a daily basis, six days a week to buy, sell and trade in Native American handmade Jewelry produced entirely in the USA, and we are very proud of this fact! This is a presentation page on Turquoise Silver Earrings that we have created for your enjoyment and a learning experience.

Above is a pair of Silver and Turquoise Earrings that was designed by the Durango Silver Company group and produced specifically for our company. Our company produces high quality Turquoise Jewelry and markets it exclusively through our Online Gallery as well as our Trading Company located in Durango, Colorado USA. They are now an exclusive to our company in a limited production of 24 pair. Once we have sold 24 pair of this Turquoise Earring style we will move onto another, we will not produce any more of this style, so the individuals that purchased one of these pairs of Earrings will, most likely, never see another pair in their life! Be the individual in your social neighbourhood to own one of these Turquoise Inlaid Drop Earrings by following this link, you will be glad you did, we promise!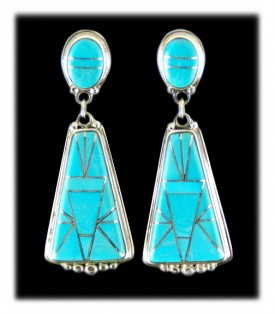 We have produced another educational page on Turquoise Earrings we think you will appreciate if you like this page, check out this presentation by following the link in this sentence.
Turquoise Silver Earrings from Durango Silver Company
We invite you to view the photos below of the examples of Sterling Silver and Turquoise Earrings, read the descriptions below the photos -
they will tell you a lot about each particular earring in the photo and you will learn something new from each description.
Above and to the left is a pair of Navajo Handmade Turquoise Earrings created in Sterling Silver by Ben Yazzie. Ben works with Durango Silver Company to create a lot of unique Navajo Handmade Turquoise Jewelry. John Hartman cut the Royston Turquoise gemstones and Ben did the Silver work. Take a look at our presentation page on Navajo Turquoise Earrings - you will like it!
Above and to the right is a pair of Silver Dangle Earrings with Green Nevada Turquoise from the Broken Arrow Mine. This pair of Silver and Nevada Green Turquoise Earrings were Navajo Handmade and feature beautiful matching Emerald Green Turquoise Gemstones.
If you like Green Turquoise and would like to read more about Green Turquoise Earrings, check out this presentation page that we have made for your continuing learning experience.
Above and to the left is an exciting pair of Bisbee Turquoise Hoop Earrings in Sterling Silver produced by Durango Silver Company and inlaid by Bill Anderson. Bill once worked with and for Bob Mathews and Cecil Mickleson who were the brother-in-laws that had the only endorsement from the Phelps Dodge Company to extract Bisbee Turquoise from the Mine from 1962 - 1976. The Bisbee Turquoise Mine has not produced much Turquoise since and the Turquoise that has come from the Mine premises has been by robbers as the Mine proprietors prohibit the mining of Turquoise due to liabilities.
We have created very good presentation on Blue Turquoise Earrings that you will like if you like this type of Earring, as well as others made with Blue Turquoise - Check it out!
Above and to the right is a pair of unique Beaded Earrings created by Nattarika Hartman of Durango Silver Company. This pair of Earrings feature an inlaid Earring Stud with Turquoise, Red Coral, Spiny Oyster Shell and Sugilite and the Earring bottoms are inlaid Silver Beads with Turquoise, Jet and orange Spiny Oyster Shell. This is a very unique pair of Silver Gemstone Earrings that are one-of-a-kind and an exclusive from Durango Silver Company.
We have another great educational page on Turquoise and Gemstone Stud Earrings that you will enjoy if you like this page - check it out!
Above are two colorful pairs of Silver Turquoise and mixed colored Gemstone Earring from the American Southwest. If you like this type of colorful and festive Earring styles, check out our presentation on Southwestern Turquoise Earrings - You will like this page.
Above and to the left is an excitingly beautiful pair of Navajo Cluster Earrings that will really dazzle your eyes, as well as everyone else's. Each Earring has six individual gemstones, Spiny Oyster Shell, Red Coral, Sleeping Beauty Turquoise and Sugilite. They were Navajo handmade in Sterling Silver and built to last in the USA.
To the right is another pair of eye dazzling Navajo handcrafted Silver Earrings inlayed with Spiny Oyster Shell, Turquoise, Lapis, Red Coral and Sugilite. The lower Earrings dangle for a Turquoise Stud and the result is stunning, don't you think? This Southwestern Earring was designed by John Hartman and 24 pair were produced as a limited edition that will be sold exclusively by Durango Silver Company
After you check out this pair of Earrings go to our Turquoise Earrings Styles from the American Southwest page - this page has loads of unique Turquoise Silver Earrings photos and stories about them - you'll love this page!
Turquoise Jewelry from Durango Silver Company is inherently different from Southwestern Jewelry found elsewhere and our Victorian Turquoise Jewelry is a classic example. John Hartman has been an avid collector of antique western memorabilia and antique items from the Victorian period. He has recently been designing Turquoise Jewelry with Victorian motif styles that are just not seen elsewhere, furthermore, they are exclusive to Durango Silver Company and can be purchased only from our company. The Victorian Style Sleeping Beauty Turquoise Earrings are spectacular in design and a classic pair of John's Victorian Jewelry.
To the right is a beautiful pair of very colorful gemstone Earrings that look soooo good when worn! Nattarika Hartman received and honourable degree in Asian Art and Textiles from the Chiang Mai College in Thailand. Her acute senses are astonishing and her color choices are remarkable, we are consistently with the exceptional designs that Nattarika comes up with and we hope you see this in her Jewelry too! We invite you to visit our presentation on Turquoise Bead Earrings.
Turquoise Inlay Jewelry and Multi-Color Gemstone Inlay from the American Southwest is an art form in Jewelry that is admired by Jewelers worldwide. Turquoise Inlay Earrings fascinate women that are outgoing and fun loving individuals and when you see a set of Native American Indian Inlay Earrings and Pendent set like this, there should be no wonder why. Quality Turquoise Jewelry like this is very special and we are proud of our Native American Artisans that create some of the finest ethnic Jewelry in the world!
Above and to the right is a pair of large Zuni Needle Point Earrings in Red Coral that are awesome. Zuni Needlepoint Jewelry has been made for nearly a hundred years and there are no other Jewelers in the world that are known for this quality of lapidary and Silver work. The Zuni Indian Jewelers are prolific in their design as well as being able to produce consistent quality in every piece they make.
We invite you to view our presentation of Zuni Turquoise Earrings to view several different types of Earrings the Zuni Indian are known for producing.
---
If you like our Turquoise Jewelry and our extensive library of educational pages and videos, join our Guest book where members only get special
discounts on Jewelry and are members of our free Turquoise Jewelry give away that is held each month. Check it out!
We thank you for your time and hope you will think of Durango Silver Company the next time you are considering
Quality Turquoise Silver Earrings made in America.