Sterling Silver Bracelets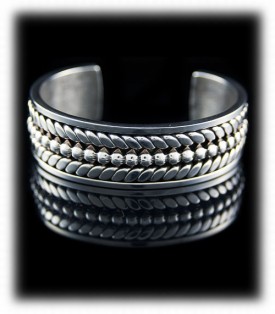 Durango Silver Company has been producing Silver Jewelry for nearly 40 years here in the Southwest, Sterling Silver Bracelets are one of our specialties and we produce some of the most beautiful Sterling Silver Bracelets coming out of the Southwestern United States today. Southwestern Silver Jewelry is quite unique and unusual from other Jewelry made elsewhere in the world. It is typically more substantial in weight and much attention to design is made in our type of Jewelry. You will find the Sterling Silver Bracelets produced by our company are inherently different in design and quality than others you will find in the general marketplace.
Sterling Sterling Silver Bracelets from Durango Silver Company
Sterling Sterling Silver Bracelets produced by our company are made of genuine Sterling Silver and they are generally handmade and many Native American Indian handmade. Silver Cuff Bracelets such as the one in the photo above have been a standard type of Silver Bracelet that has been being made here in the Southwest since a Navajo Blacksmith, Atsidi Sani in 1860, first learned how to make Silver Jewelry from the Spaniards. Silver Cuff Bracelets are attractive and easy to wear.
Examples of Sterling Silver Bracelets
Above and to the left is a Native American Silver Bracelet and a classic example of the type of Sterling Silver Bracelets from the American Southwest. This particular Silver Bracelet was Navajo Handmade and hand stamped very deeply, it is a very heavy weight Silver Bracelet. Navajo Silversmiths are known for their exceptional Silver work such as stampwork and Silver filigree.
To the right is a Turquoise Row Bracelet handmade with Carico Lake Turquoise by Native American artist Darrell Cadman. Navajo Row Sterling Silver Bracelets have been a standard design in Navajo Indian Jewelry for over 125 years. This Sterling Silver Cuff Bracelet focuses on five high grade, lime green, natural Carico Lake Turquoise cabochons from Nevada, USA. Each gemstone is surrounded by a rope or cable design and separated by raindrop designs. This is all set atop a classic three prong Silver Bracelet shank.
| | |
| --- | --- |
| | |
Above and to the left is a Kingman Turquoise Inlay, Silver Bracelet by Zuni Native American artist Larry Loretto. This is one of Larry's awesome inlaid Sterling Silver Bracelets that has thirty Two rectangular high grade Kingman Turquoise inlaid stones, it is a Mens Silver Bracelet. Larry is known for his bold Men's Turquoise Jewelry. This particular Silver Bracelet features a wide silver bracelet shank with two horizontal rows of inlaid Kingman Turquoise which are separated by a shadow box design. We recommend Larry Loretto as he makes exquisite Sterling Silver Bracelets as well as other great Silver Jewelry and he is a true Native American Artisan.
To the right is a Silver Bracelet was originally made about 25 years ago by John Hartman for the Fred Harvey Company. John was involved with the Fred Harvey Company to make a line of old Navajo Style Sterling Silver Bracelets like they used to sell in the 1920's. Each bracelet is made in the old school method and made to look like an old Navajo Bracelet from the 20's. It is a heavy weight silver bracelet, very attractive and comfortable to wear.
| | |
| --- | --- |
| | |
Above and to the left is an example of one of John Hartman's Sterling Silver Bracelets in his Victorian Style of Silverwork. This one is pretty fancy , yet it is one to wear often as it is a beautiful piece of wearable art. It has a beautiful Royston Turquoise Gemstone with golden brown matrix running through a sea of green, hand cut by John. The gemstone is set with a fancy filigree bezel which sits atop a heavy Silver Bracelet shank. To each side of the stone is extensive repose Silver work created by John in a Victorian style that is unique to John Hartman of Durango Silver Company.
To the right is an Australian Boulder Opal Silver Bracelet handmade with Sterling Silver Beads, it is absolutely stunning! The Boulder Opal is from Kroit, Australia and has blue hues in a chocolate brown matrix. This very unique Silver Bracelet was handmade by John Hartman of Durango, Colorado USA. The Silver Beadwork is by Nattarika Hartman. John has been a Silver and Goldsmith of over 40 years now and produces wonderful Southwestern styled Sterling Silver Bracelets.
| | |
| --- | --- |
| | |
Above and to the left is a contemporary Silver Bracelet with inlaid Spiny Oyster, Turquoise and Black Jade. It was handmade by Native American artist Edison Yazzie. This is one of Edison's Sterling Silver Bracelets with geometric designs, it has round inlays of natural orange Spiny Oyster Shell are the focal point of this fancy Silver Inlay Bracelet for men - these vibrant orange stones are accented with natural Black Jade and "Robin's Egg" Blue Sleeping Beauty Turquoise. This Sterling Silver Mens Inlay Bracelet is Native American handmade and a true piece of Jewelry Art. Edison is an accomplished gemstone inlayer that we highly recommend.
To the right is another one of our unique gemstone inlaid Sterling Silver Bracelets. It features Gaspeite, Sleeping Beauty Turquoise and Spiny Oyster shell in a Cobble Stone style of Inlay by Native American artist Pete Chee. This Native American Silver Bracelet has vibrant, cheerful color's and is a Museum Quality Silver Inlay Cuff Bracelet. This Inlay Silver Bracelet features a sun pattern design in the center and geometric designs down each side. The stones were all individually hand cut and pieced together to make this a wonderful design and a spectacular piece of Native American Silver Jewelry. A fine example of modern Inlay Silver Jewelry and Native American jewelry. This cobble stone inlay silver bracelet would be the highlight of most Silver Jewelry or Turquoise jewelry collections.
---
We hope you have enjoyed our presentation on Sterling Silver Bracelets and have gained some useful knowledge from it. We invite you to learn more about Sterling Silver Bracelets, Native American Jewelry and Turquoise Jewelry by following the links in our Learning Center to other informational pages that we have written on different topics related to Turquoise Jewelry. In addition, we would like to invite you to join our E-Mail Newsletter - about once every other month we send out a Newsletter to inform our members of what's happening with Durango Silver Company, new products, specials for our members and more. We also have a monthly drawing from our member base to give away free Sterling Silver Bracelets from our company. Please take a moment to become one of our friends by signing in below.
We hope you have enjoyed our presentation and will think of Durango Silver Company the next time you are considering Sterling Silver Bracelets.