Spiderweb Turquoise Bracelets
Durango Silver Company has been producing high quality Turquoise Jewelry for over forty years. We have been mining, collecting, cutting and setting Spiderweb Turquoise into our finest quality Jewelry since we learned how rare, unusual and beautiful this natural phenomenon in nature is. Our Spiderweb Turquoise Bracelets, Rings and Necklaces are a specialty of our business and we produce them often.
In the photo below you see several Turquoise rocks and many pieces of Turquoise Jewelry, all of the Turquoise stones in the photo are high grade Turquoise, however, the Spiderweb Turquoise Bracelet in the center of the photo is the prize! This is a spectacular #8 Spiderweb Turquoise Bracelet handmade by Mark Chee, who was an important Navajo Silversmith from approximately 1920 through the 1950's.
This is presentation page on Spiderweb Turquoise Bracelets and is part of a multi-page presentation on Spiderweb Turquoise andSpiderweb Turquoise Jewelry. We hope you enjoy and appreciate this educational information as Spiderweb Turquoise and Spiderweb Turquoise Jewelry is rare, unusual, beautiful and valuable. Below are several photo along with descriptive text and links to additional information.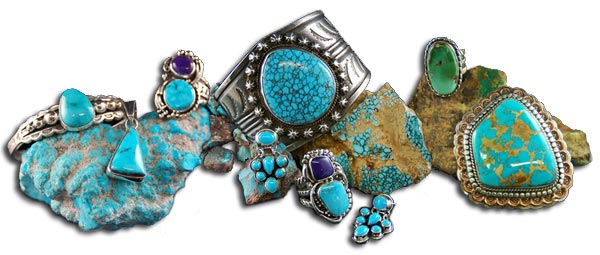 Authentic Spiderweb Turquoise Bracelets from Durango Silver Co
Durango Silver Company is one of few authorities on Spiderweb Turquoise. We handle and produce some of the finest Spiderweb Turquoise Jewelry as well as Spiderweb Turquoise Bracelets coming out of the American Southwest today.
Above and to the left is a Navajo handmade Sterling Silver Spiderweb Turquoise Inlaid Bracelet, made by Johnny Coonis. The Spiderweb Turquoise used to inlay this Bracelet was mined in Hubei, China. This is an outstanding piece of work with spectacular Turquoise.
Above and to the right is another Spiderweb Turquoise Bracelet by Native American artist Larry Loretto. This beautiful Bracelet was inlaid with blue Tibetan Spiderweb Turquoise, Tibetan Turquoise shares the many of the same mountain ranges that Chinese Turquoise in found in and you can often see many resemblances.
Until recent years, business and travel was not allowed into China by foreigners. There was also little known about China, its history and its natural resources, specifically Turquoise. China began opening its borders and letting outsiders into their country in the 1970's and not long after a cash of Spiderweb Turquoise was discovered by westerners. A group from the American Southwest found out about this mother load, went to China and hit a payload. In the 1980's there was so much Chinese Spiderweb Turquoise in the Southwest that is was nearly worthless.
In the years following, it became obvious that the Spiderweb Turquoise that was found in the 70's had been dumped by the Chinese Miners as they were after clear, sky blue Turquoise and Turquoise with matrix was considered trash. As the Turquoise sat for many years exposed to oxygen and atmospheric conditions, it aged, hardened and became highgrade. Turquoise being mined in recent years had to be cured and stabilized to be used in Jewelry, it does not have the value of the original natural Chinese Spiderweb Turquoise -Authentic Natural Chinese Spiderweb Turquoise must be authenticated by a Turquoise authority to be of high value.
In 2011, China announced a 3-5 moratorium on the mining of Turquoise in their country. For the past period of time, Chinese Turquoisehas been drying up and most recently China has begun restraining any Turquoise from leaving their country and not have begun revoking the export licences held by any person or business dealing in Turquoise. Chinese Turquoise will become scarce and Chinese Spiderweb Turquoise will become valuable. See our page on Chinese Turquoise and Chinese Turquoise Mines.
Spiderweb Tibetan Turquoise can be very beautiful and unlike Chinese Turquoise, the Tibetans have been using all color's of Turquoise with and without matrix and spiderweb matrix for hundreds of years. The Tibetans also worship Turquoise, almost every person in Tibet wears Turquoise and almost every house in Tibet has a Turquoise alter. Many individuals worldwide believe Tibetan Turquoise has metaphysical and spiritual values and that is is some of the most important Turquoise in the world. We often produceTibetan Spiderweb Turquoise Bracelets at Durango Silver Company.
| | |
| --- | --- |
| | |
Above and to the left is a Tibetan Spiderweb Turquoise Bracelet created by John Hartman of Durango Silver Company. John cut theTibetan Spiderweb Turquoise gemstones from our Turquoise collection and then he created the Silver Bracelet. These Turquoise stone have broad webbing which is very attractive to many. You can view this Bracelets presentation page as well as all of the others on this page by clicking on their photos.
Above and to the right is a Royston Spiderweb Turquoise Bracelet. John Hartman created a simplistic Silver Bracelet to accent this beautiful Spiderweb Turquoise Gemstone from the Royston Turquoise Mine located near Tonopah, Nevada. The Royston Turquoise Mine has been in the Otteson family for several generations, it produces a wide variety of colorful Turquoise from green to blue, blue/green two tone and Royston Spiderweb Turquoise in blue and green. The Otteson's are great people and a lot of fun, they have seasonal mine tours daily and visitors are allowed to keep the Turquoise that they find - check out Royston Mine Tours.
| | |
| --- | --- |
| | |
Above and to the left is a Spiderweb Tortoise Turquoise Bracelet created by John Hartman. Tortoise Turquoise was mined by John and Dillon Hartman, this mine is located in the Candelaria Hills near Mina, Nevada. It produces Variscite and Turquoise which often run together so a stone can run from brown to blue in the same gem, it is beautiful! The matrix is jet black and often spiderwebbed. View our presentation page on Tortoise Turquoise.
Above and to the left is a High Grade Kingman Turquoise Bracelet by Native American artist Kirk Smith. It features high quality spiderweb Kingman Turquoise in a heavy silver cuff bracelet. Each Turquoise cabochon was hand cut in the freeform shape of the nugget it came from. These gem grade American Turquoise cabochons are set into the Men's Turquoise Bracelet with handmade sterling silver bezels that have been hand stamped and sawed out. Each of these wonderful gemstones is then surrounded with a cable design and separated with a beautiful fluted button design. See our presentation on Kingman Turquoise.
Highgrade Spiderweb Turquoise Bracelets
Above and to the left is a Spiderweb Bisbee Turquoise Bracelet and Ring set by Native American artist Verdy Jake. This unique bracelet and ring set is a one-of-a-kind. Both of the Navajo style cluster pieces feature spiderweb Bisbee Turquoise center stones surrounded by clusters of Colorback Spiderweb White Turquoise. The Turquoise stones are separated by raindrops and rope in the classic Navajo tradition. Check out our presentation on Bisbee Turquoise and Bisbee Turquoise Bracelets.
Above and to the right is a mens inlay Spiderweb Turquoise Bracelet by Zuni Native American artist Larry Loretto. The highest grade of rich blue, black Spiderweb Tibetan Turquoise adds the color to this heavy Silver Spiderweb Turquoise Cuff Bracelet. This is a spectacular inlaid Spiderweb Turquoise Bracelet that is truly a one-of-a-kind, a masterpiece!
We invite you to check out the Spiderweb Turquoise Bracelets we have available by following the links to the left side of this page.
We invite you to take a look at a few of our other presentations - Spiderweb Turquoise Jewelry and Spiderweb Turquoise Rings
---
We invite you to learn more about Spiderweb Turquoise Bracelets and American Silver Jewelry by following the links in our Learning Center to other informational pages we have written on different topics directly related to Spiderweb Turquoise Bracelets. In addition, we would like to invite you to join our E-Mail Newsletter - about once every other month we send out a Newsletter to inform our members of what's happening with Durango Silver Company, new products, specials for our members and more. We also have a monthly drawing from our member base to give away free Turquoise Jewelry from our company. Please take a moment to become one of our friends by signing in below. We hope you have enjoyed our presentation on Spiderweb Turquoise Bracelets and have gained some useful knowledge from it.