Silver Turquoise Pendants
Silver Turquoise Pendants have been a specialty here at Durango Silver since 1976 when we originally opened our Cowboy and Indian Trading Co just west of Durango, Colorado. In the last 37 years we have handled thousands of Native America Indian Silver Turquoise Pendants and we have produced thousands in house as well. Another specialty of our company is Turquoise, we are leading authorities on Turquoise as we mine, cut and collect highgrade Turquoise. We are authorities on modern and vintage Turquoise jewelry and Silver Turquoise Jewelry.
We invite you to check out this informational page on Silver Turquoise Pendants, you will find several pictures of unique quality pendants along with explanations of what is unique or unusual about each piece. You will also find links to informational videos that we have created to further your knowledge on Turquoise Pendants and related topics.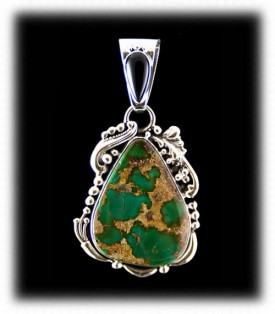 Above is a beautiful Silver and Turquoise Pendant that was created by John Hartman of Durango Silver Company. It features an exceptional green Royston Turquoise gemstone set in a Victorian Silver style. John is quickly becoming well known for his new Victorian style of Silverwork, this is a classic example. We invite you to view another page on Turquoise Pendants that has a lot of additional information.
Silver Turquoise Pendants from Durango Silver Company
Above and to the left is a very nice Sterling Silver and Turquoise Pendant that features an amazing Morenci Turquoise Gemstone. This is a good Turquoise Pendant example showing one of America's finest quality types of Turquoise. Notice the Silver looking flecks in the Turquoise stone, this is actually iron pyrite and it is one of the characteristics of Morenci Turquoise. The sky blue or true blue color of the Turquoise is another trait of Morenci Turquoise which makes it so desirable to most everyone who sees this gem. The Morenci Turquoise Mine stopped producing Turquoise around 1976, it has become very rare and seldom scene available since.
Above and to the right is another Turquoise Pendant that features a gorgeous Turquoise gemstone. The Silver design is simplistic which puts the focus on this special Turquoise gem of a stone. This is Stormy Mountain Turquoise which was mined in the 1970's near Battle Mountain, Nevada. John and Estell Hartman had a wonderful opportunity to mine this fine Turquoise with Cutler Edgar, the mine owner, in 1972. They became good friends and went on to purchase hundreds of pounds of this Turquoise as well as some of the famous Number 8 Turquoise, which was another of his Turquoise Mines. We have created a great Turquoise Pendants Video we think you will enjoy, follow the link in this sentence.
| | |
| --- | --- |
| | |
Above and to the left is a Navajo handmade Red Mountain Turquoise Pendant that is elegant and striking. This Sterling Silver Pendant features a Red Mountain Turquoise cabochon that has beautiful spiderweb matrix from Nevada. The Turquoise cabochon is bezel set and surrounded by Navajo style saw work designs that were created by forming half round Silver wire around the stone and then using a Jewelers saw to saw the lines, it was then filed to perfection. Red Mountain Turquoise is very rare and highly collectible, check out another of our informational page on Silver Pendants.
Above and to the right is a Blue Turquoise Silver Pendant with Lookout Mountain Turquoise from Nevada. This piece was designed by Durango Silver Co and created by Navajo artist Verdy Jake. This pendant was made in a Silver wire and raindrop design which is very attractive and unusual for Navajo Silver Jewelry. We have another informational page on blue Turquoise Pendants you might enjoy if you like Blue Turquoise Pendants in Southwestern Silver design.
Above are three Turquoise Necklaces that are featured on our Silver Jewelry Videos page, there are links to several great informational videos on this page as well as many great photos and descriptions of unique Turquoise Jewelry from Durango Silver Company, check it out.
Durango Silver Company has one of the largest Bisbee Turquoise collections in the world and for this reason we have made a Bisbee Turquoise Jewelry Video. We also produce a lot of Bisbee Turquoise Jewelry and Dillon goes over the different styles and types of Bisbee Turquoise Jewelry that we produce and handle. Bisbee Turquoise Jewelry is scarce, a great investment and in high demand by Turquoise collectors worldwide. The Bisbee Turquoise Silver Pendant on the upper left features a unique Bisbee Boulder Turquoise Gemstone set in an attractive Victorian Silver setting created by John Hartman. Bisbee Turquoise is known for its chocolate brown colored matrix, no other Turquoise in the world has this unique characteristic, Bisbee Turquoise is known to be some of the best Turquoise that ever came out of the earth, worldwide.
The center photo above is of an outstanding Bisbee Turquoise Necklace that was created by John Hartman. This necklace has five beautifully matched Turquoise gemstones that most likely came from the same rock. The Silverwork is classy yet not overwhelming which naturally leads the eye to this marvelous gemstone. We have created a great video you may like to see, this necklace as well as many others are shown in this video and Dillon Hartman discusses the different characteristics of each of the Turquoise Necklaces - take a look at our Turquoise Necklace Video by following this link.
The Tortoise Turquoise Silver Pendant to the above right is quite unique, don't you think? Tortoise Turquoise has a broad color range from white, caramel, mint green, emerald green, light to deep rich blue and it is often accompanied by black spiderweb matrix. This Turquoise mine is owned by Dillon Hartman and his partner. The Silver work on this pendant was created by John Hartman in his Victorian style, this is a unique style of silver work that is not done by others. If you are interested in unusual Turquoise types, you will appreciate our Brown Turquoise Video by Dillon Hartman.
| | |
| --- | --- |
| | |
The two photos above show a beautiful Silver Turquoise Pendant that has Tortoise Turquoise accented with Garnets and a Sugilite bottom center stone. The pendant is strung on a Sugilite and Silver Bead Necklace. Notice the bright red matrix in the Tortoise Turquoise, this is due to concentrates of iron, it is very rare in any type of Turquoise to have red matrix. Southwestern Silver Necklaces are most often unique to themselves, one-of-a-kind, it is one of the great features of this type of Jewelry. Durango Silver Company produces some of the finest quality necklaces coming out of the Southwest today, check out our Turquoise Bead Necklace informational page for more great information and photos.
| | |
| --- | --- |
| | |
The two Silver Turquoise Pendants above have white Turquoise stones. The White Buffalo Turquoise Pendant on the left was created in Silver by John Hartman, it is a large pendant with a simplistic design. In this photo you cannot see that the Silverwork is quite complex with layers of hand formed designer wire along with high relief repose applicayes. We have a great informational page the is dedicated to White Turquoise Pendants, check it out as there is a lot of good photos and information on this page.
To the right is another Silver Turquoise Pendant with a white Turquoise stone. This pendant was made by Crystal Hartman, Johns daughter, Crystal's style of Silverwork is done by carving Jewelers wax to fit each individual stone and then she uses an old world style of casting called lost wax to turn the wax pattern into Silver or Gold. The flowing Silver or Gold in her work is very artistic and unusual from other Jewelry. You can see more of Crystal's work on DurangoSilver.com and you can also see some of Crystal's other artwork as well. Check out Crystal Hartman's website.
We invite you to check out the Silver Turquoise Pendants we have available today, follow the arrow to the buttons on the left side of this page.
Learn More: Silver Turquoise Bracelets | Silver Turquoise Earrings | Silver Turquoise Rings
---
We invite you to learn more about Southwestern Turquoise Jewelry by following the links in our Learning Center. We have written many great informational pages for your education on many types of Silver Jewelry, Native American Indian Jewelry and Turquoise Jewelry from the American Southwest. In addition, we would like to invite you to join our E-Mail Newsletter - about once every other month we send out a Newsletter to inform our members of what's happening at Durango Silver Company, new products, specials for our members only and more. We also have a monthly drawing from our member base to give away Free Turquoise Jewelry from our company. Please take a moment to become one of our friends by signing in below.
We thank you for your time and hope you will think of Durango Silver Company the next time you are considering quality Silver Turquoise Pendants, made in America.