Organic Turquoise by Durango Silver Company
Organic Turquoise is Turquoise that has not been altered in any way! - when Turquoise is first dug or mined from the earth it is in its organic or natural state. If waxes, resins, oils or any other chemicals or substances are used to alter its natural color or hardness, it is no longer organic and, in our opinion, natural. If substances of any sort are used to alter Turquoise, we consider this to be treated Turquoise, stabilized Turquoise or enhanced Turquoise. The reason we have created this page is that many forein suppliers of "Turquoise" are claiming Turquoise that has been stabilized, enhanced or altered is natural - and the reason for that is they are making fake Turquoise from chalk, (as in chalk boards,) and now we have conformation that China is using cement, (as in sidewalks,) to make their Turquoise! So, to some people, the meaning of "natural Turquoise" is not the same as it is in the United States - see examples below.
Turquoise was found by man over 7,000 years ago on the Sinai Peninsula of Egypt, ancient records show that Turquoise was a sacred stone believed to be put on earth by the great ones above. Organic Turquoise has been used for spiritual and medicinal purposes for thousands of years since those ancient times. As Turquoise is a fairly porous stone, usually below a 5 on the mohs scale of gemstone hardness, it is a gemstone that breaths and for spiritual and medicinal purposes this is important. Since ancient times, the Tibetans have valued organic Turquoise as a holy stone, most every Tibetan wears Turquoise and most of their homes have Turquoise Alters. There are many great tales of the spiritual past of Turquoise and good reason to appreciate the values of high quality natural Turquoise.
High quality Turquoise is valuable and has been collected by Kings, Queens, Pharaoh's, medicine men and individuals for self ornamentation for thousands of years. Its is and has been collected for is natural / organic beauty which is pure and soothing to the mind and soul. Gem quality Turquoise that has not been altered in any way holds the highest value to collectors of Turquoise Jewelry, rich colors of natural Turquoise with beautiful matrix are enchanting to many around the globe.
An easy way to tell organic / natural Turquoise is to put it in water and often it will absorb the water and become darker. High grade Turquoise is hard and often does not change color when wet, a highly qualified scholar on Turquoise, or a lab, should be consulted if you believe you have valuable Turquoise.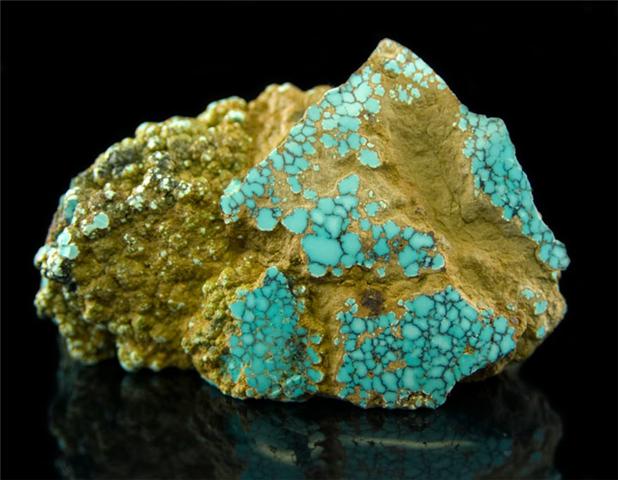 Above is a spectacular organic Turquoise specimen from the number 8 mine which was located in Nevada USA, it produced spiderweb Turquoise in the 1940's to the 1960's. This quality of Turquoise is very valuable to connoisseurs of this fine gemstone. A lot of spiderweb Turquoise came out of this mine, however, much of it had to be stabilized as it was very soft.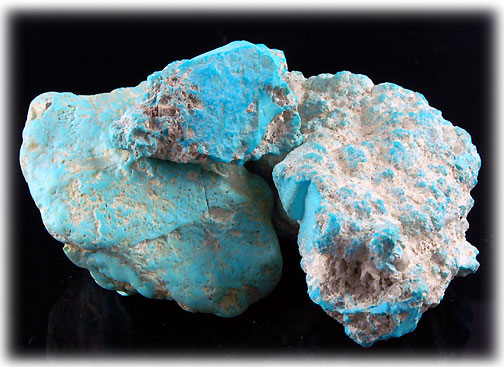 Above is Natural Organic American Turquoise from Arizona - on the left is a large nugget from the Castle Dome Mine near Globe, AZ, in the center is a smaller Turquoise Nugget from the Kingman Turquoise Mine of Kingman, Az and the large nugget on the right is from the Sleeping Beauty Turquoise Mine located near Globe, AZ. In America Natural Turquoise or Organic Turquoise means that it is free of any treatments, there is a world of difference between organic and treated Turquoise! Treated or enhanced Turquoise is not natural and has been created from Turquoise that is not gem grade, in fact, most treated Turquoise is made from chalk Turquoise. We are not saying treated Turquoise is bad, we are simply saying it is not natural and does not have the qualities of natural / organic Turquoise.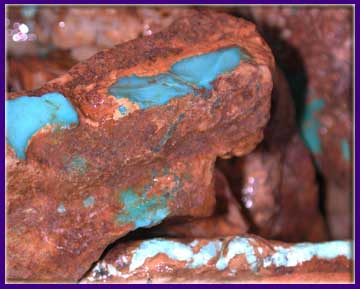 Organic Turquoise Cabochons in American Turquoise Jewelry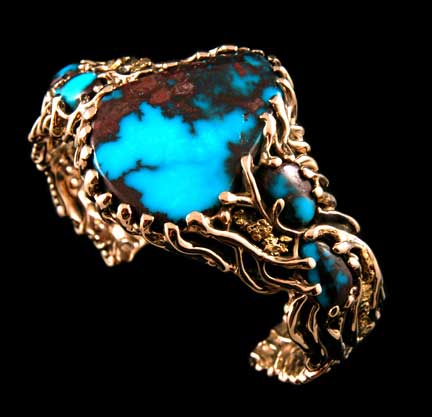 Above - A marvelous Gold Bracelet made by John Hartman of Durango, CO USA! These fine quality natural Bisbee Turquoise gemstones were hand cut by John and the bracelet was designed and created by John as well. The organic Bisbee Turquoise gemstones used in this spectacular piece represent America's finest Turquoise, and some of the finest Turquoise that ever came out of the Bisbee Mine. Natural Turquoise of this quality is very rare, it is museum and investment quality and it is absolutely among the rarest gemstones on earth!
| | |
| --- | --- |
| | |
Above and to the left is a beautiful Gold and Silver Ring created by John Hartman of Durango, CO USA. It features a beautiful natural Kingman Turquoise gemstone with gorgeous spiderweb matrix. Natural spiderweb Turquoise from the Kingman Mine is scarce and valuable! The Kingman Turquoise mine has been one of the largest producing Turquoise Mines in the world for decades, however, a very small percentage of the Turquoise the mine has produced has been highgrade material.
To the right above is a Blue Wind Spiderweb Turquoise Gold Men's Ring created by John Hartman. The Blue Wind Turquoise Mine was located near the Lander Blue Turquoise Mine in Lander County, Nevada. This is most likely the finest quality of deep blue spiderweb Turquoise that ever came out of Nevada. It rivals the color range of Lander Blue, however, the matrix is much harder. This Turquoise is very valuable and very rarely available for purchase.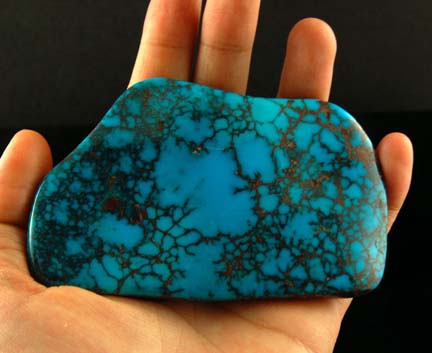 Above is a spectacular red spiderweb Bisbee Turquoise cabochon hand cut by John Hartman. It weighs over 500 carats and is most likely the largest ultra-grade red web Bisbee Turquoise cabochon in existence. Although ultra-grade Bisbee Turquoise will not change in color when soaked in water, due to its hardness, it's gorgeous color cannot be confused with any other Turquoise on earth! Bisbee Turquoise is most likely the most sought after Turquoise in the world as no other Turquoise in the world can be compared with Bisbee, nor can it be confused to be Bisbee by a qualified expert of American Turquoise. In addition, the Bisbee Mine has not been producing Turquoise for over 25 years.
| | |
| --- | --- |
| | |
Above and to the left is a very nice Silver Ring that features one of America's historic types of Turquoise - Morenci Turquoise. Morenci Turquoise was permanent from the mid 1950's until about 1980, it is known for its beautiful iron pyrite matrix. Morenci has a wonderful true blue color ranges and often can have gorgeous iron spiderwebbing. A large portion of Morenci Turquoise is hard and very stable in its natural or organic state.
Above and to the right is a beautiful one-of-a-kind Sterling Silver Turquoise Pendant made by Crystal Hartman of Durango, CO USA. This Pendant features a stabilized Turquoise stone from the Turquoise Mountain region of the Kingman Turquoise Mine located near Kingman, Az USA. As you can see in the photo, this is beautiful Turquoise will great Turquoise color tones and outstanding matrix. This Turquoise is not organic as it has been stabilized with plastic resins and for many reasons this is excitable - stabilized Turquoise will not change in color, it is hard and stable so it can be used to make beads, thin inlays and it has other advantages as well. It does not breath, therefore, the values for spiritual or metaphysical purposes is questionable. For the fashion Jewelry market as well as the Native American Indian Jewelry market, stabilized Kingman Turquoise is a great choice and it is American Turquoise! Another advantage for Crystal and this pendant can be seen on its presentation page, this Turquoise can be cut fairly thin with no backing, check it out!
| | |
| --- | --- |
| | |
Above and to the left is a Sterling Silver and Turquoise Ring produced by Durango Silver Co., it features a beautiful natural Royston Turquoise stone that has a two tone coloration. The Turquoise runs from a gorgeous green to a Turquoise blue with golden colored matrix. The Silver design of this ring has an organic appearance as the ring shank resembles aspen tree bark, it is beautiful.
Above and to the right is a handmade Navajo Blue Gem Turquoise Ring made by Ben Yazzie. This one-of-a-kind Navajo Silver Ring has a natural Blue Gem Turquoise stone from Nevada, the Blue Gem Turquoise Mine was producing Turquoise from the 1950's through the 1960's. There were two Mines in Nevada call Blue Gem, one was located in northern Nevada by Battle Mountain and the other was located near Tonopah, Nevada which is much further south. The Turquoise from the northern mine was predominately blue such as this stone and the blue gem from the Tonopah area was predominately green and blue-green in color. The Blue Gem Turquoise used in this ring came from the Battle Mountain Blue Gem Mine. Blue Gem Turquoise was hard and any soft chalky material was discarded at the time they mined this area, so, it would be highly unusual to find non-organic Blue Gem Turquoise. This is an unusual Navajo Turquoise Ring as it has rare Turquoise and it has exquisite Silver work created by Ben, follow the link in this paragraph to view additional photos and descriptive text.
| | |
| --- | --- |
| | |
Above and to the left is a Navajo Handmade Natural Manassa Turquoise Necklace. This Necklace was made in Sterling Silver and features an organic green Turquoise stone from the Manassa Turquoise Mine which is one of the oldest Turquoise mines in north America. The mine was found by Native American Indians around 1000 A.D. and has produced beautiful Turquoise since. In recent years it has been increasingly hard to find high grade material which has forced the owners to begin stabilizing the softer Turquoise that had come out of the mine and been discarded in the past. Natural Manassa Turquoise has now become very scarce, it is easy for a trained eye to tell the difference between treated and natural as there is a completely different look to Manassa once it has been stabilized. View our presentation page of Manassa Turquoise Jewelry.
Above and to the right is a Navajo Turquoise Ring handmade by Leo Yazzie. This Turquoise Ring features a Red Mountain Turquoise stone that is spectacular! Red Mountain Turquoise was mined in the 1960's through the 1990's, although mining had slacked off substantially in the 90's. This mine produced some of the most beautiful deep blue Turquoise that ever came out of Nevada, many say the blues that came out of this mine rival Bisbee Blue Turquoise. It would be highly unusual to find treated Red Mountain Turquoise as even the lower grades of Turquoise from this mine were hard and of high quality.
| | |
| --- | --- |
| | |
Above and to the left is a Men's Stormy Mountain Turquoise Ring. This ring was produced by Durango Silver CO and features a Turquoise stone from the Stormy Mountain Turquoise Mine located near Battle Mountain Nevada. John and Estell Hartman mined this Stormy Mountain Turquoise with Cutler Edgar in the early 70's and not long after the mine was closed as the Turquoise vein played out. This mine ran from the mid 1960's until about 1976. Non of the Stormy Mountain Turquoise was stabilized as this Turquoise was hard and there was no need to alter it.
Above and to the right is a Native American Lime Turquoise Bracelet featuring a Carico Lake Turquoise stone. This bracelet was handmade by Steve Arviso, Navajo, from the Gallup N.M. area. Carico Lake Turquoise runs from Blue to lime green in color and often both, the two tones is awesome and fairly scarce, it is usually a pale blue with lovely lime green running through the blues. Carico Lake Turquoise is hard and does not need any type of enhancements.
Non-Organic Turquoise / Altered Turquoise
In our opinion: Having been in the Turquoise and Turquoise Jewelry business for over 40 years and located in the heart of the American Southwest, we are experienced in the resale value of products that are produced in this area as well as merchandise that was produced outside of this area to be marketed in the American Southwest. We are constantly offered Turquoise and Turquoise Jewelry that individuals or family members have purchased, in the Southwest or elsewhere - we find that they have been sold inferior products with non-organic Turquoise and/or altered Turquoise. It has been our policy to put the Jewelry on the scale and offer them a fraction of the Silver value - if it is even Silver. The fact is, most often, the non-organic Turquoise has dis-colored, deteriorated or cracked up and fallen out of the Jewelry. As a retailer in the Southwest, we have learned to be very careful of fakes and have come to purchase the products that we do not make from highly respected venders only. A word from an experienced dealer of Turquoise and Turquoise Jewelry - If you are buying for investment, do not buy from "fly by night dealers", take your time to find a reputable dealer that has been in the business for a fair amount of time. A guarantee that their products are authentic may be appropriate.
| | |
| --- | --- |
| | |
Above are two examples of fake Turquoise - these were nuggets that were made in China to fool the public! We have cut the nuggets in half and show you the exterior of the nugget and what it looks like inside.
The nugget on the left was made from howlite, (chalk,) it began as a white chalky rock, it was dyed this color and then it was hardened with plastic resin. When we cut it with a diamond saw it stunk really bad like chemicals. The Chinese are making millions of these, they sell them very cheap at wholesale markets and then people sell them to the public for as much as the market will bare. These fake Turquoise nuggets cost about 5 - $10.00 per LB just off the boat from China!
The fake Turquoise Nugget on the right was made from Magnisite which lends itself better to faking real Turquoise. Magnisite has matrix and veining much like Turquoise, however, it is like chalk as well which makes it easy to dye and harden with plastics. It is pretty on the outside and you can see how most anyone could easily be fooled - the fact is that this is worthless, other then for costume Jewelry for the fashion market.
Above and to the left is what they call "Redskin", another fake from China. This stuff is really bad, it stinks bad when you cut it, however, some of it is pretty - hard one to detect for the novice.
Above and to the right is a solid fake Turquoise brick, is is 100% plastic - imitation Turquoise that comes from China. If you would like to read more on fake Turquoise, check this page out.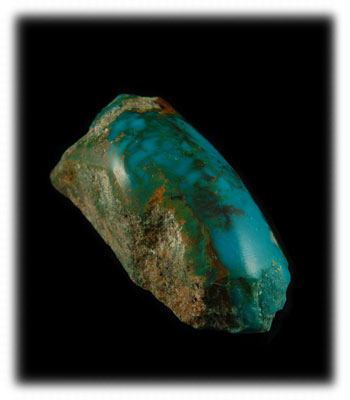 The rock above is quality stabilized Turquoise from the Kingman Turquoise Mine located near Kingman, Arizona USA. This is real Turquoise that comes out of the ground a little to soft to be used in Jewelry. Many years ago, the Colbaugh family developed a good method of stabilization that truly makes this Turquoise very stable. It cuts great and it holds a polish as good as most high quality types of natural organic Turquoise. The Kingman Mine produces good quality Turquoise, both natural as well as stabilized - most importantly, it is real and it is from America!
We invite you to take a look at a few of our other presentations - Healing Powers of Turquoise, Visit our Learning Center, Turquoise Spiritual Facts and Turquoise Jewelry
---
We invite you to learn more about American Turquoise Rings and American Silver Jewelry by following the links in our Learning Center to other informational pages we have written on different topics directly related to American Turquoise Rings. In addition, we would like to invite you to join our E-Mail Newsletter - about once every other month we send out a Newsletter to inform our members of what's happening with Durango Silver Company, new products, specials for our members and more. We also have a monthly drawing from our member base to give away free Turquoise Jewelry from our company. Please take a moment to become one of our friends by signing in below. We hope you have enjoyed our presentation on American Turquoise Rings and have gained some useful knowledge from it.