Natural American Turquoise
Today 2013, the availability of high quality natural Turquoise has become difficult as mining in the U.S. has been winding down since the 1980's when Chinese Turquoise took over the market. In reality, what happened is that China totally flooded the market in several different countries including the U.S. with many different grades of Turquoise at rock bottom prices. When they started running low on natural Turquoise, so they began treating it with plastic resins, next they started making fake Turquoise and figured people were dumb enough to except it - many did for a while. Today, the word is out that they are making fake Chinese Turquoise with cement, yeah!, like sidewalk cement! This isn't to say there is not some good old stock natural Chinese Tuqruoise out there, because there is, but you will pay for it, just like good natural American Turquoise.
American Turquoise Miners had a real good thing going on here until the 80's, the Indian Jewelry market was booming, the American public loved the beautiful Native American Jewelry with real, authentic Turquoise and a major movement was well under way with Americans, as well as foreigner's falling in love with American high grade natural Turquoise. From out of the blue, the American Turquoise Miners watched a hundred years of cultivating a market fall to pieces. Because Chinese Turquoise was so cheap, they could not sell their Turquoise and soon the natural Turquoise Mines of North America began to close.
We are now down to one full time producing American Turquoise Mine, a couple part time mines and a hand full of Turquoise Mines that are casually mined by weekenders. The Kingman Turquoise Mine is going fairly strong but produces a small percentage of high grade Natural Turquoise suitable for quality Jewelry, the balance must be stabilized - I must say stabilized Kingman Turquoise is beautiful. The other Turquoise Mines are producing small amounts of high quality natural Turquoise, certainly not enough to keep up with the demand.
We believe a serious shortage of quality natural Turquoise is now upon us and this situation is going to have a major impact on the value of authentic high quality Turquoise. We do feel when the value of authentic quality Turquoise reaches its deserved appreciation, the North American Turquoise Mines will be able to begin producing the worlds finest Turquoise once again, however, many of the fine old Turquoise deposits are gone forever and we can only hope for future new discoveries that produce fine quality Natural American Turquoise.
Investing in authentic natural American Turquoise
Turquoise is a complex gemstone with great variations in color, matrix, hardness and beauty. Turquoise was one of the first gemstones discolored by man over 7,500 years ago, it has been worshipped by spiritual leaders of the world for thousands of years since. We believe, investment quality American Turquoise must be authentic, natural, have exceptional color and unusual qualities. It takes an experienced person with a strong background in Turquoise to be able to distinguish natural from enhanced, real from fake and the degrees of rarity and quality. High quality natural Turquoise and especially natural American Turquoise is a great investment - it has doubled in value in the past year alone.
This is an informational page on Natural Turquoise, we hope you get some useful knowledge from it! Natural Turquoise has become a rarity and high quality natural Turquoise as you will learn in this presentation is nearly nonexistent, especially if it is Natural American Turquoise! If you like this page visit our Learning Center to find many more Turquoise related presentations. Also, follow the links from this page which will lead you to associated pages of interest.
Check out a couple other notes on the Turquoise crisis at; American Turquoise Jewelry and Turquoise Stones
- Natural American Turquoise From Bisbee Arizona -
Bisbee Turquoise came from the Bisbee Copper Mine located near Bisbee, Arizona. Turquoise from the mine began coming out in miners lunch boxes in the 1940's. There was only one permit issued to mine Turquoise at the Bisbee Mine - Bob Mathews and Cecil Mickelson from Durango, Colorado mined Turquoise there from 1962 until 1976-78. Bisbee Turquoise is admired worldwide and it is agreed by most Turquoise authorities - Bisbee Turquoise is among the best Turquoise that has ever come out of the ground, on earth!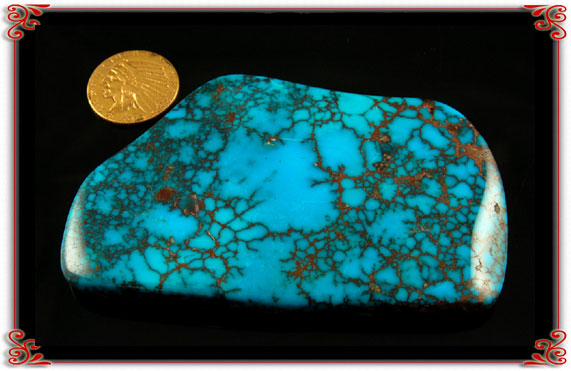 Above is a 156 carat example of one of the finest types of Natural American Turquoise that has ever come out of the ground in North America, Bisbee Turquoise - is this spectacular or what? This is a very rare gemstone as the mine stopped producing Turquoise in the late 1970's and red spiderweb Turquoise from the Bisbee Mine was uncommon before that. This Natural Turquoise Stone was cut by John Hartman of Durango Silver Company - John has been cutting Bisbee Turquoise for well over 40 years, in fact he has personally cut over 1,000,000 carats, John traded with Bob Mathews and Cecil Mickelson from the beginning of his career and now has become one of the, if not, the leading authority on Bisbee Turquoise.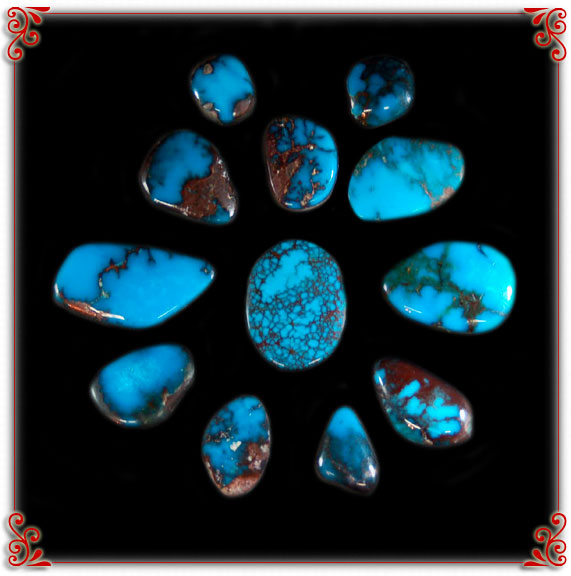 Above is a gorgeous selection of Bisbee Turquoise Stones from the Hartman collection. The blue coloration's of Bisbee Turquoise are spectacular and with the beautiful chocolate brown to red colored matrix, there is no other Turquoise in the world that compares to it. The photo above shows you a cross spectrum of several looks of Bisbee Turquoise. These are Bisbee Turquoise Stones cut by Dillon and John Hartman. There are a tremendous amount of variations in Bisbee Turquoise from natural high grade spiderweb which is very valuable all the way to stabilized low grade that has very little value! You can tell Bisbee Turquoise by its unusual chocolate brown and reddish iron brown matrix, there is no other American Turquoise that has this characteristic - the matrix is often smoky and rarely spiderwebbed, you will often find quartz in Bisbee Turquoise and Bisbee usually has a true blue coloration.
Durango Silver Company has authentic natural Bisbee Turquoise - investment quality!
Also check out these links to related pages - Bisbee Turquoise, Bisbee Turquoise Video and BisbeeTurquoise.com
High Quality Natural American Turquoise
- Morenci Turquoise -
Above and to the left is a natural water-webbed Morenci Turquoise cabochon, it weighs 19 carats. This beautiful gemstone was cut by Dillon Hartman in March of 2013, it came from a rock I purchased from the Brown Turquoise Company, which was located in Gallup, NM, in 1974. Morenci Turquoise has become very scarce as mining Turquoise in the Morenci Mine was discontinued around 1978. Morenci Turquoise takes an eye to catch, it is true blue in color and often has iron pyrite that looks like Silver, sometime spotted as in the photo above and rarely in a spiderweb effect. The stone on the left does have tiny flecks of iron pyrite.
The Morenci Turquoise Stone above and to the right is beautiful with its iron pyrite matrix, the iron pyrite looks like Silver, shiny and attractive. Iron pyrite was often found in Morenci Turquoise but with great matrix configuration like this stone is rare. This stone is from the highgrade Turquoise the Browns were selling in the 1970's. I cut this Morenci Turquoise Stone in the mid 1970's and was excited about it way back then. Natural Turquoise from the Morenci Mine is seldom scene these days. Morenci is considered one of the most famous and collectible natural American Turquoise varieties by most Turquoise afficianados.
Durango Silver Company has authentic natural Morenci Turquoise - investment quality!
- Kingman Turquoise -
Above and to the left is a natural Turquoise Stone from the Kingman Turquoise Mine located near Kingman, Arizona. In 2009, the colbaugh's ran into a great cash of spiderwebbed Turquoise - there are many variations in this spiderweb Turquoise from blue-green to rich blue with black spiderweb matrix. This particular Kingman Turquoise stone has water webbing, red spiderwebbing and black spiderwebbing. Natural high quality spiderweb Turquoise from the Kingman Mine is available currently from the Colbaugh's, tell them Durango Silver Company sent you! You can spot Kingman Turquoise for its blue / blue coloration's, but, Turquoise Mountain being in a different area has a touch of green which makes it a true Turquoise color. Its matrix is most often this golden brown color.
Above and to the right is an enhanced Turquoise Stone from the Kingman Turquoise Mine. Among the many types of stabilized Turquoise, Kingman seems to be one of the nicest - often Turquoise is to soft to use in Jewelry and by using acrylic or oil base resins to stabilize the rock it becomes hard and great for use in Jewelry. Typically, enhanced gemstones of any type are not natural and their value is considerably less then natural Turquoise. This Turquoise stone is stabilized but it is very attractive, this Kingman Turquoise Stone does have good value. Today, the Kingman Turquoise mine in Arizona is one of the last Turquoise mines open and mining Natural American Turquoise, most of which needs to be stabilized, but on a rare occassion, they hit a small vein of top gem grade Natural American Turquoise!
Durango Silver Company has authentic natural Kingman Turquoise - investment quality!
Also see our Kingman Turquoise as well as our Arizona Turquoise informational pages.
- Natural American Turquoise from Nevada -
Above and to the left is a pair of lime green Carico Lake Turquoise Stones they were cut by John many years ago. Carico Lake Turquoise is from Nevada, USA - it is one of America's most collected types of Natural Turquoise in this period of time, many people like it for its beautiful lime green coloration's, however, there is a lot of beautiful blue Carico Lake Turquoise Stones as well. These stones have beautiful waterwebbing - very attractive! You can tell lime Carico Lake Turquoise by its brilliant lime colors, but, it has many variations so you must be experience with Carico Lake. We invite you to view ourCarico Lake Turquoise informational page.
Above and to the right is a rich blue Turquoise Stone from a Nevada Turquoise Mine of an unknown origin. Turquoise in most Nevada Mines can vary dramatically from different areas of the mine, often there will be a lot of the same color, matrix configuration and character in the rock and then you will find areas where the Turquoise will have a completely different look. This stone was claimed to be from the Lander County area, but look at the Natural American Turquoise stone below it that came out of the Pilot Mountains located near Tonopah, Nevada. Nevada Blue Turquoise can be spotted as it has black, brown and golden brown matrix, the only Arizona Turquoise with chocolate brown matrix is Bisbee Turquoise.
| | |
| --- | --- |
| | |
To the above left is a Blue Gem Turquoise Gemstone that was cut by Dillon Hartman of Durango Silver Company. There were two Blue Gem Turquoise Mines, one was located near Battle Mountain, Nevada and the other near Tonopah, Nevada, both stopped producing Turquoise many years ago. This Blue Turquoise is from the northern Blue Gem Mine located near Battle Mountain. The Battle Mountain Blue Gem Mine produced Turquoise from about 1955 to 1985. You can often spot Battle Mountain Blue Gem Turquoise by its sky blue color with a touch of cream and its ultra hard glass appearance. The Battle Mountain Blue Gem mine produced natural American Turquoise that was claimed to be the perfect gemological example of Turquoise by many scientists. We have personally cut natural Blue Gem Turquoise that was so unbelievably blue, glassy and hard that it looked like it had been enhanced or treated, but was indeed 100% natural!
To the right of the Battle Mountain Blue Gem stone is a Tonopah Blue Gem Turquoise Stone. This Tuquoise Mine was located in the Royston Hills about 1935 to 1965, it produced a lot of fine quality Turquoise. The Blue Gem Mine gave way to many other great Turquoise deposits such as the Royston Turquoise Mine and the Easter Blue Turquoise Mine. This beautiful specimen was recently cut by John Hartman out of the Durango Silver Company Blue Gem Turquoise Collection - it weighs 22 carats, notice the gorgeous golden brown matrix along with the luscious lime green colored Turquoise. The Tonopah Blue Gem Mine produced very hard Turquoise with wonderful color variations. You can often tell Tonopah Blue Gem Turquoise by its lustrous polish as it is very hard - it almost seems like you can look down into the Turquoise. It also runs in Ryolite, the golden brown colored matrix.
We invite you to view our extensive presentations on Blue Gem Turquoise and Lime Green Turquoise Jewelry.
To left above are three Turquoise Gemstones from the Number 8 Mine, this mine was located in northern Nevada, near Battle Mountain and was at its height in the 1950's. This Turquoise was mined by Cutler Edgar. We got hundreds of pounds of Turquoise from Cutler in the 70's - Stormy Mountain, Number 8 and more. We purchased this Number 8 from Cutler Edgar on a mining trip that we took with him. At the time we mined at the Stormy Mountain Mine and the old Battle Mountain Mine. Cutler was very generous with us as we were youngsters and he appreciated our love for high quality American Turquoise. You can often tell Number 8 Turquoise for its creamy brown spiderwebbing in a powder blue colored Turquoise. We invite you to check out our Spiderweb Turquoise Jewelry presentation page.
The beautiful deep blue Turquoise Stone to the upper right came from the Pilot Mountains, which are located northeast of Tonopah, Nevada. I just cut this 38 carat Turquoise Stone in February of 2013. The Pilot Mountains produce a lot of thin veined Turquoise that is very hard, but, hard to cut as well - many call this saw rock as you have to saw the host rock off of the front and back sides of the Turquoise and once you do you have to be very careful cutting or you will grind right through the Turquoise. You can often spot Pilot Mountain Turquoise for its rich, hard qualities and by the sliver of Turquoise covering the host rock. The rich deep blue in this fine Turquoise stone is spectacular! Another of the famed American Turquoise mines sought after by collectors and known for its quality natural Turquoise.
Durango Silver Company has authentic natural Nevada Turquoise - investment quality!
Also see our Nevada Turquoise Mines presentation
Quality Turquoise Jewelry Consulting and Accusation Services
If you are a larger qualified organization or company, we offer our consulting and accusation service. We are a highly experience group with over 40 years in the high end American Turquoise Jewelry business. Our company is located in the heart of the American Indian Jewelry manufacturing capitol of the American Southwest so we have immediate access to the finest Turquoise Jewelry America has to offer. We are among the very best Turquoise authorities and can locate you exceptional Jewelry with the finest quality natural Turquoise. We can also locate you Jewelry from specific artisans and we can control the exact gemstones used in their Jewelry.
We have been in the Jewelry manufacturing business for nearly forty years, we can develop and manage small to large production runs of specific Jewelry designs and we can help you develop your own line of Jewelry, if needed. We can develope a line of natural American Turquoise jewelry for you that no one else will have and will give you an edge over your competition. We have been Turquoise cutters for over 40 years so we know our stones - we can cut or have cut and control the quality of stones in your Jewelry. We invite you to view our Turquoise Stones page to get more of an understanding of the type of Turquoise we consider quality.
If your company is interested in doing high volume in exceptional Natural Turquoise Jewelry made in America, contact John Hartman of Durango Silver Company - John@DurangoSilver.com.
---
We invite you to learn more about Natural American Turquoise by following the links in our Learning Center to other informational pages we have written on different topics directly related to Natural Turquoise. In addition, we invite you to join our E-mail Newsletter - about once every other month we send out a Newsletter to inform our members of what's happening with Durango Silver Company, new products, specials for our members only and more. We also have a monthly drawing from our member base to give away free Turquoise Jewelry from our company. Please take a moment to become one of our friends by signing in below. We hope you have enjoyed our presentation on Turquoise Stones and have gained some useful knowledge from it.