Green Turquoise Bracelets
---
Durango Silver Company has been in the business of producing Green Turquoise Bracelets for over forty years. We are proud to be able to say we produce Handcrafted Silver Bracelets with Green Turquoise made in America! We produce quality handcrafted Silver Jewelry here in Durango, Colorado USA and we handle Native American Turquoise Bracelets which are made in America by Native American Indians as well. We use high quality, authentic American Turquoise in our Silver Jewelry as we have mined, cut and collected it for over forty years. If you are a connoisseur or are interested in real, authentic, American handcrafted Silver Bracelets with authentic Green Turquoise, our company produces some of the finest coming out of the American Southwestern USA today.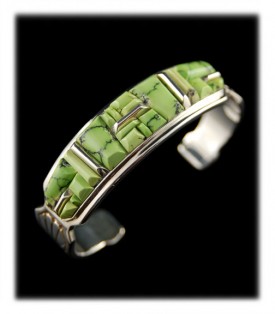 Above is a Hand Crafted Native American Silver Bracelet made by Cecil Ashley, a Navajo Artisan. This Silver Bracelet was handmade to accommodate these wonderful green Tibetan Turquoise inlayed gemstones. This is a master piece in Native American Indian Jewelry! When shopping for quality Turquoise Jewelry from the American Southwest, know that you can trust Durango Silver Company for having authentic, high quality Silver, Gold and Turquoise Jewelry that is made in America! This particular green Turquoise bracelet is a fine example of the top grade Turquoise jewelry we carry, including lime green Turquoise jewelry.
There is a big difference between handcrafted Southwestern Turquoise Jewelry from Durango Silver Company and high production or import Turquoise Jewelry with fake or imitation gemstones and thus good reason for a difference in cost. Bracelets like the one above take a skilled craftsman much time to create as every facet of this piece was well thought out and executed with care. It could take several days to create a Turquoise Bracelet of this quality while a high production copy could be made in a couple of hours. It is now standard procedure to use low cost imitation gemstones, as well as inferior materials to produce Turquoise Jewelry for a costume Jewelry marketplace, we do not attempt to compete in this market, we produce authentic quality Silver Jewelry made in America.
Green Turquoise Bracelets from Durango Silver Company
Above and to the left is a Victorian Style handcrafted Green Turquoise and Silver Bracelet made by John Hartman of Durango Silver Company. This is a new style of Silver work John will be producing for 2013, his Victorian Silver work is unusual from any other Silver Jewelry designs that have been produced in the Southwestern United States. John's repose work is exceptional, bold and vibrant for this new age we live in. This handcrafted Silver Bracelet features a Nevada Green Turquoise Gemstone accented with repose and scrollwork, this is a 3-dimensional piece of handcrafted Silverwork. This is great example of his Victorian style green Turquoise bracelets.
To the right is a Navajo handcrafted Silver Bracelet with Green Manassa Turquoise. This Turquoise Bracelet was Navajo handmade in America with authentic natural Green Turquoise from the Manassa Turquoise Mine of Manassa, Colorado. This beautiful green Turquoise has become very collectible as the Manassa Turquoise Mine has produced very little highgrade Turquoise for over 20 years. The beautiful Sterling Silver bracelet setting was created by Navajo Native American Artist Darryl Becenti. Daryl's Silver work on this bracelet is exceptional, it has intense Silver chasing and precise stampwork.
| | |
| --- | --- |
| | |
Above and to the left is an exceptional piece of art, it was created by a master Navajo Artisan, Pete Chee. This bracelet was handmade in Sterling Silver to accommodate inlays of Turquoise, Gaspeite, Spiny Oyster Shell and Coral, it is a spectacular piece of Navajo craftsmanship. The geometrical shaped gemstone inlays are very hard to carve by hand and this is how this piece was created - totally handmade! The gemstone color combination is exceptional, it really attracts attention when worn as it is shockingly beautiful and vibrant.
To the right is a handcrafted Victorian style Silver Bracelet with a green Turquoise gemstone. This Bracelet was created by John Hartman. This style of Silver Jewelry is not seen elsewhere other than Durango Silver Company as it is exclusive to our company and can only be purchased from us. John's Victorian Silver Jewelry is stylish, creative and unusual.
Above and to the left is an old Navajo style pictorial Turquoise Bracelet featuring a lime green Turquoise stone set in a uniquely designed Silver Bracelet. This bracelet has deep stamp work along with a overlaid lizard down each side, it is quite unique!
To the right is a fabulous Navajo handcrafted Turquoise Inlaid Silver Bracelet made by Julius Burbank, a Navajo Native American Indian Artisan. This is museum quality craftsmanship in both gemstone inlay as well as Silver work. An intense amount of time when into creating this fine piece of Southwestern Jewelry Art, the inlay work is simply outrageous! It has tiny slivers of Turquoise, Gaspeite, Lapis and Silver intricately inlaid to the highest level of perfection. This beautiful Turquoise Bracelet is museum quality today and will become and important American Indian Antique in the future!
We invite you to check out the Green Turquoise Bracelets we have available today, follow the arrow to the buttons on the left side of this page.
Also, here are a couple of our other presentations on Green Turquoise Jewelry, Green Turquoise Pendants and Blue Turquoise Jewelry you will find interesting and educational.
---
We invite you to learn more about Southwestern Turquoise Bracelets by following the links in our Learning Center. We have written many great informational pages for your further education on all types of Silver Jewelry, Native American Indian Jewelry and quality Turquoise Jewelry from the American Southwest. In addition, we would like to invite you to join our E-Mail Newsletter - about once every other month we send out a Newsletter to inform our members of what's happening at Durango Silver Company, new products, specials for our members only and more. We also have a monthly drawing from our member base to give away Free Turquoise Jewelryfrom our company. Please take a moment to become one of our friends by signing in below.
We thank you for your time and hope you will think of Durango Silver Company the next time you are considering quality Green Turquoise Bracelets made in America.