Information About and Examples of Genuine Turquoise Jewelry
Durango Silver Company has been producing and handling Genuine Native American Turquoise Jewelry for nearly forty years. We primarily handle Navajo and Zuni Jewelry, however, we often have handmade Native American Turquoise Jewelry from other artisans living throughout the American Southwest. If you are interested in Genuine Turquoise Jewelry take a look at what we have offer at Durango Silver Company. We assure you, everything we offer has authentic Turquoise and is exactly what we say it is - guaranteed!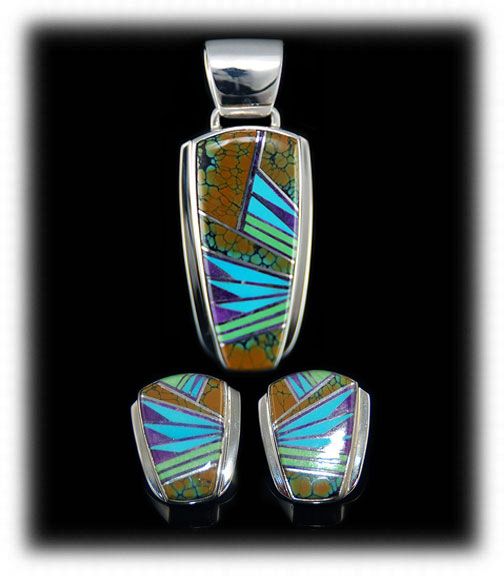 Above is a matching genuine Native American Indian Handmade Turquoise Inlaid Pendant and Earring set. This contemporary inlay earring and pendant set features Gaspeite, Sugilite and Turquoise hand crafted by Native artisan Kenneth Bitsie. The brown spider web Turquoise stones are surrounded by Sugilite, Sleeping Beauty Turquoise and Gaspeite. The color combination of the different Turquoise gemstones are boldly colorful and unique.
Genuine Turquoise Jewelry from Durango Silver Company
We have mined, collected and cut high quality Turquoise gemstones for over forty years and are leading authorities on authentic, genuine Turquoise. Genuine Turquoise is used in all of the Turquoise Jewelry that we handle.
Above and to the left is a fabulous Silver and Turquoise mens inlay Bracelet by Zuni artist, Larry Loretto. Larry used the highest grade of rich blue Turquoise with black spider webbed matrix in this bracelet which makes this a piece of investment quality Turquoise Jewelry. The natural Tibetan spiderweb Turquoise in this heavy Sterling Silver cuff bracelet is second to none and is top gem grade natural Turquoise. It has three rows of inlaid Turquoise that go all the way around the bracelet. To the out side of the Turquoise is a zigzag shadow box design which adds nice detail.
Above and to the right is a contemporary handmade Native American Turquoise Inlay Necklace with genuine Lapis Lazuli, Sugilite and Spiny Oyster Shell by Native American artist Rita Abieta. The focal point of this necklace is a Burnham Turquoise gemstone with spider web matrix in a light blue color range. This is a very nice piece of Genuine Turquoise Jewelry.
Above and to the left is a Native American Inlaid Spider Web Turquoise and Coral Ring. This museum quality Native handmade Silver Ring was handmade by Native American artist Anthony Bowman. Natural Mediterranean Coral and spider web Tibetan Turquoise are inlaid into this beautiful Ring in a cobble stone design that is separated by sterling silver inlays. The stones set into this ring are surrounded by a roped design and outlined with saw work designs. This is all set atop a heavy three prong silver band ring.
Above and to the right is a unique and genuine Native American Turquoise Buckle by Richard Begay. Richard did a great job creating the Silver design and then inlaying it with natural American Turquoise. The overlay and saw work on this Turquoise buckle is really beautiful! The Sleeping Beauty Turquoise cabochon is simply bezel set on top of the heavy gauge sterling silver buckle. The buckle features intricate overlay patterns with a background texture similar to sandstone.
Quality Genuine Turquoise Jewelry
Quality Genuine Turquoise Jewelry is investment quality Jewelry that is collected worldwide. Special pieces that include high grade natural Turquoise gemstones are increasingly difficult to find, they are not easy to obtain and often not available to most artisans. Durango Silver Company prides itself on having only the finest gemstones in the Jewelry that we handle and produce.
Above and to the left is a genuine handmade Native American Turquoise and Black Jade Inlaid Bracelet by Edison Yazzie. Edison is Native American Artisan and a great craftsman, his work is beautiful, well constructed and very high quality. Edison's style is unique in that he cuts angles and curves in the gemstones that are unusual for Native American Turquoise Jewelry inlay.
Above and to the right is a handmade Native American made Lime Green Turquoise Inlay Bracelet created by Cecil Ashley. This heavy Silver bracelet was made for a women or man and has a very unique shape, the center section of the bracelet is an elongated octagon shape which narrows and goes into a geometric shape on each side. The center section of the bracelet is inlaid with 20 cobblestone cut lime green Tibetan Turquoise stones. The inlay work in this silver cuff bracelet is impeccable.
| | |
| --- | --- |
| | |
Above and to the left is a handmade Native American Multi Color Inlay Ring with Gaspeite, Lapis and Spiny Oyster Shell. It was handmade by Native American jewelry artisan Leo Dawes. This Inlay Ring features natural Lapis Lazuli, Tibetan Turquoise, Sleeping Beauty Turquoise, Mother of Pearl, and orange Spiny Oyster Shell. The design and color combination is very well balanced with tiny inlay details and large stones of each type of gemstone. Leo inlaid the gemstones into this Silver ring in the "cobble stone" pattern, meaning each stone is domed and sticks up like a cobble stone street. The shape of this men's ring is very popular and comfortable to wear as well.
Above and to the right is a genuine Navajo handmade Sleeping Beauty Turquoise Cluster Pendant. This museum quality Sleeping Beauty Turquoise Cluster Pendant was handmade by Native American artisan Paul Livingston and is an absolute masterpiece! Paul Livingston is a Navajo Silversmith who favors substance in his metal work and high-quality, genuine stones in his settings. Clear to see that the genuine Sleeping Beauty Turquoise used in the cluster pendant is the best of the best, the highest grade of Sleeping Beauty Turquoise available. Each of the 36 Sleeping Beauty Quality Turquoise cabochons were bezel set and is separated with a handmade silver raindrop design. The pendant has 35 teardrop shaped Sleeping Beauty Turquoise cabochons and one oval blue Turquoise cabochon.
Fake Genuine Turquoise Jewelry
Fake Genuine Turquoise Jewelry are counterfeits peddled as real Indian art are fake!, they are fakes and frauds designed to deceive. It's a crime to misrepresent Native American arts and crafts, in some cases a felony. We invite you to view an Albuquerque TV News report video on Fake Turquoise Jewelry. .

The fake Turquoise Bracelet above was made in China. It was made of pot metal which is like tin, iron and lead? The stones in this piece look like Turquoise but are purely plastic - you can heat up a needle with a match and it will melt into the stone and/or smoke when you touch it to the stone. What is the value? About $2.00 once you have worn it a couple of times. If you look, the plastic imitation stones are not set in bezels, they are glued in plastic cups!
You would be absolutely shocked how many times we have people emailing us to appraise pieces of fake Turquoise Jewelry like this. It is embarrassing what people think is authentic Native American Turquoise Jewelry! We have actually had people call us and tell us we are liars and are trying to cheat them out of their Turquoise Indian Jewelry when we inform them they have gotten taken for a ride by buying authentic Turquoise Indian Jewelry for a good deal.
We invite you to take a look at a few of our other presentations - Genuine Turquoise, American Indian Jewelry, Navajo Jewelry, Zuni Jewelry and Santo Domingo Jewelry.
---
We invite you to learn more about Genuine Turquoise Jewelry and American Silver Jewelry by following the links in our Learning Center to other informational pages we have written on different topics directly related to Genuine Turquoise Jewelry. In addition, we would like to invite you to join our E-Mail Newsletter - about once every other month we send out a Newsletter to inform our members of what's happening with Durango Silver Company, new products, specials for our members and more. We also have a monthly drawing from our member base to give away free Turquoise Jewelry from our company. Please take a moment to become one of our friends by signing in below. We hope you have enjoyed our presentation on Genuine Turquoise Jewelry and have gained some useful knowledge from it.