Learn about Earrings Turquoise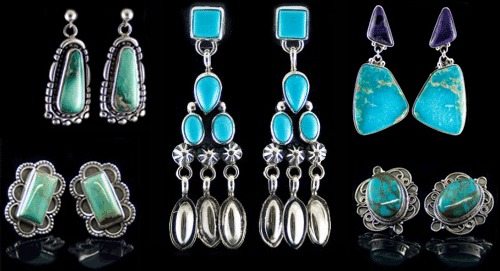 Earrings Turquoise - Turquoise Earrings have been a specialty of Durango Silver Company of Durango, Colorado USA for nearly forty years of producing Turquoise Jewelry. John and Estell Hartman dealt exclusively in Silver Earrings with Turquoise as well as many other gemstones for several years beginning in 1975. They had a trade route from Albuquerque through Colorado, Wyoming, Montana, North Dakota, South Dakota then they took their Earrings Turquoise to Arizona, California and to the East Coast of the USA. John and Estell only sold Turquoise Earrings and many different types of Silver Earrings for years.
Today Durango Silver Company still deals in Silver Earrings Turquoise and other gemstones and is planning on building up a collection of high quality Turquoise Earrings in 2011. In the fall and Christmas season of 2011, Durango Silver Companies Silver Earring Turquoise supply was nearly depleted as demand for Turquoise Earrings went through the roof. As a result, Estell, Dillon and Nattarika Hartman along with John and Crystal are going to produce substantially more Silver Earrings with Turquoise as well as many other gemstones, we will also re-introduce some of our Silver Earrings from the past.
You can expect to see many Navajo Turquoise Earrings, Zuni Turquoise Earrings, Turquoise Stud Earrings, Turquoise Dangle Earrings, Turquoise Hoop Earrings, Feather Earrings, Turquoise Chandelier Earrings, Green Turquoise Earrings, Blue Turquoise Earrings, Turquoise Gold Earrings and Silver Turquoise Earrings from our company.
---
Earrings Turquoise Examples
Below are some examples of Earrings Turquoise and other gemstones that we have assembled to educate you on the types of Turquoise Earrings Durango Silver Co will produce as well as handle from other Turquoise Jewelry Artisans and producers. Silver Earrings, Turquoise Earrings in Silver and Turquoise Beaded Earrings were in high demand for 2010 and we expect a higher demand in 2011 as Silver values increase - The cost of Sterling Silver has nearly tripled in the last 12 months. Turquoise has become one of the top gemstones in demand worldwide in the last couple of years and Turquoise Earring sales are expected to escalate dramatically this year.
| | |
| --- | --- |
| | |
To the left is a pair of Sleeping Beauty Turquoise Earrings in a Turquoise Chandelier Earring style. This style of Silver Earrings Turquoise and other gemstones will be available through Durango Silver Company. These Turquoise Earrings are considered a Navajo Cluster Style of Silver Earrings in Sleeping Beauty Turquoise. The Navajo Silver Earrings Turquoise stones to the right are called Turquoise Dangle Earrings with wire design filigree and are offered by Durango Silver Company. This is a classic Navajo Turquoise Earring that has been made for decades and is still as popular today as they were 30 years ago.
| | |
| --- | --- |
| | |
Above are two pair of Green Turquoise Dangle Earrings produced by Durango Silver Company. The Turquoise is from the Broken Arrow Turquoise Mine located near Tonopah, Nevada. The Broken Arrow Turquoise Dangle Earrings on the left have classic Navajo Silver designs surrounding the beautiful green Nevada Turquoise stones. The pair of Nevada green Turquoise Earrings to the right are very nice and lightweight Silver Dangle Earrings that are easy to wear all day long as they are open backed to keep the earrings as light as possible for comfort, we call these our feather earring design. Green Turquoise Earrings are beautiful and green Turquoise is very much in vogue.
| | |
| --- | --- |
| | |
Western Silver Jewelry and Authentic Turquoise Jewelry is now admired worldwide by many cultures. Turquoise was one of the first gemstones found by mankind over 7,500 years ago and Turquoise Jewelry is carbon dated from 5,500 B.C. at the Cairo Museum in Egypt. Native American Jewelry came to be fairly recently in the timeline of Turquoise Jewelry but has been admired by Turquoise Jewelry producers globally. Turquoise Earrings are standard Silver Jewelry in the Southwestern USA and have been for over one hundred years now.
The above Silver Earrings with blue Turquoise gemstones were produced by Durango Silver Company. They are both open backed Silver Turquoise Earrings and were specially created by John Hartman to be a light as possible. They are easy for a woman to wear all day long as they are nearly feather weight and John calls them his feather earrings. The Turquoise Feather Earrings to the left were inlayed with Lone Mountain Turquoise from Nevada, they are bright and beautiful blue in color and they are feather weight earrings. The pair of large Feather Earrings in Turquoise and Silver to the right are very large and long, yet they are feather weight. This pair of Turquoise Feather Earrings are produced by our company and we make them as we find quality Turquoise that is large enough to cut into this large of cabochons to inlay.
| | |
| --- | --- |
| | |
Zuni Turquoise Inlay Earrings - Above are two pair of Turquoise Inlay Earrings made by the Zuni Indians of New Mexico. Turquoise Inlay is made by creating a Sterling Silver Earring that has channels or voids that are inlayed with Turquoise or other gemstones into those voids by slicing the gemstones with a diamond bladed saw and then ground to the perfect shape and size to fit into the voids. The stones are glued in and then a lapidary machine is used to grind the stones to the desired shape and then sanded with multiple grit lapidary wheels and then polished to perfection.
The pair of Zuni Inlay Turquoise Earrings on the left were inlaid with Arizona Blue Turquoise in geometric shapes. The Zuni Turquoise Hoop Earrings to the right were inlaid with domed stones that were cut to shape prior to gluing them into the Earring channels.
Native American Jewelry and Zuni Turquoise Earrings are an American heritage and they are a great investment in Sterling Silver Jewelry.
Earrings Turquoise Beaded - Durango Silver Company specializes in Earrings Turquoise Beaded designs produced here in Durango, Colorado USA by Nattarika Hartman from our vast Turquoise Bead collection of over 40 years. The above Turquoise Beaded Earrings were made from Sleeping Beauty Turquoise and Blue Turquoise from Arizona. The Blue Turquoise that we use in our Jewelry comes primarily from Arizona, Northern Mexico and Nevada, it is nearly 100% North American Turquoise and Authentic Turquoise as well. We use Sterling Silver wires and finding to make our Turquoise Beaded Earrings and we can also make Gold Turquoise Earringsby special request.
The Turquoise Bead Earrings to the left are made with Sleeping Beauty Turquoise that is cut into rondell shaped Turquoise Beads and then accented with round Black Onyx Beads and assembled with Sterling Silver. The Turquoise Beaded Chandelier Earrings to the right were made with Campitos Turquoise from Northern Mexico. This is good authentic Turquoise and is stabilized before it is cut into Turquoise Beads. It is durable and will not change in color over time as natural Turquoise can which is caused by the oils of the human body.
We made Blue Turquoise Beaded Earrings as well as Green Turquoise Beaded Earrings in many styles. All of our Earrings Turquoise are Authentic Turquoise Jewelry and made in the USA. We guarantee our Authentic Turquoise Jewelry to be made with real Turquoise and Sterling Silver and to be high quality Turquoise Jewelry that is real!
| | |
| --- | --- |
| | |
Navajo Turquoise Earrings - Navajo Turquoise Jewelry began about 1865 when a Navajo Blacksmith by the name of Atsidi Sani learned how to make Silver Jewelry from the Spaniards that were in the Southwest seeking Gold and Silver. Atsidi Sani learned the Silversmithing trade and then taught it to his brother and they both than taught many other Navajo's the trade as the demand for Navajo Silver Jewelry became in high demand quickly. The Navajo Silversmiths began putting Turquoise in their Silver Jewelry about 1870 and thus began Navajo Turquoise Jewelry. Navajo women loved Turquoise Jewelry and were already wearing Santo Domingo Turquoise Earrings so it is believed that the Navajo Indian Silversmiths began making Navajo Turquoise Earrings around 1870 - 1875.
The Navajo Turquoise Stud Earrings to the left were made with blue Kingman Turquoise from Arizona USA. They were Navajo handcrafted in Sterling Silver with filigree wire designs. The Vintage Navajo Stud Earrings on the right were made about 1940 and are considered Vintage Navajo Earrings. They actually have screw backs as not many women had pierced ears at that time.
Authentic Native American Jewelry and Navajo Turquoise Earrings handcrafted by the Navajo Silversmiths of Southwestern USA are an American heritage that originated from the great American frontier. Their Silver Jewelry is classic Western Silver Jewelry that is unique to itself and beloved by people throughout the world. Navajo Turquoise Jewelry is a great investment in Silver Jewelry as well as being made in the USA! The Navajo make Turquoise Stud Earrings, Turquoise Dangle Earrings, Turquoise Hoop Earrings, Turquoise Feather Earrings, Turquoise Chandelier Earrings and they work with both Green Turquoise as well as Blue Turquoise and preferquality authentic American Turquoise.
| | |
| --- | --- |
| | |
Navajo Turquoise Chandelier Earrings - The Navajo Indian Silversmiths have made Turquoise Cluster Earrings as well as Turquoise Chandelier Earrings since they began making Turquoise Earrings. Navajo women wore long Santo Domingo Beaded Turquoise Earrings for over a hundred years before the Navajo Silversmiths began making Silver and Turquoise Earrings. So, it is certain the Navajo Indian Silversmiths have made Turquoise Chandelier Earrings for over one hundred years.
The above are two pair of modern Navajo Turquoise Chandelier Earrings which some people call Navajo Cluster Turquoise Earrings. The pair on the left have a Spiny Oyster center stone surrounded by Turquoise, Coral, Sugilite and hung from a Gaspeite stone. You can see the presentation page for this pair of Navajo Chandelier Earrings on their presentation page. The pair of Turquoise Earrings on the left were made with Sleeping Beauty Turquoise Stones set in a Navajo Cluster arrangement which are considered Navajo Turquoise Chandelier Earrings.
Here are some additional pages you may consider to look at:
Turquoise Earrings - Turquoise Beaded Earrings - DSC Turquoise Earrings
Blue Turquoise Pendants - Green Turquoise Pendants - -Turquoise Bead Pendants
---
We hope you have gained some useful knowledge from our Earring Turquoise educational presentation page. We invite you to learn more about Silver Jewelry, Indian Jewelry and Turquoise Jewelry by following the links in our Learning Center which has many other informational pages that we have written on topics related to Southwestern Silver Jewelry. In addition, we would like to invite you to join our E-Mail Newsletter - about once every other month we send out a Newsletter to inform our members of what's happening with Durango Silver Company, new products, specials for our members and more. We also have a monthly drawing from our members to Giveaway free Turquoise Jewelry from our company. Please take a moment to become one of our friends and future winners in our giveaway by signing in below.