Learn about Bisbee Turquoise Jewelry
This is an informational page on Bisbee Turquoise Jewelry, you will find several photos of authentic Bisbee Turquoise Jewelry from Durango Silver Company. Durango Silver Company is the proprietor of one of the largest authentic collections of Bisbee Turquoise in the world. We have collected and mined American Turquoise for over forty years and we are fortunate to own a beautiful collection of Bisbee Turquoise. We cut our Bisbee Turquoise into cabochons for our exclusive Bisbee Turquoise Jewelry and we also inlay Bisbee Turquoise into Southwestern style Jewelry.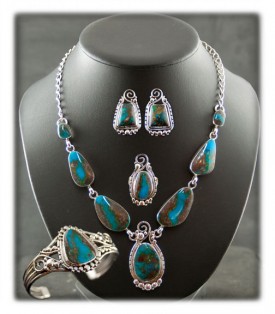 Above is a unique Bisbee Turquoise Necklace Set created by John Hartman of Durango Silver Co. This set was made from stones that were cut from one Bisbee Turquoise rock. John's Silver and Gold work is known worldwide, he has been a prolific designer of Southwestern Jewelry and has been fortunate to have his work in publications, fine museums and exquisite Jewelry collections worldwide.
Bisbee Turquoise was mined from 1962 until 1978 and very little as surfaced since. Bisbee Turquoise Jewelry produced in the American Southwest tends to be spectacular as this Turquoise has always been highly respected as America's finest. This is informational page about Bisbee Turquoise and Bisbee Turquoise Jewelry that Durango Silver Company has produced. We are proprietors of one of the finest collections of Bisbee Turquoise known, we exclusively cut and market all of our Bisbee Turquoise in Jewelry through Durango Silver Company.
Authentic Bisbee Turquoise Jewelry
Above and to the left; This Bisbee Turquoise Ring features a high quality, natural Bisbee Turquoise Gemstone that is a one-of-a-kind. The gemstone is surrounded by a flat bead design and sets atop a signature sunburst design ring shank from the collection of John Hartman's designs. This is a gorgeous heavy sterling silver men's ring that will become an important family heirloom in the future. This is a great example of the beautiful Silver Jewelry that is still coming out of the American Southwest today. Click on the photo.
Above and to the right; A large two stone Sugilite and Bisbee Turquoise Ring in John Hartman's Victorian style of Silverwork. This large cocktail ring features a bright purple freeform Sugilite cabochon and a smoky Bisbee Turquoise cabochon, freeform cut as well. The unique Victorian designs produced by John Hartman for 2013 are exceptional, check this one out by following the photo link and then make certain to type in "Victorian Jewelry" in the search box to see more of John's new designs.
| | |
| --- | --- |
| | |
| | |
| --- | --- |
| | |
The upper Bisbee Turquoise Cuff Bracelet was handmade by Ben Yazzie, it features three natural Bisbee Turquoise cabochons. The focus of this Bisbee Turquoise Bracelet is a row of three hand cut, free form, natural Bisbee Turquoise cabochons from Arizona. The center stone is a teardrop shape and to each side is a free form round shaped Bisbee Turquoise cabochon. All three natural gemstones feature a beautiful bright blue Turquoise with chocolate brown matrix patterning. This is a women's Silver Cuff Bisbee Turquoise Bracelet and is a great example of modern Navajo Silverwork, it would make a great addition to any Turquoise Jewelry collection.
This Mens Bisbee Turquoise and Silver Bracelet was Native American handmade by Ben Yazzie. It has gorgeous silver work, overlay patterns, raindrops and repose designs. The overlay silver work on this Bisbee Bracelet is amazing. The Bisbee Turquoise is top grade and features the famous "Smoky Bisbee" matrix. Another nice feature of this bracelet is the weight, when you pick this bracelet up you know this is the real deal, it has some real heft to it.
Above and to the left is a beautiful Smoky Bisbee Turquoise Necklace with exquisite Silverwork by Ben Yazzie, Navajo. This is a large and very beautiful Smoky Bisbee Turquoise Gemstone that is a one-of-a-kind and will never duplicated! The Silverwork creation by Ben enhances this marvelous gemstone beautifully to make this a spectacular Bisbee Turquoise Necklace!
Above and to the right is another beautiful piece by Ben Yazzie. This beautiful Smoky Bisbee Turquoise Pendant is awesome, the Bisbee Turquoise is a deeper blue with exceptional smoky chocolate brown matrix. Bens Silverwork on this piece is beautiful as well, he has flattened Silver cable and then outlined it with beautifully hand filed and sawed Silver border wire. A unique piece of Native American Indian Artwork in Silver.
Above are two additional Bisbee Turquoise Pendants produced by Durango Silver Company. We invite you to visit Durango Silver Company often if you are interested in Bisbee Turquoise Jewelry as our company probably produces more Authentic Bisbee Turquoise Jewelry than any other in the American Southwest. If you are truly interested in Bisbee Turquoise, join our friends who get special offers of unique Bisbee Turquoise Jewelry that are not offered to the public. Follow the links below to join our e-mail newsletter and Bisbee Turquoise Fans club.
---
Bisbee Turquoise Jewelry Video | Bisbee Turquoise Pictures | Bisbee Turquoise Video | Looks of Bisbee

Turquoise Video | Buy Bisbee Turquoise Cabochons | Bisbee Turquoise on Wikipedia | BisbeeTurquoise.com
---
About once every other month we send out a E-Mail Newsletter to inform our members of what's happening at Durango Silver Company, new products, specials for our members only and more. We also have a monthly drawing from our member base to give away Free Turquoise Jewelry. Please take a moment to become one of our friends by signing in below.
We hope you have enjoyed our presentation on Bisbee Turquoise Jewelry and you will think of Durango Silver Company when considering your next Turquoise Jewelry purchase.