Handmade Silver
Our specialty at Durango Silver Company is Handmade Silver that is proudly made in the USA! We have been producers of quality Handmade Silver for nearly
forty years here in Durango, Colorado USA. We produce quality Handmade Silver Jewelry on-site and we handle Handmade Silver Native American Jewelry that is created in our Southwestern region of the USA. Durango Silver Company is trusted worldwide for quality Handmade Silver, Handmade Silver Rings, Handmade Silver Necklaces, Handmade Silver Bracelets, Handmade Silver Earrings and many other types of Silver Jewelry.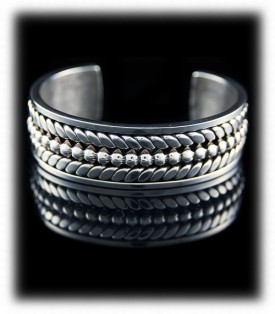 This Handmade Silver Bracelet is a one-of-a-kind Silver Bracelet that was 100% handmade by John Hartman of Durango Silver Company. This is a piece of Silver Jewelry that is truly made in the USA! Although the photo does not show it, this handmade silver bracelet has three layers of overlay, the center is copper, which you can see when viewing this Silver Bracelet in person. John handmade this bracelet with the gentleman that has arthritis in mind. It is a unique one-of-a-kind piece of handmade Silver Jewelry that there will never be another alike.
American Handmade Silver
American Handmade Silver is handmade Jewelry that is unique to America, many Americans are very artistic and create beautiful arts and crafts,
handmade Silver Jewelry is one of the fine American handmade Silver crafts that are proudly handmade in the USA. We invite you to check out the Handmade Silver we have available today, also check out our design portfolio, there are hundreds of Handmade Silver pieces we have sold at Durango Silver Company in the past.
Above and to the left is a Handmade Silver Bee created by Crystal Hartman of Durango Silver Company, this piece was proudly handmade in the USA. This cute sterling silver pendant is Crystal Hartman's version of a bumble bee and features a natural Carnelian cabochon that is set inside the Bee. This beautiful gemstone can be seen from every side of the pendant. This fun handmade silver pendant can be worn by a man or a woman. The handmade silver pendant features a larger sterling silver bale.
Above and to the right is a fashion Turquoise Handmade Silver Ring made in a lost wax design of new age style. A deeply carved leave and petals, reminiscent of floral, victorian design curl and hold the round blue Tibetan Turquoise cabochon with an open back - allowing the turquoise to rest directly on the skin. This would be a great handmade silver ring for Metaphysical or Chakra Healing purposes. This is a very modern and fashion forward handmade silver women's spider web Turquoise ring. You can see more handcrafted Silver Rings on our information page about the subject.
| | |
| --- | --- |
| | |
Above and to the left is a Handmade Silver Bracelet in a lost wax fashion design by John Hartman of Durango Silver Company, proudly handmade in the USA. This handmade silver bracelet was made in the lost wax design. What this means is that the handmade silver bracelet started out as a wax carving that was made around the stones, which was then molded in jewelers investment, which is like plaster of paris, burned out and replaced with sterling silver to make a one-of-a-kind sterling silver bracelet. Using this method, there will never be a handmade silver bracelet just like this again. Focal points of this silver bracelet are a nugget cut natural Royston Turquoise cabochon and two high grade Sugilite cabochons. There are not many silver bracelets made in the lost wax style and you would be hard pressed to try and you would not find a bracelet like this in a Southwest Silver Gallery.
To the right above is a beautiful pair of Handmade Silver Earrings with exquisite Silver work accompanied by deep red Garnets. The dot designs in this handmade silver earring set were made from melting small pieces of Silver into balls and then flattening them with a hammer. As you can see this pair of handmade Silver Earrings have hundreds of tiny beads that have been created in this method and then soldered to the Silver backing sheet. This pair of handmade Silver Earrings came from Bali, Indonesia. We took a 5 week trip to Bali in 1994 as John Hartman went over with a group of Native American Artisans to teach the Balinese how to make western styled Jewelry that would be marketable for them. John led the group in a very successful venture.
American Indian Handmade Silver
To the above left is a American Indian Handmade Silver Bracelet. This is a pictorial Turquoise inlay bracelet by Navajo artist Edison Yazzie. The design depicts a native man and lady, the man in Canyon Country and the lady with a bowl of corn by the river. This is a fabulous piece of handmade Silver Native American Indian Jewelry that features fancy hand cut inlaid mosaic designs. This colorful Silver Pictorial Turquoise Bracelet is exquisitely inlaid with Sleeping Beauty Turquoise, Picture Jasper, Tiger's Eye, Ivory, Wild Horse, Opal, Spiny Oyster Shell, Black Jade and Spider Web Tibetan Turquoise in a complex geometric pattern. Edison is Navajo Native American and a great craftsman, his work is beautiful, well constructed and very high quality. Edison's style is unique as he cuts angles and curves in the gemstones that are unusual for Native American handmade Silver Jewelry.
Above and to the right is an Antique Native American Handmade Silver Buckle with beautiful Morenci Turquoise Gemstones. This is a Vintage Native American made Morenci Turquoise cluster buckle by Navajo artist Mary Chavez. This rectangular cluster buckle is from the 1950's and is considered vintage Turquoise Jewelry. The buckle has nicely matched bright blue natural Morenci Turquoise cabochons. This is a classic handmade Silver design Navajo Silversmiths have been making for many generations.
Handmade Silver Information
We hoped you enjoyed this brief introduction to Handmade Silver by Durango Silver Company. We invite you to take a look at a couple of our other Handmade Silver Information presentations on Handmade Silver Jewelry, Handmade Jewelry and Handcrafted Turquoise Jewelry, we have a vast library of informational pages in our Silver Jewelry Learning Center - check it out!
---
Again, we hope you have enjoyed our presentation on Handmade Silver and have gained some useful knowledge from it. We invite you to learn more about Handmade Silver and American Handmade Silver Jewelry by following the links in our Learning Center to other informational pages that we have written on different topics related to Silver Jewelry. In addition, we would like to invite you to join our E-Mail Newsletter - about once every other month we send out a Newsletter to inform our members of what's happening with Durango Silver Company, new products, specials for our members and more. We also have a monthly drawing from our member base to give away Free Silver Jewelry from our company. Please take a moment to become one of our friends by signing in below.
We thank you for your time and hope you will think of Durango Silver Company the next time you are considering Handmade Silver.