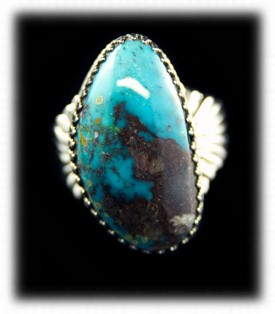 American Turquoise Rings
Durango Silver Company has been in the business of producing American Turquoise Rings for almost 40 years. Our specialty here at Durango Silver Co is Southwestern style American Turquoise Rings that are of the highest quality. We also are one of the few companies left that focus on Men's American Turquoise Rings with real, natural American Turquoise.
American Turquoise Rings – American Turquoise is differant than any other Turquoise in the world and the way we mine Turquoise in the U.S. is differant as well. Unlike most other Turquoise mining in the world,  quality has been the utmost consideration by all American Turquoise Minors as the Southwestern Turquoise Jewelry Industry demanded high quality Turquoise for the Jewelry that they made.
Today, government mining restrictions and the cost of mining Turquoise has created a shortage of high quality American Turquoise which will affect the amount of American Turquoise Rings on the market in the near future.  The Indian Jewelry Industry has been plagued with inferior Turquoise from China and there are very few Turquoise Mines still in production.
American Turquoise Rings – Durango Silver Company
We feel, Now more than ever before, is the time to be aware of how beautiful natural American Turquoise is and consider owning an American Turquoise Ring yourself. Durango Silver Company of Durango Colorado invites you to read our new article on American Turquoise Rings  and we also invite you to join our Newsletter which we produce ocasionally that touches on great Turquoise topics and a once a month free Turquoise Jewelry drawing. We also invite you to take a look at our Turquoise Jewelry presentation where we have a lot of additional information on American Turquoise Rings as well as the other Jewelry we produce with American Turquoise.
American Turquoise Rings
Visit Durango Silver Online to see a great selection of beautiful Turquoise Jewelry with natural American Turquoise of unquestionable quality. We hope you will think of Durango Silver Company when you think of American Turquoise Rings.