A True Story About Lander Blue Turquoise
---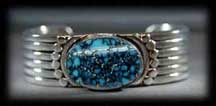 Lately we have been thinking a lot about how to really give our fans and patrons something back.  We decided we are going to start publishing one of the Hartman's true stories from the road, Turquoise collecting, and Jewelry making.  We recently purchased a neat collection of Lander Blue Turquoise from a gentleman who's father had collected the natural Lander Blue Turquoise and cut it into cabochons in the mid 1970's – 1980's.  This inspired us to tell one of the story John often tells our family whenever Lander Blue Turquoise comes up.
Lander Blue Turquoise Miss Hap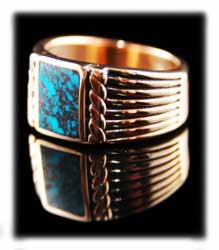 A Story from John, Estell and I had spent the winters of 1970 – 1972 making Jewelry by waking at 5:30 am each morning to work by 6:00 am. We worked hard all day until 6:00 pm six days per week and on Sundays we would cut 350 stones for the following week as we would make 50 rings per day, 70 pendant or 15 bracelets. Monday am's we would go down to Rio Grande on Edith in Albuquerque to buy our Silver and supplies for the this week. Week after week for eight months – we did this. In May we left Albuquerque with of over 800 lbs of Jewelry that we had made. Previously, John was working in his fathers machine shop making missile parts for Los Alamos laboratories. We headed for Yellowstone, Jackson's Hole, Cody, Cooke City, Gardener, West Yellowstone and then back to Jackson – and we did this several times as they kept buying and buying and buying. We stayed there the entire summer as business was so good! When we left in late August, we had made $250,000. Wow!!! Money in the Bank!
We immediately headed for Nevada to stock up on high grade rough Turquoise to cut the following winter season, one of the varieties of Turquoise we were after was natural Lander Blue Turquoise spiderweb. We drove to Battle Mountain and ended up in Cutler Edgars back yard cobbing Turquoise in the middle of September We went on to pay Cutler 30,000.00 for 100 lbs of the finest Stormy Mountain Nevada Turquoise we had ever seen. When we were ready to leave Cutler Edgar's house he sent us to the Hotel in the middle of town to look at their Lander Blue Turquoise.
We did go to the hotel and we purchased 1000 carats @ $4.00 per carat for cut stones and rough dime sized nuggets. They put them in a brown paper bag and we were so over whelmed, with our Stormy Mountain purchase we just through the 1000 carats of natural Lander Blue Turquoise in the back of the seat and never saw them again. Honestly, we think we may have thrown them away later thinking they were our lunch bagg instead of Turquoise.   We were bummed when we realized what happened.  Can you image what that many carats would be worth today at 200-300 dollars per carat?
At the time we lived in Albuquerque and Lander Blue was the big hype so we called Cutler and told him what happened.  Cutler went down to the Hotel and got us 2000 carats of Lander Blue and Lander Blue dime sized nuggets and sent them over. So, we did end up getting a bit more Lander Blue Turquoise, but we will never forget what we did.  How silly.  I am sure nobody would make that mistake today!
Recently we were mining with Dean Otteson at the Royston Turquoise mine and on the way to the mine one day we were shootin' the breeze and he happened to mention a funny story he had about Lander Blue Turquoise.  He was telling Dillon and I about how he took this Japanese man up to the mine to show him around, this was before the started their mining tours (http://www.roystonturquoise.com), and the whole time he was showing this Japanese man the mines, the man had a brief case cuffed to his arm.  Dean was baffled by this.  Being a country man himself, he thought it was a silly idea, I mean if someone really wanted the stuff in their they would certainly hurt you to get that brief case off your arm.  Anyways, at the end of the day he asked the Japanese man, what'd ya got in there?  The Japanese man was hesitant, but finally opened the brief case and showed Dean about 200 carats of Lander Blue cabochons and proceeded to tell Dean he paid $60,000.00 USD for the Turquoise.  Dean was blown away.   The short and long of sharing this story is… imagine how much moneys worth of Lander Blue we mistaken for our lunch and threw away in today's market.  As I said before, I am sure nobody would do that today.  I guess we sure learned a lesson.  Today we feel like the Japanese man when it comes to our finest.  We save all of our finest Turquoise from the best pieces of Gold Jewelry and Silver Jewelry. 
---
Thank you for reading out TRUE story about Lander Blue Turquoise.