Inlay Earrings from the American Southwest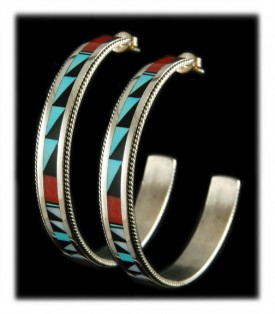 Inlay Earrings from the American Southwest have been made for nearly 100 years. The Zuni Indians of New Mexico began making Inlay Earrings around 1920. Today, The Zuni, Navajo and other contemporary artists from the  Southwest continue to make some of the finest quality Turquoise Earrings in the world. Dillon Hartman of Durango Silver Company has created an informational page on Inlay Earrings that you can view located on the DurangoSilver.com site – check it out by following this link.
Native American – Inlay Earrings
Native American Inlay Earrings are a good choice when considering Inlay Earrings – Turquoise, Coral or other colored gemstones are use in combination to produce some of the most dynamic and colorful inlaid earrings made globally. There are many factors you may not be aware of when considering your purchase and that is why Dillon has created this page. There are many good photo examples as well as a lot of great information text we are certain will interest you if you are considering Inlay Earrings.
Inlay Earrings from Durango Silver Company
Durango Silver Company has been in the Turquoise Jewelry business for well over forty years. We have produced and handled Inlay Earrings as well as Turquoise Inlay Earrings for the duration. We have a great supply of Gemstone Inlay Earrings and we are proud to work with Stanley Manygoats who is one of the leading Navajo Inlay Artisans. We invite you to view our informational page on Inlay Earrings and hope you will also take a look at the Earrings we have available.