Spiderweb Turquoise
We have created an exciting new informational page we think you will appreciate! This is the entry page into a series of educational pages on Spiderweb Turquoise. There is a lot of great information, photos and links to corresponding pages. There is a lot to learn on this page for everyone!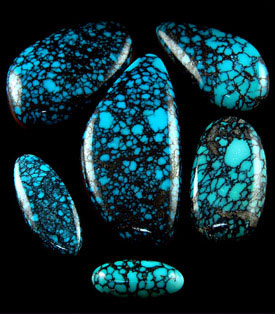 Spiderweb Matrix in Turquoise is a rarity that comes from its formation millions of years ago. It is a natural formation and can be quite beautiful. Turquoise with spiderweb matrix is hard to come by and it is much more valuable than clear Turquoise or Turquoise with typical matrix.
Investment Grade Turquoise – Natural Spiderweb Turquoise
There are many variations in Natural Turquoise, enhanced Turquoise and there is even fake Turquoise. Natural Spiderweb Turquoise is the Rolls Royce in Turquoise and it is highly collected as an investment, in fact, high grade Turquoise has gone up in value well over 300% in the past year! Our presentation along with its associated pages is a project on our part to set strait the value of Turquoise. We also invite you to visit another associated presentation – Spiderweb Turquoise Cabochons.
Spiderweb Turquoise from Durango Silver Company
We have been in the Turquoise business of mining, collecting, cutting and marketing it throughout the American Southwest and since the Internet, our business in high grade Turquoise has grown to an International market as well. We are leading authorities on Turquoise and Spiderweb Turquoise is our specialty. We invite you to check us out and we encourage you to view our presentation on Spiderweb Turquoise.