Tibetan Turquoise Jewelry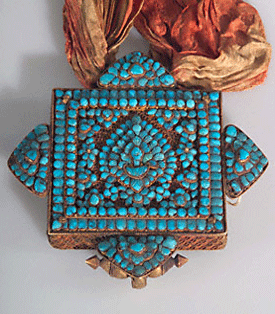 The Tibetan people celebrate Tibetan Turquoise Jewelry and Jewelry with Tibetan Turquoise as one of the most spiritual possessions of their lives. They have worshipped Turquoise for over 5,000 years and have traded their belongings on the silk road of Asia for the same amount of time. Turquoise is a very spiritual gemstone as it was one of the first gemstones known to man.
Dillon Hartman of Durango Silver Company has just completed a great new informational page on Tibetan Turquoise Jewelry from present to the past. You can view this page by going to Tibetan Turquoise Jewelry in this link or by typing it in of the search engines.
Tibetan Turquoise Jewelry by Durango Silver Company
The Hartman family of Durango Silver Company has been collecting Tibetan Turquoise for nearly 40 years. They cut rough Turquoise and set it into their designs. They also often have old Tibetan Turquoise Jewelry that they put up for sale on their Antique Turquoise Jewelry pages. Durango Silver produce some exceptional Turquoise Jewelry with Tibetan Turquoise that is high grade as that is what they have collected. They hand cut the Tibetan Turquoise and then set it into quality Sterling Silver or Gold settings.
We invite you to browse our online store and when you do, type in Tibetan Turquoise Jewelry to see what we currently have available.