Turquoise Jewelry
Durango Silver Company of Durango, Colorado USA has been Traders to the Navajo for well over forty years. We have stead true to our Navajo and Zuni Silversmiths to produce some of the finest Authentic Native American Turquoise Jewelry made in the USA for the duration of our business. We have promoted the use of only authentic, natural Turquoise to our Native American friends and partners by mining, collecting and hand cutting America's finest quality Turquoise available. The specialty of our company is to produce real Turquoise Jewelry that is handmade in the USA!
Authentic Quality Turquoise – in our Turquoise Jewelry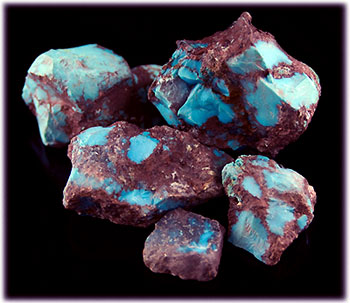 We have mined, collected and hand cut authentic, natural Turquoise for our silversmiths and for the Native American Indian Jewelers for over 40 years. We are very proud to be among the very few that puts natural Turquoise gemstones as the most important foundation of the Turquoise Jewelry that our company produces and has produced in the past decades of being in this business. Here is a video of John showing others how to cut authentic Turquoise, this should give you an idea that we are serious about authenticity! The above is natural Bisbee Turquoise that you will find in a lot of our Jewelry, we own one of the largest Bisbee Turquoise collections in the world.
Authentic Native American Turquoise Jewelry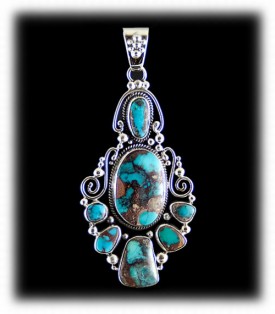 This beautiful piece of Turquoise Jewelry was handmade by Navajo Native Artisan Vernon Begay. You can read more about this Bisbee Turquoise Pendant on its presentation page. John Hartman of Durango Silver Company hand cut these authentic, natural Bisbee Turquoise cabochons and then had Vernon create this beautiful Bisbee Turquoise Pendant which is now a valuable piece of Native American Indian Turquoise Jewelry. We invite you to learn more about Bisbee Turquoise by following this link.
We hope you will visit Durango Silver Company when you are wanting to learn more about Authentic Turquoise Jewelry, handmade in the American Southwest. High quality investment and collectors grade Turquoise Jewelry is our specialty.